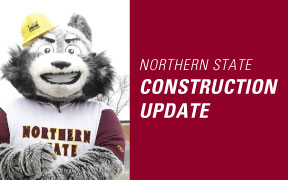 Chillers in Mewaldt-Jensen and the Tech Center are set to be replaced, beginning as soon as weather cools down. Below is a tentative project schedule:
October/November/December
•             Concrete pad for new chiller.
•             Fencing around new concrete chiller pad.
•             Electrical demo of old MJ chiller in basement and electrical rough-ins for new MJ chiller. Demo electrical to rooftop units/exhaust fans/cooling tower that are being removed from roof.
•             Demo MJ chiller in basement along with cooling tower piping/pump in basement.
•             Remove rooftop units, curbs, cooling tower and exhaust fan from roof.
•             Roofing work to fill/patch roof deck where equipment removed.
•             Install remote evaporator in basement for new MJ chiller. Refrigerant piping rough in to outside where new MJ chiller located.
March/April/May
•             Chillers estimated ship date is March 31, 2023.
•             Heating equipment and pumps should all be delivered by December/January.
•             Demo MJ 2 pipe heating/cooling components as soon as possible in early spring when heating demands diminish. Immediately begin piping, replacing pumps, steam converter, etc. We will need piping and pumps operable before MJ chiller can be started up for cooling MJ.
•             Demo/install/start up new Tech Center chiller immediately upon arrival (early April). This will only take a couple of days. Set new MJ chiller at same time on new pad. TC chiller will be priority and not affected by heat/cool piping for MJ
•             Startup new MJ chiller by May 1.
•             After May 1 complete piping and replacing of heat only equipment after cooling is operational.
June
•             Substantial completion