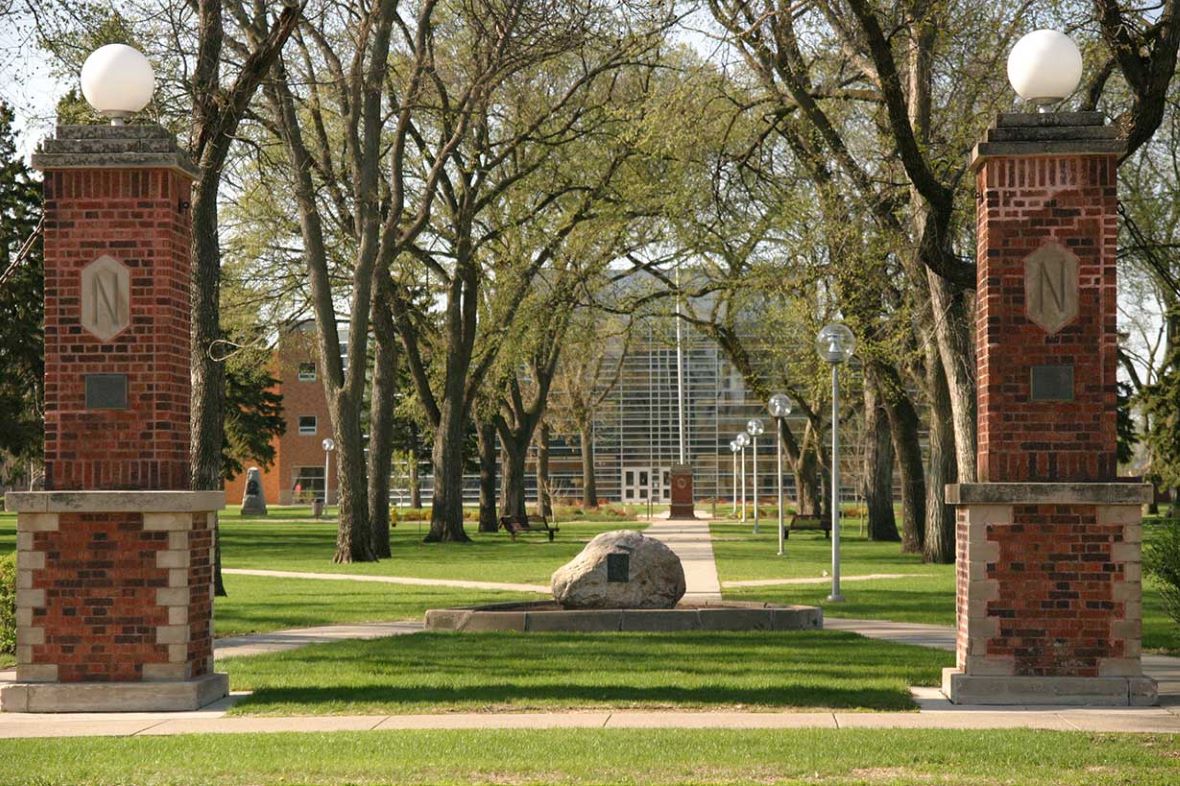 Welcome to the NSU News Update - providing information on events happening on campus or involving NSU students, staff and faculty.
To submit a news item, send it via email to NSUNews@northern.edu by 5 p.m. Thursday of the week before the announcement should run.
ON-CAMPUS RECRUITMENT EVENTS
Learning Expo
There will be a Learning Expo for high school students interested in the field of education on Wednesday, Oct. 19. The Learning Expo will be kicking off with Keynote Speaker Heather Rowen, a third-grade teacher in Groton, who will be sharing the story of why she teaches. Teacher education department faculty will then present break-out sessions for the students, followed by lunch with teacher education students and faculty. We look forward to having these students on campus!
Northern Bound Day
Friday is Northern Bound Day at Northern State University! Northern will welcome prospective students to campus for a visit day on Friday, Oct. 21. Beginning at 9:30 a.m., students and families will tour campus, visit with admissions and financial aid representatives, meet with current Northern students and faculty, and learn more about their prospective field of study. We're also offering complimentary tickets to that weekend's NSU athletic events! Learn more here.
MENTAL WELLNESS WEEK
Northern is celebrating Mental Wellness Week Oct. 17-21. Mental Wellness Week was created last fall with the goal of reducing the stigma associated with seeking mental healthcare and to educate the community on available resources. Each day has a theme and multiple events:
Monday, Oct. 17:
(Meditation Monday – Wear Comfy Loungewear)
Mental Wellness Resource Fair: 11 a.m.-1 p.m., Avera Student Center Mall

Wave Tie-Dye: 11 a.m.-1 p.m., Avera Student Center Mezzanine

Combating Blue Moods-Research Project: Noon-1 p.m., Avera Student Center Maroon Room

Painting with Natural Stains: 2-3 p.m., Campus Green

Trauma-Informed Pedagogy (Faculty session): 3-4 p.m., CETL Pedagogy Lab, Beulah Williams Library

Yoga: 4:30-5:30 p.m., Dacotah Hall Studio
Tuesday, Oct. 18:
(Team Up Tuesday – Dress Like a Dynamic Team)
Wave Tie-Dye (Continued): 11 a.m.-1 p.m., Avera Student Center Mezzanine

Student QPR: 1-2 p.m., Avera Student Center Centennial Rooms

Gold Series: The One About Stress, 2-3 p.m., Avera Student Center Maroon Room

Positivity Sticks TRIO SSS: 5-6 p.m., Avera Student Center Mall

Stronger Than You Know: Resiliency Workshop, 6-7 p.m., Avera Student Center Honor's Lounge
Wednesday, Oct. 19:
(Wear Green for Mental Health)
Four Feet Better, Animals and Mental Health: Noon-1 p.m., Beulah Williams Library Rotunda

Northern CARES (Faculty/Staff Training), 3-4 p.m., Avera Student Center Maroon Room

Benefits of Laughter: 4-5 p.m., Avera Student Center Centennial Rooms

Zumba: 5:45-7 p.m., Dacotah Hall Studio

WOLF Talk TRIO SSS, Never Too Old to Play: 6:30-8 p.m., Johnson Fine Arts Center Jewett Theater
Thursday, Oct. 20:
(Thoughtful Thursday – Wear Tie-dye)
Sound Bath with Vibrant Life: 11:30 a.m.-12:30 p.m., Campus Green

Just for the 'Health' of it: 1-2 p.m., Avera Student Center Centennial Room

Restorative Yoga: 3 p.m., Dacotah Hall Studio

CAB Make and Take Craft: 5-7 p.m., Avera Student Center Mall

Stress and Chinese Medicine, 5:30 p.m., Avera Student Center Centennial Rooms

Shrinkrap Podcast LIVE, 7 p.m., Johnson Fine Arts Center Jewett Theater
Friday, Oct. 21:
(Northern Fam Friday – Dress in Wolf Apparel)
Combating Blue Moods- Research Project Conclusion: Noon-1 p.m., Avera Student Center Mezzanine
Remember, we're here for you:
Counseling Services: offering FREE and confidential help for students.
In-person and telehealth

Schedule in person (Suite 222 Avera Student Center), by phone 605-626-3007, or online

here

.
Northeastern Mental Health Center: offering broad support and student friendly pricing.
Call

605-225-1010

to schedule an appointment or learn more.

24-hour crisis line at 605-229-1000.
For More Information, visit the Student Affairs webpage.
CAMPUS NEWS AND EVENTS
Oct. 17: Erin Kaszynski—Mental Health
Are you interested in finding ways to connect better with your students, particularly those who may be facing challenges in their day-to-day lives, and create a space that allows for learning? If so, join CETL and Dr. Erin Kaszynski on Monday, Oct. 17, from 3 to 4 p.m. in the CETL Pedagogy Lab (library 141A) as we explore a trauma-informed approach to pedagogy that is influenced by the trauma-informed care principles of safety, trust, collaboration, empowerment, and choice/voice. As we explore these concepts, we will evaluate how we can create spaces where our students can thrive! If you are unable to attend in person, please join via this zoom link.
Artist Opening Reception
On Monday, Oct. 17, from 6:30 to 8 p.m. inside the JFAC Gallery, there will be an opening reception for visiting artist Jason Briggs. He will have a small artist talk around 7 to discuss his work and answer any questions viewers may have. The event is free and open to the public. His work will be on display until Nov. 18. Jason will also be doing a ceramics workshop from Nov. 16 to 18 inside the Spafford ceramics room, and anyone is welcome to come participate or observe his demonstrations.
Poetry Reading
Northern will host An Evening With South Dakota Poets at 7 p.m. Tuesday, Oct. 18, in the Beulah Williams Library Rotunda. The event will feature Northern's Dr. Lysbeth Benkert, Professor of English and author of the poetry chapbook, "#girl stuff." Also featured will be Joseph Bottum, poetry editor of the New York Sun; winner of the Christopher Award for children's literature; and author of the new volume of poetry, "Spending the Winter: A Poetry Collection." The poetry reading, which is free and open to the public, is sponsored by the NSU English Club, Northern Lights, and the Center for Public History and Civic Engagement.
'God's Not Dead' Event
A presentation, "God's Not Dead: Evidence for God in an Age of Uncertainty," will take place at 7 p.m. Oct. 18 at the NSU Johnson Fine Art Center's Jewett Theater. Featured speakers will be Dr. Rice Broocks, author of the book, "God's Not Dead," which inspired a movie series, and Dr. Eric Hedin, who earned his doctorate in physics from the University of Washington. The event is free and open to the public.
SDASFAA Election
Two representatives of the NSU Financial Aid office have been elected to the South Dakota Association of Student Financial Aid Administrators Executive Council for 2023. Congratulations to Sarah Selzler, who will serve a two-year term, and Morgan Stadler, who will serve a three-year term and attend training in Washington, D.C.
Fall 2022 Noon Forums will continue at noon Oct. 19 in the library, with "Four Feet Better: Animals and Mental Health," featuring Chris Puglisi. Noon Forums, which are free and open to the public, are sponsored by Faculty Senate, the Center for Excellence in Teaching and Learning, and the Center for Public History and Civic Engagement. Remaining topics for fall semester are:
Oct. 26: Town and Gown: Northern and the Aberdeen Community (Travis Schaunaman, Mike Bockorny, Zach Flakus)

Nov. 2: Apocalypse Now! What's at Stake in the 2022 Elections (Steven Usitalo, Ken Blanchard, Jon Schaff)

Nov. 9: Over There and Over Here (Brooke Louise Thielbar and Sgt. Brock Thielbar)

Nov. 16: Effective Engagement Strategies in HyFlex Modality Based on Intrinsic Motivation in Students (Kristi Bockorny, Theresa Giannavola, Shalini Mathew, and Hannah Walters)

Nov. 30: How Local Botany Has Altered Our History (Jeff Bartel)
Basic 3D Modeling (Oct. 19 at 4 p.m.)
Learn the basics of 3D modeling and how it applies to 3D printing at 4 p.m. Oct. 19 in Beulah Williams Library. Everyone who attends the workshop will be able to create a free print of their creation. Contact Lynn Klundt with any questions. at Lynn.klundt@northern.edu. This event is free to NSU students, staff and faculty.
Women in Entrepreneurship Panel
The Business Club is hosting a Women in Entrepreneurship Panel on Oct. 19 at 6 p.m. in the Lincoln Hall Gallery. Join us and our panelists for a discussion about what it's like to start a business and to answer your questions! Our guest speakers are Julie Fischbach, Fallon Helm, Katie Washnok and Kelly Weaver. Snacks will be provided.
Wolf Talks
Northern will hold fall 2022 Wolf Talks in conjunction with the 2022 Common Read Lecture, which are free and open to the public. Remaining Wolf Talks are:
At 6:30 p.m. Oct. 19 in the JFAC Jewett Theater, presenters will be Debra Butman-Perkins, Clark Perkins and Deb Langrehr, will discuss where stress comes from and how to incorporate "de-stressing" activities in our daily lives. The presentation, "Never Too Old to Play," will be interactive, with participants trying out new and fun techniques. This event is sponsored by TRIO SSS in conjunction with Mental Wellness Week.

At 6:30 p.m. Nov. 16 in the JFAC Jewett Theater, Dr. Darryl Tonemah will deliver an unforgettable experience, bringing his intimate storytelling of friendship and family loyalty to Northern. A 1989 NSU graduate, Tonemah is an acclaimed singer, songwriter and author. He has spoken on campus in the past, including delivering Northern's spring commencement address in 2014. Tonemah's Wolf Talk and concert performance is sponsored by TRIO SSS and the NSU American Indian Circle Program.
24-Hour Theatre Festival – Oct. 21/22
Are you an actor, director or writer? Ever wanted to try it out? We are excited to announce Northern Theatre's 24-Hour Theatre Festival on Oct. 21 and 22. We will show up at the Black Box Theater in the Johnson Fine Arts Center at 7:30 p.m. on Oct. 21. Then we'll break into teams and work on the shows all day on Oct. 22 with a 7:30 p.m. showtime! The show is free and open to all! If you're interested, email the Theatre professors to sign up (kane.anderson@northern.edu; noah.files@northern.edu).
'Claiming Her Seat at the Piano'
The School of Fine Arts, in cooperation with the Edvard Grieg Society of the Dakotas, will host a one-day mini-festival, "Claiming Her Seat at the Piano," on Sunday, Oct. 23.
The festival, which will feature music by Norwegian women composers of the 19th and early 20th centuries, will take place in the Johnson Fine Arts Center and include the following events:
A brown bag luncheon with a presentation by Danish-Canadian pianist Sandra Mogensen, "Exploring a Wealth of Piano Music Composed by Women in 19th Century Norway," 1 p.m. in JFAC 117 (Red Room).

"A Showcase of Norwegian Women Composers" featuring performances by students, faculty and community pianists; 3 p.m. in the Harvey and Cynthia Jewett Theater.

"Agathe Backer Grøndahl 175th Jubilee Concert," featuring NSU faculty Drs. Marla Fogderud and Christopher Stanichar and guest performers Drs. Benjamin Druffel and Jean Hellner; 5 p.m. in the Harvey and Cynthia Jewett Theater. Reception to follow in the JFAC lobby.
All events are free and open to the public. The two concerts (3 p.m. and 5 p.m.) will also be livestreamed at the NSU Music Department Facebook page. For more information, visit the Grieg Society on Facebook.
Honors Research Poster Session
The nine Honors students participating in the National Collegiate Honors Conference Nov. 2-6 will have their research posters on display in the Beulah Williams Library on Monday, Oct. 24, from 2 to 4 p.m. Please stop by and talk with them about their research. This will be great practice for them as they prepare for the national conference.
Finalize Course Registration for Next Year
Students, it's time to meet with your Professional Advisor and finalize course plans for spring, summer and fall 2023! Schedule an advising appointment using Navigate to review your program evaluation, finalize course schedules and explore NSU programs. Course registration begins on Oct. 24, 2022. For additional information or assistance, contact the Advising Center at advisingcenter@Northern.edu.
Author Talk
Beulah Williams Library will host an author talk at 7 p.m. Oct. 25. Elissa Grossell Dickey, author of "The Speed of Light" and "Iris in the Dark," will give a presentation on her two novels and her writing process. Copies of her books will be available for purchase, and Dickey will be available to sign them. The event is free and open to the public.
Idea Pitch Competition
This competition is open all Northern undergraduate students who have creative new ideas. You don't need to have a full business plan, and no entrepreneurial or business experience is necessary! Applicants (either individuals or teams) will receive valuable insight from successful business people and have the opportunity to win up to $1,000 in cash prizes. At least three (and up to five) individuals or teams will walk away with a cash prize based on our judges' rulings and the voting of audience members at the Shark Tank competition!
STEP 1: Submit your idea using the registration form. Ideas can be submitted in written or video format! Deadline: Friday, Oct. 28
STEP 2: Finalists will have five minutes to give their pitch at The Shark Tank Competition in Lincoln Gallery on Thursday, Nov. 17, at 7 p.m. The five-minute presentation will be followed by five minutes of Q and A from our judges. Judges will be local business people, including business owners, potential investors and representatives from development centers. Winners will be announced and prizes will be awarded following the Shark Tank Competition in the Lincoln Gallery.
STEP 3: Walk away with $1,000 in cash prizes!
For more information visit NSU Idea Pitch Competition.
Next Silent Book Club Meeting is Nov. 1
This isn't your regular book club. No set books to read. No pressure to share or discuss. Never worry if you haven't finished the book. No judgment.
The Silent Book Club model means we are not all reading the same book at the same pace. There is no homework and no pressure to lead or contribute to a discussion. We introduce our books and ourselves at the start of the meeting and then we dive into reading for an hour. Simply bring yourself and whatever you're currently reading (we don't care about genres or formats, anything goes!) All readers are welcome—even e-readers.
The Silent Book Club meets the first Tuesday of every month from 4 to 5 p.m. on the Campus Green (by flagpole), weather permitting. Fall semester meetings:
In case of inclement weather, meet in the library Round Room. Everyone is welcome, and anyone can join! Consider joining if you are unable to find time and space to just enjoy a book. That's it! No pressure whatsoever. For additional information, contact Nicole.Christiansen@northern.edu. Hosted by Williams Library.
Common Read is Nov. 7
Northern's fall 2022 Common Read book will be "Send," by Patty Blount. Blount will deliver the 2022 NSU Larry and Julie Poeppel Family Common Read Lecture at 7:30 p.m. Monday, Nov. 7, in the NSU Johnson Fine Arts Center's Harvey and Cynthia Jewett Theater. The event is free and open to the public. Copies of "Send" are available for purchase at the NSU Wolf Shoppe. For more information about Northern's Common Read, contact NSU Honors Program Director Dr. Kristi Bockorny, Kristi.Bockorny@northern.edu.
Nov. 2: CETL Pedagogy Grant Awardees—CETL Pedagogy Grants
Join CETL's roundtable discussion with the 2021 CETL Pedagogy Grant Awardees Christian Pirlet, Erin Kaszynski, Wendy Wakefield, Christina Cavallaro and Lauren Pierce on Wednesday, Nov. 2 at 3 p.m. in the CETL Pedagogy Lab (Library 141A). Attendees can learn about these faculty's pedagogical projects—which includes work with coding, simulation software and robotics—and get tips for how to successfully apply for the 2022 CETL Pedagogy Grants. If you are unable to join in person, please join via this zoom link.
Four-Points Film Project
Interested in learning movie cameras, sounds, make-up, props and video editing on the fly? Join our NSU Film Crew for the 2022 on-campus 4-Points Film Project! The team is open to all NSU students, faculty and staff, and Aberdeen community members. A team Strategy Meeting will be held Thursday, Nov. 10, at 6 p.m. in the new Film/TV Studio (DH209). The filmmaking challenge itself is Nov. 11-14. For more information, contact Jason Knowles: Jason.Knowles@northern.edu.
Pre-Health Club Blood Drive
The Pre-Health club will be hosting a blood drive on Wednesday, Nov. 16, from 9 a.m. to 2 p.m. in the Centennial rooms of the Student Center. Sign up to donate at this link, or contact George Nora by email at George.nora@northern.edu.
All-Campus Smudge
The American Indian Circle Program will host an all-campus smudge the first Tuesday of each month at 12:15 p.m. in MJ 112 (outside on the patio). Smudging is the burning of sacred plants and is done individually or in a group to begin a new or to cleanse a space. We seek to build community, so everyone is welcome!
Help Decide the Theme of the Northern Lights Launch Party 2023!
Help us choose a theme for our launch party on March 29, 2023! Northern Lights is NSU's creative literary magazine. Your vote will also help us choose the theme for the cover of the magazine. Cast your vote by filling out the form at the following link: Northern Lights 2023 Launch Party Theme. All are welcome to vote regardless of their status and affiliation with Northern!
Northern Lights is now taking submissions for the 2023 issue. Students can submit their stories, poetry, art, creative nonfiction, photography, original essays and songs to northernlights@northern.edu or message us on Facebook! Accepted submissions will be included in our literary magazine that is released in March 2023. Please submit all written works as a Word document (.docx) or a PDF (.pdf), and any artworks as a JPEG (.jpeg) or JPG (.jpg) file. Submissions are open until Dec. 31, 2022. If you have any questions, contact President Madi Filber, madi.filber@wolves.northern.edu.
'Be Northern' Nominations
Do you know someone in the NSU campus community who should be featured on Northern social media? Nominate a student, faculty, staff or alum to be featured as a Be Northern on NSU Instagram and Facebook! Nominated are accepted through this online form.