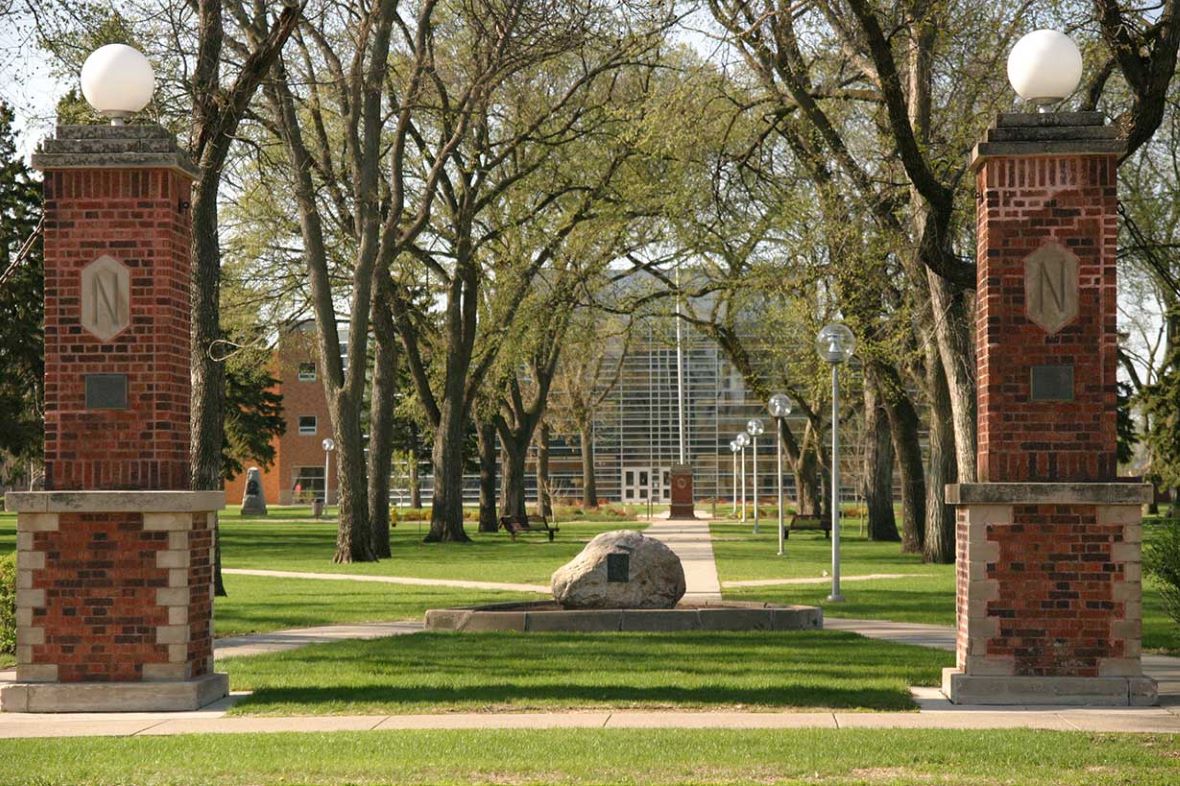 NSU NEWS UPDATE: Week of Oct. 3, 2022
Welcome to the NSU News Update - providing information on events happening on campus or involving NSU students, staff and faculty. 
To submit a news item, send it via email to NSUNews@northern.edu by 5 p.m. Thursday of the week before the announcement should run.
It's Homecoming Week!
Gypsy Days 2022 is Oct. 3-9, and this year's theme, as voted on by students, is "Wolves on Broadway." Office decorating will close at 5 p.m. Tuesday, Oct. 4, and judging will take place at 3 p.m. Thursday, Oct. 6. Register your office here. The Homecoming Committee is hosting banner painting on Tuesday, Oct. 4. Sign up your organization or office to paint a large banner to be hung in the Avera Student Center here.
Below is a listing of the week's events:
Monday, Oct. 3-Saturday, Oct. 8
Gypsy Days Sale at the NSU Wolf Shoppe: The NSU Wolf Shoppe will have a Gypsy Days Sale Oct. 3-8.  Take 20 percent off all clothing and giftware! Open Gypsy Day Saturday, Oct. 8, 9:30 a.m.-1:30 p.m.
Monday, Oct. 3
Royalty Meet and Greet Trivia: 7 p.m., Centennial Rooms. Come meet the 2022 homecoming royalty—enjoy trivia and FREE wings!
Tuesday, Oct. 4
Wicked Art Night: 7 p.m., Centennial Rooms. Enjoy a spooky season, Wicked-themed guided painting.
Volleyball: 6 p.m. vs. MSU Moorhead, Barnett Center
Wednesday, Oct. 5
Lunch for a Buck: 11 a.m.-1 p.m., Student Center Mall; walking tacos for $1. (First 50 students get a free walking taco on Dean Blackburn!)
Little Mermaid Pool Party: 7 p.m., Barnett Center pool; pool party with under the sea snacks!
Thursday, Oct. 6
NSU Swimming: 4:15 p.m., intrasquad meet, Barnett Center pool
Coronation: 6 p.m., Krikac Auditorium; crowning of the 2022 Queen and Marshal
Bonfire Bash: Following Coronation in the Barnett Center parking lot; prizes for Points of Pride awarded; pep rally, bonfire, yard games, game day shirt decorating and food; sponsored in partnership with Campus Activities Board, Athletics, and Student Involvement and Leadership
Friday, Oct. 7
Frozen Ice Cream Social: 11 a.m.-1 p.m., Campus Green
Women's Swimming: 2 p.m. vs. MSU Moorhead, Aberdeen YMCA
Northern State Softball Homerun Derby:

Please join us Friday, Oct. 7, 4-6 p.m. at Koehler Hall of Fame Softball Field for our Homerun Derby! For $2 a swing, participants can register to swing for themselves, register a NSU softball player to swing for you, or donate! There will be fantastic prizes, silent auction items and softball gear available for purchase! Come out and support your NSU Wolves Softball Team! 

Register here.
Hall of Fame and Distinguished Alumni Banquet: 5 p.m., Kessler's Champions Room, Barnett Center;
Volleyball vs. Wayne State: 6 p.m.; Wachs Arena, Barnett Center
Soccer vs. USF: 6 p.m.; Athletic and Recreation Fields
All School Reunion and 50 Year Club Celebration: 8 p.m., Kessler's Champions Room, Barnett Center
Bob Wachs Era Reunion: 7 p.m., Barnett Center
NSU Football Reunion (1980-2000): 7 p.m., Barnett Center
NSU Wrestling Reunion: 6 p.m., Teal Lounge, Dacotah Bank Stadium
Saturday, Oct. 8
Steps for Shep 5k Road Race/1 Miler: Registration, 7-7:30 a.m.; Race and Walk Begin at 8 a.m. at the Barnett Center. More Information
Gypsy Day Parade: 9 a.m. on South Main Street; marching bands and floats will parade down Main Street starting at Seventh Avenue North. Register your Northern department or organization here

.

Tailgating: Students: noon, Herret Street Premier Parking Lot; Alumni Association: noon, Dacotah Bank Stadium Parking Lot
Football vs. Winona State: 2:30 p.m., Dacotah Bank Stadium
Volleyball vs. Augustana, 6 p.m.; Wachs Arena, Barnett Center
Sunday, Oct. 9
Soccer vs. Southwest Minnesota State: 1 p.m., Athletic and Recreation Fields
Campus News and Events:
 
President Schnoor presented a fall 2022 enrollment update for faculty and staff that included planned changes to grow enrollment. View video from one of the forums here. A written recap can also be found here.
Freshman Senate Elections
Calling all Freshmen! Are you interested in student government? Want to make campus changes on the Student Senate? SGA election committee will be tabling on Tuesday, Oct. 4 from 11 a.m. to 1 p.m. If you cannot make it to the table to sign up, please email laine.converse@wolves.northern.edu with your name, student ID and wolves.northern email to get your petition to get on the ballot for freshman elections!
All-Campus Smudge
The American Indian Circle Program will host an all-campus smudge the first Tuesday of each month. Please join us at 12:15 p.m. Tuesday, Oct. 4, in MJ 112 (outside on the patio). Smudging is the burning of sacred plants and is done individually or in a group to begin a new or to cleanse a space. We seek to build community, so everyone is welcome!
Oct. 4: Art Marmorstein and Josh VanLaecken—Community
Join the Center for Excellence in Teaching and Learning with hosts Art Marmorstein and Josh VanLaecken on Tuesday, Oct. 4, at 2:30 p.m. in the CETL Pedagogy Lab (Library 141A). This pair will discuss the importance of building community among faculty. If you are unable to attend in person, please join via this zoom link. 
Finalize Course Registration for Next Year
Students, it's time to meet with your Professional Advisor and finalize course plans for spring, summer and fall 2023! Schedule an advising appointment using Navigate to review your program evaluation, finalize course schedules and explore NSU programs. Course registration begins on Oct. 24, 2022. For additional information or assistance, contact the Advising Center at advisingcenter@Northern.edu.   
Northern Lights Taking submissions
Northern Lights is now taking submissions for the 2023 issue. Students can submit their stories, poetry, art, creative nonfiction, photography, original essays and songs to northernlights@northern.edu or message us on Facebook! Accepted submissions will be included in our literary magazine that is released in March 2023. Please submit all written works as a Word document (.docx) or a PDF (.pdf), and any artworks as a JPEG (.jpeg) or JPG (.jpg) file. Submissions are open until Dec. 31, 2022. If you have any questions, contact President Madi Filber, madi.filber@wolves.northern.edu.
Next Silent Book Club Meeting is Oct. 4
This isn't your regular book club. No set books to read. No pressure to share or discuss. Never worry if you haven't finished the book. No judgment.
The Silent Book Club model means we are not all reading the same book at the same pace. There is no homework and no pressure to lead or contribute to a discussion. We introduce our books and ourselves at the start of the meeting and then we dive into reading for an hour. Simply bring yourself and whatever you're currently reading (we don't care about genres or formats, anything goes!) All readers are welcome—even e-readers.
The Silent Book Club meets the first Tuesday of every month from 4 to 5 p.m. on the Campus Green (by flagpole), weather permitting. Fall semester meetings:
In case of inclement weather, meet in the library Round Room. Everyone is welcome, and anyone can join! Consider joining if you are unable to find time and space to just enjoy a book. That's it! No pressure whatsoever. For additional information, contact Nicole.Christiansen@northern.edu. Hosted by Williams Library.
BOR Meeting
The Board of Regents will meet in Madison on Oct. 5-6, 2022. The agenda and Zoom information can be found at this link. The meeting will also be webcast through sd.net.
Noon Forums
Fall 2022 Noon Forums will continue at noon Oct. 5 in the library, with candidates including Carl Perry, Brian Bengs and others discussing education. Noon Forums, which are free and open to the public, are sponsored by Faculty Senate, the Center for Excellence in Teaching and Learning, and the Center for Public History and Civic Engagement. Remaining topics for fall semester are:
Oct. 12: Native American Day Presentation (Pam Monaghan-Geernaert and Lara Nelson)

Oct. 19: Four Feet Better: Animals and Mental Health (Chris Puglisi)

Oct. 26: Town and Gown: Northern and the Aberdeen Community (Travis Schaunaman, Mike Bockorny, Zach Flakus)

Nov. 2: Apocalypse Now! What's at Stake in the 2022 Elections (Steven Usitalo, Ken Blanchard, Jon Schaff)

Nov. 9: Over There and Over Here (Brooke Louise Thielbar and Sgt. Brock Thielbar)

Nov. 16: Effective Engagement Strategies in HyFlex Modality Based on Intrinsic Motivation in Students (Kristi Bockorny, Theresa Giannavola, Shalini Mathew, and Hannah Walters)

Nov. 30: How Local Botany Has Altered Our History (Jeff Bartel)
October 12: SnackChat—Susan Citrak and Kane Anderson—Undergraduate Research 
Cohosts Susan Citrak and Kane Anderson will host a second October Snackchat Wednesday, Oct. 12, at 2 p.m. in CETL's Pedagogy Lab (Library 141A). During this Snackchat, Citrak and Anderson will discuss how all faculty—especially those in the arts—can help their students apply for undergraduate competitive research grants, travel grants and Northern Edge Awards. If you are unable to attend in person, please join via this zoom link.
Guatemala Spring Break Info Session
The first INFO SESSION for the Service Learning Spring Break in Guatemala Program will take place Oct. 12 at 2 p.m. in the Student Center Gold Room. Come and learn more about this life-changing opportunity during our first info session and get your questions answered! This program takes place March 10-18, 2023, and will involve building a bottle school in Tecpan. Interested students can fill out the application here, and email StudyAbroad@Northern.edu with any questions.
Flu Shots
Be sure to attend the on-campus flu shot clinic. On Oct. 12, the flu shot clinic for employees will be held in the Student Center Centennial rooms from 2 to 6 p.m.
NSU Theatre
Northern Theatre will present the musical "First Date" in the Johnson Fine Arts Center Black Box Theater at 7:30 p.m. Oct. 13, 14, and 15 as well as at 3 p.m. Oct. 16. "First Date," written by Austin Winsberg with music and lyrics by Alan Zachary and Michael Weiner, follows Aaron and Casey on their first blind date at a trendy New York restaurant. In this musical comedy, she quickly assesses him as overdressed and tense while he is immediately intimidated by her artsy and provocative exterior. "First Date" is an upbeat musical about the downbeats of dating and includes some adult language. Please use discretion with bringing younger patrons. All tickets are general admission and will be available at the door. Cost is $10 for adults and $5 for senior citizens and NSU faculty/staff. Students will be admitted for free. Payment will be cash or check only; debit or credit cards will not be accepted. There will be no advance or online ticket sales. For more information, contact the School of Fine Arts at 605-626-2497.
Wolf Talks
Northern will hold fall 2022 Wolf Talks in conjunction with the 2022 Common Read Lecture, which are free and open to the public. Remaining Wolf Talks are:
At 6:30 p.m. Oct. 19 in the JFAC Jewett Theater, presenters will be Debra Butman-Perkins, Clark Perkins and Deb Langrehr, will discuss where stress comes from and how to incorporate "de-stressing" activities in our daily lives. The presentation, "Never Too Old to Play," will be interactive, with participants trying out new and fun techniques. This event is sponsored by TRIO SSS in conjunction with Mental Wellness Week.

At 6:30 p.m. Nov. 16 in the JFAC Jewett Theater, Dr. Darryl Tonemah will deliver an unforgettable experience, bringing his intimate storytelling of friendship and family loyalty to Northern. A 1989 NSU graduate,

Tonemah

is an acclaimed singer, songwriter and author. He has spoken on campus in the past, including delivering Northern's spring commencement address in 2014. Tonemah's Wolf Talk and concert performance is sponsored by TRIO SSS and the NSU American Indian Circle Program.
'Claiming Her Seat at the Piano'
The School of Fine Arts, in cooperation with the Edvard Grieg Society of the Dakotas, will host a one-day mini-festival, "Claiming Her Seat at the Piano," on Sunday, Oct. 23.
The festival, which will feature music by Norwegian women composers of the 19th and early 20th centuries, will take place in the Johnson Fine Arts Center and include the following events: 
A brown bag luncheon with a presentation by Danish-Canadian pianist Sandra Mogensen, "Exploring a Wealth of Piano Music Composed by Women in 19th Century Norway," 1 p.m. in JFAC 117 (Red Room).

"A Showcase of Norwegian Women Composers" featuring performances by students, faculty and community pianists; 3 p.m. in the Harvey and Cynthia Jewett Theater.

"Agathe Backer Grøndahl 175th Jubilee Concert," featuring NSU faculty Drs. Marla Fogderud and Christopher Stanichar and guest performers Drs. Benjamin Druffel and Jean Hellner; 5 p.m. in the Harvey and Cynthia Jewett Theater. Reception to follow in the JFAC lobby.
All events are free and open to the public. The two concerts (3 p.m. and 5 p.m.) will also be livestreamed at the NSU Music Department Facebook page. For more information, visit the Grieg Society on Facebook.
Idea Pitch Competition
Idea Pitch Competition: This competition is open all Northern undergraduate students who have creative new ideas. You don't need to have a full business plan, and no entrepreneurial or business experience is necessary! Applicants (either individuals or teams) will receive valuable insight from successful business people and have the opportunity to win up to $1,000 in cash prizes. At least three (and up to five) individuals or teams will walk away with a cash prize based on our judges' rulings and the voting of audience members at the Shark Tank competition!
STEP 1: Submit your idea using the registration form. Ideas can be submitted in written or video format! Deadline: Friday, October 28
STEP 2: Finalists will have five minutes to give their pitch at The Shark Tank Competition in Lincoln Gallery on Thursday, November 17, at 7 p.m. The five-minute presentation will be followed by five minutes of Q and A from our judges. Judges will be local business people, including business owners, potential investors and representatives from development centers. Winners will be announced and prizes will be awarded following the Shark Tank Competition in the Lincoln Gallery.
STEP 3: Walk away with $1,000 in cash prizes!
For more information visit NSU Idea Pitch Competition.
Common Read is Nov. 7      
Northern's fall 2022 Common Read book will be "Send," by Patty Blount. Blount will deliver the 2022 NSU Larry and Julie Poeppel Family Common Read Lecture at 7:30 p.m. Monday, Nov. 7, in the NSU Johnson Fine Arts Center's Harvey and Cynthia Jewett Theater. The event is free and open to the public. Copies of "Send" are available for purchase at the NSU Wolf Shoppe. For more information about Northern's Common Read, contact NSU Honors Program Director Dr. Kristi Bockorny, Kristi.Bockorny@northern.edu.
Pre-Health Club Blood Drive
The Pre-Health club will be hosting a blood drive on Wednesday, Nov. 16, from 9 a.m. to 2 p.m. in the Centennial rooms of the Student Center. Sign up to donate at this link, or contact George Nora by email at George.nora@northern.edu.
'Be Northern' Nominations
Do you know someone in the NSU campus community who should be featured on Northern social media? Nominate a student, faculty, staff or alum to be featured as a Be Northern on NSU Instagram and Facebook! Nominated are accepted through this online form.