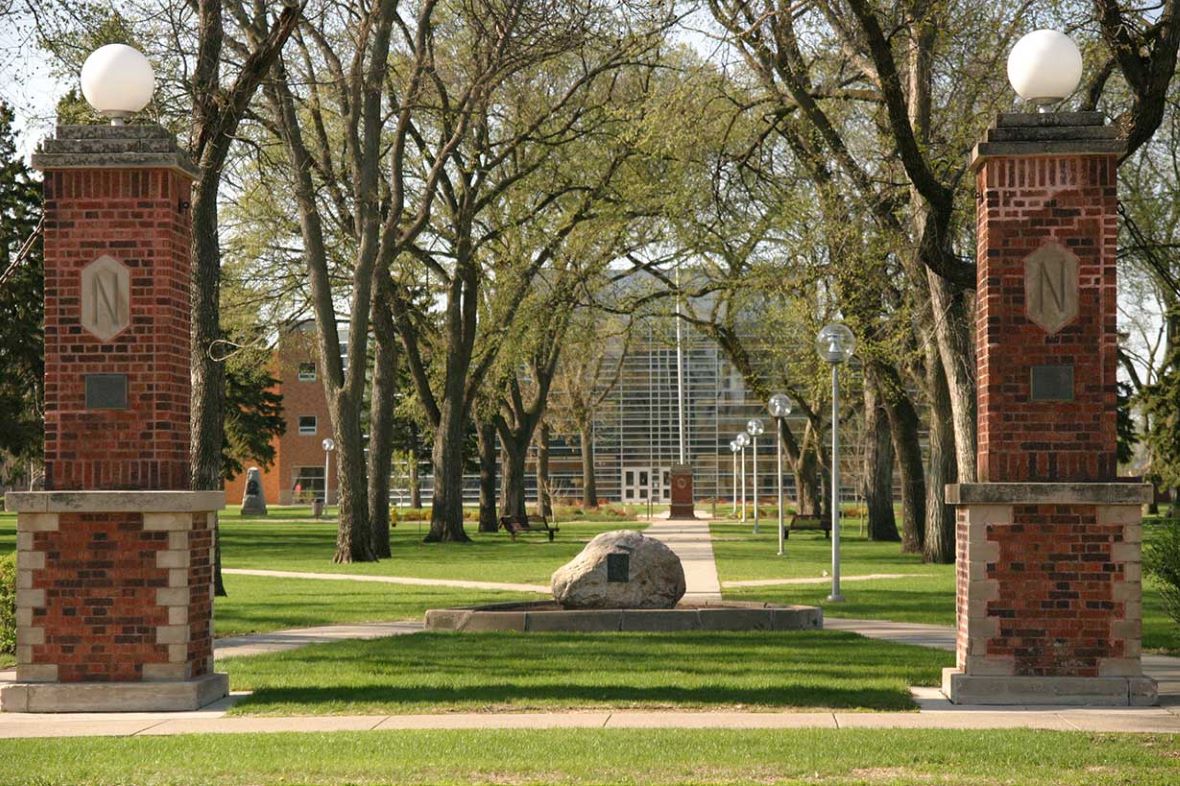 Welcome to the NSU News Update - providing information on events happening on campus or involving NSU students, staff and faculty.
To submit a news item, send it via email to NSUNews@northern.edu by 5 p.m. Thursday of the week before the announcement should run.
Pumpkin Faceoff
Today is the last day to stop by the Financial Aid and Registrar's Offices to vote for your favorite pumpkin! Come to Dacotah Hall 103 and help us declare a winner. Happy Halloween!
Halloween Sale at the NSU Wolf Shoppe
Happy Halloween! The NSU Wolf Shoppe Halloween Sale continues through today. Pick a pumpkin to reveal your discount of 15, 20, 25 or 30 percent off clothing and giftware!
CAS Podcast
The first episode of the College of Arts and Sciences podcast, "Wolf Tracks," is now available on Spotify. It includes an interview with Dr. Jon Schaff on his scholarly publications, and an interview with Drs. Elizabeth Haller and Kristi Brownfield on scary movies for Halloween. The "Wolf Tracks" podcast was created by Professor of Government Dr. Ken Blanchard, with the goal of publicizing the activities of College of Arts and Sciences faculty and staff. Check out the first episode at this link!
Attention Fall Graduates
Please purchase your graduation apparel by Nov. 1 to make sure that your order arrives on-time for commencement on Dec. 10.
Click on these links to purchase:
Next Silent Book Club Meeting is Nov. 1
This isn't your regular book club. No set books to read. No pressure to share or discuss. Never worry if you haven't finished the book. No judgment.
The Silent Book Club model means we are not all reading the same book at the same pace. There is no homework and no pressure to lead or contribute to a discussion. We introduce our books and ourselves at the start of the meeting and then we dive into reading for an hour. Simply bring yourself and whatever you're currently reading (we don't care about genres or formats, anything goes!) All readers are welcome—even e-readers.
The Silent Book Club meets the first Tuesday of every month from 4 to 5 p.m. on the Campus Green (by flagpole), weather permitting. Fall semester meetings:
In case of inclement weather, meet in the library Round Room. Everyone is welcome, and anyone can join! Consider joining if you are unable to find time and space to just enjoy a book. That's it! No pressure whatsoever. For additional information, contact Nicole.Christiansen@northern.edu. Hosted by Williams Library.
All-Campus Smudge
The American Indian Circle Program will host an all-campus smudge the first Tuesday of each month at 12:15 p.m. in MJ 112 (outside on the patio). Smudging is the burning of sacred plants and is done individually or in a group to begin a new or to cleanse a space. We seek to build community, so everyone is welcome!
Study Abroad Fair
A Study Abroad Fair will take place Wednesday, Nov. 2, 10 a.m.-2 p.m., in the Avera Student Center Mall.
COME LEARN MORE:
Meet your study abroad faculty leaders

Discover 140 destinations and 600 programs available

Learn about available scholarships and ways to raise funds

Find out what it takes to study abroad and more!
For more information, please email studyabroad@northern.edu.
Nov. 2: CETL Pedagogy Grant Awardees—CETL Pedagogy Grants
Join CETL's roundtable discussion with the 2021 CETL Pedagogy Grant Awardees Christian Pirlet, Erin Kaszynski, Wendy Wakefield, Christina Cavallaro and Lauren Pierce on Wednesday, Nov. 2 at 3 p.m. in the CETL Pedagogy Lab (Library 141A). Attendees can learn about these faculty's pedagogical projects—which includes work with coding, simulation software and robotics—and get tips for how to successfully apply for the 2022 CETL Pedagogy Grants. If you are unable to join in person, please join via this zoom link.
988 Available for Emergencies
988 is the new 911 for mental health emergencies. Call or text for support with a mental health emergency—for yourself or for a friend. This service is free, private and available across the country. We encourage all members of the Northern community—students, faculty, staff, alumni and friends—to use this service as needed. To learn more about 988 click HERE or visit Student Affairs in Suite 222, Avera Student Center.
Avera Student Health
Avera Student Health is available to help students Monday-Friday, 8:30 a.m.-3:30 p.m. in Avera Student Center 240. Walk-ins are welcome, or call 605-626-7694 for appointments. Students may access Avera Urgent Care Monday-Friday, 5-7 p.m., and Saturday and Sunday 8 a.m.-2 p.m. at 105 S. State St., no appointment needed. Call 605-622-8690 for more information. Avera St. Luke's Hospital is available 24-7 for emergency and trauma services at 305 S. State St.; dial 911 for assistance. (For on-campus extensions, dial 9-911 for emergency services.) To learn more about Avera Student Health click HERE or visit Student Affairs in Suite 222, Avera Student Center.
Noon Forums
Fall 2022 Noon Forums will continue at noon Nov. 2 in the library, with "Apocalypse Now! What's at Stake in the 2022 Elections," featuring Steven Usitalo, Ken Blanchard and Jon Schaff. Noon Forums, which are free and open to the public, are sponsored by Faculty Senate, the Center for Excellence in Teaching and Learning, and the Center for Public History and Civic Engagement. Remaining topics for fall semester are:
Nov. 9: Over There and Over Here (Brooke Louise Thielbar and Sgt. Brock Thielbar)

Nov. 16: Effective Engagement Strategies in HyFlex Modality Based on Intrinsic Motivation in Students (Kristi Bockorny, Theresa Giannavola, Shalini Mathew, and Hannah Walters)

Nov. 30: How Local Botany Has Altered Our History (Jeff Bartel)
Information Session
Faculty Led Poland Czech Republic Program Info Session will be this Thursday, Nov. 3, at 5 p.m. in Gerber 211 with Dr. Anna Schwan. We'll talk through the itinerary, cost estimate, expectations and everything you need to know. We will answer any questions you may have. Can't wait to see you there!
Twist of Fate Exhibition Reception
A closing reception for Twist of Fate, a student art exhibition currently on display in the Johnson Fine Arts Center's Gallery X, will take place Friday, Nov. 4, from 6:30 to 8:30 p.m. The display features work by the following students in Northern's painting classes: Emilie Crosby, Trinity Nell, Aaliyah Pavlicek, Hsa Eh Law, Grace Campbell, Allison Kimble, Guy Clothier, Tia Swiontek, Miranda Thorson, Jaci Mollman, Kelly Stadel and Levi Stern.
German Club Bake Sale
German Club is hosting a bake sale at the Aberdeen Oktoberfest on Nov. 5. The event begins at 1 p.m. in the Aberdeen Civic Arena, 203 S. Washington St.
AUCS Concert is Nov. 5
The Aberdeen University/Civic Symphony invites you to a concert inspired by colors of the rainbow at 7:30 p.m. Nov. 5. The concert, which will be held in the NSU Johnson Fine Arts Center Jewett Theater, feature soloists from the Aberdeen area, including Northern faculty members and a side-by-side selection with Aberdeen Central High School Orchestra. A Pre-Concert Conversation is scheduled for 6:45-7:15 p.m. in JFAC Berggren Recital Hall. Live artists from the NSU Art Department will join the performers on stage to paint works inspired by the music the AUCS plays. All tickets are general admission and will be available at the door. Cost is $10 for adults and $5 for senior citizens and NSU faculty/staff. Students will be admitted for free. Payment will be cash or check only; debit or credit cards will not be accepted. There will be no advance or online ticket sales. For more information, contact the NSU School of Fine Arts at 605-626-2497. To learn more about the orchestra, visit the AUCS webpage.
Registration Open House
Not yet registered for classes or have other questions? Visit the Registration Open House on Wednesday, Nov. 9, or Tuesday, Nov. 15, in the Student Success Center (TC 148) between 11:30 a.m. and 1:30 p.m. Staff will be available to assist with registering for classes, identifying registration time ticket, making Navigate appointments, removing holds, answering financial aid questions, and exploring academic resources. Finalize course registration to receive SGA Pack Points!
Common Read is Nov. 7
Northern's fall 2022 Common Read book will be "Send," by Patty Blount. Blount will deliver the 2022 NSU Larry and Julie Poeppel Family Common Read Lecture at 7:30 p.m. Monday, Nov. 7, in the NSU Johnson Fine Arts Center's Harvey and Cynthia Jewett Theater. The event is free and open to the public. Copies of "Send" are available for purchase at the NSU Wolf Shoppe. For more information about Northern's Common Read, contact NSU Honors Program Director Dr. Kristi Bockorny, Kristi.Bockorny@northern.edu.
Four-Points Film Project
Interested in learning movie cameras, sounds, make-up, props and video editing on the fly? Join our NSU Film Crew for the 2022 on-campus 4-Points Film Project! The team is open to all NSU students, faculty and staff, and Aberdeen community members. A team Strategy Meeting will be held Thursday, Nov. 10, at 6 p.m. in the new Film/TV Studio (DH209). The filmmaking challenge itself is Nov. 11-14. For more information, contact Jason Knowles: Jason.Knowles@northern.edu.
It's time to REGISTER for classes!
Course registration is now open for the spring, summer and fall 2023 terms. Finalize course registration for the spring 2023 semester through Nov. 10 to receive SGA Pack Points. To register, log into Self-Service Banner (SSB) and register for classes. Be sure to register as soon as your time ticket allows to ensure the best course availability! For registration and course selection assistance, schedule an appointment with your professional advisor through the Navigate app, or contact the Advising Center at advisingcenter@northern.edu.
Wolf Talk
Northern will hold fall 2022 Wolf Talks in conjunction with the 2022 Common Read Lecture, which are free and open to the public. The remaining Wolf Talks will take place at 6:30 p.m. Nov. 16 in the JFAC Jewett Theater. Dr. Darryl Tonemah will deliver an unforgettable experience, bringing his intimate storytelling of friendship and family loyalty to Northern. A 1989 NSU graduate, Tonemah is an acclaimed singer, songwriter and author. He has spoken on campus in the past, including delivering Northern's spring commencement address in 2014. Tonemah's Wolf Talk and concert performance is sponsored by TRIO SSS and the NSU American Indian Circle Program.
Idea Pitch Competition
This competition is open all Northern undergraduate students who have creative new ideas. You don't need to have a full business plan, and no entrepreneurial or business experience is necessary! Applicants (either individuals or teams) will receive valuable insight from successful business people and have the opportunity to win up to $1,000 in cash prizes. At least three (and up to five) individuals or teams will walk away with a cash prize based on our judges' rulings and the voting of audience members at the Shark Tank competition!
Finalists will have five minutes to give their pitch at The Shark Tank Competition in Lincoln Gallery on Thursday, Nov. 17, at 7 p.m. The five-minute presentation will be followed by five minutes of Q and A from our judges. Judges will be local business people, including business owners, potential investors and representatives from development centers. Winners will be announced and prizes will be awarded following the Shark Tank Competition in the Lincoln Gallery. The winner will walk away with $1,000 in cash prizes! For more information visit NSU Idea Pitch Competition.
Help Decide the Theme of the Northern Lights Launch Party 2023!
Help us choose a theme for our launch party on March 29, 2023! Northern Lights is NSU's creative literary magazine. Your vote will also help us choose the theme for the cover of the magazine. Cast your vote by filling out the form at the following link: Northern Lights 2023 Launch Party Theme. All are welcome to vote regardless of their status and affiliation with Northern!
Northern Lights is now taking submissions for the 2023 issue. Students can submit their stories, poetry, art, creative nonfiction, photography, original essays and songs to northernlights@northern.edu or message us on Facebook! Accepted submissions will be included in our literary magazine that is released in March 2023. Please submit all written works as a Word document (.docx) or a PDF (.pdf), and any artworks as a JPEG (.jpeg) or JPG (.jpg) file. Submissions are open until Dec. 31, 2022. If you have any questions, contact President Madi Filber, madi.filber@wolves.northern.edu.
'Be Northern' Nominations
Do you know someone in the NSU campus community who should be featured on Northern social media? Nominate a student, faculty, staff or alum to be featured as a Be Northern on NSU Instagram and Facebook! Nominated are accepted through this online form.