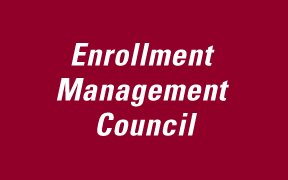 I am excited to share the individuals who have been selected to participate in the working groups that will help develop Northern's first Strategic Enrollment Management (SEM) plan. The individuals below, broken out by working group, were selected by the Enrollment Management Council, reviewed by EAB (enrollment consultant) and President Schnoor, and approved by department supervisors.
Each working group will meet over the next 6-8 months to complete tasks that will lead to the creation of our first SEM plan. Individuals can anticipate spending 1-2 hours per week on working group responsibilities.
Please help me in thanking these individuals for their contributions to our SEM planning.
Justin Fraase
Download the working group outline
Working Groups
Executive Sponsor
Justin Fraase
VP of Enrollment, Communications and Marketing
Enrollment Management Council
Sean Blackburn
Dean of Students
Dr. Debbi Bumpous
VP of Technology/Chief Information Officer
Justin Fraase (chair)
VP of Enrollment, Communications and Marketing
Dr. Erin Fouberg
Associate Vice President for Academic Affairs
Britt Lorenz
Executive Director of Student Success
Dr. Brenda Mammenga
Institutional Research and Assessment Director
Becky Pribyl
Director of Financial Aid
Academic Program Review
Dr. Erin Fouberg
Academic Affairs
Dr. Elizabeth Haller
College of Arts and Sciences
Dr. Audrey Miller
School of Fine Arts
Dr. Doug Ohmer
School of Business
Maggie Pence
Career Services
Dr. Sara Schmidt
School of Business
Dr. Heather Scott
School of Education
Dr. Mike Wanous (chair)
Academic Affairs
Retention
Justin Bartel
Professional Advisor - Education
Rocky Burkett
Athletics
Kerry Casper
Student Success Center
Peggy Hallstrom
Registrar
Dr. Alyssa Kiesow
College of Arts and Sciences
Jason Knowles
School of Fine Arts
Britt Lorenz (chair)
Student Success Center
Morgan Stadler
Financial Aid
Dr. Sal Villegas
School of Business
Thomas Williams
Student Affairs
Recruiting New Students
Ronald Brownie
Online and Continuing Education
Rhonda Carda
College of Arts and Sciences
Layton Cooper
Admissions
Nate Davis
Athletics
Justin Fraase (chair)
Enrollment, Communications and Marketing
Tammy Griffith
Graduate Studies
Becky Nelson
International Programs
Dr. Christian Pirlet
School of Education
Becky Pribyl
Financial Aid
Kelsey Selden
Student
Budget and Revenue
Dr. Debbi Bumpous
Technology
Dr. Ken Boulton
School of Fine Arts
Connor Kern
Athletics
Dave Knigge
Finance
Veronica Paulson (chair)
Finance and Administration
Dr. Anna Schwan
School of Education
Josh VanLaecken
School of Business
Institutional Identity and Brand Awareness
Dr. Kane Anderson
School of Fine Arts
Lauren Bittner
NSU Foundation
Elissa Dickey
Communications and Marketing
Justin Fraase (chair)
Enrollment, Communications and Marketing
Ashley Gauer
Athletics
Dr. Bobby Jalli
College of Arts and Sciences
Amanda Mahlke
Communications and Marketing
Dr. Kelsie Roberts
School of Education
Darla Scarlett
Technology
Lily Tobin
Student
Elizabeth Varin
Communications and Marketing
Jenny Vaughn
Communications and Marketing
Dr. Hannah Walters
School of Business
Student Engagement that Drives Retention
Sean Blackburn (chair)
Student Affairs
Megan Frewaldt
Student Affairs
Victoria Garrett
TRIO SSS / Academic Advisor
Becky Jensen
TRIO SSS / Academic Coordinator and Advisor
Steven McKee
Athletics
Michael Mohammed
International Programs
Travis Netzer
School of Fine Arts
Dr. Jodie Ramsay
College of Arts and Sciences
Dr. Chelsee Shortt
School of Education
Dr. Liz Sills
College of Arts and Sciences / First Year Seminar
Mariah William
Student