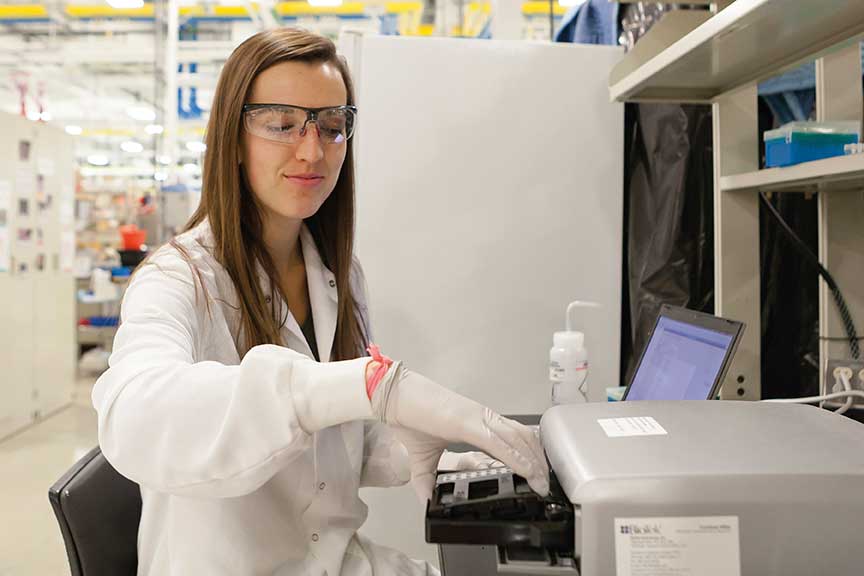 When Annika van Oosbree came across an online fundraising site for a child with pediatric leukemia, it drove home the importance of her summer internship.
"I just started crying," said van Oosbree, a senior honors student at Northern State University. "These are kids who are actually affected by what I'm doing. … I don't even have my B.S. yet, and I'm making some small dent in this huge problem for kids."
Van Oosbree spent her summer at the Sanford Research Center in Sioux Falls as an intern in the Milanovich Lab, where she conducted cancer biology research in the specialty of pediatric leukemia. The 10-week Sanford Program for Undergraduate Research (SPUR), funded in part by Sanford Research and the Center for Cancer Biology Research through a National Institutes of Health grant, was highly competitive.
"There aren't a ton of opportunities for this kind of thing, so I was just really thrilled to get this," said van Oosbree, who majors in biology and English with a minor in chemistry.
Conducted Important Research
Van Oosbree's work with Sanford involved studying the ARID5B gene, which has been identified as a gene of interest in pediatric leukemia. She tested eight different human leukemia cell lines taken from patients from the 1970s-1990s for ARID5B expression using a method known as reverse transcription quantitative polymerase chain reaction (RT-qPCR). Then she used a process called lentiviral transduction to introduce a virus to attempt to modify the genomes of the cells and reduce, or "knock down," the expression of ARID5B.
The project is ongoing – just getting cells successfully infected by the virus took three weeks, van Oosbree said. She got all of her results for baseline gene expression of ARID5B and then got about halfway through the lentiviral transduction by the end of her 10-week internship. Now, her lab will continue the work, including banking blood samples from patients of her boss this summer, Dr. Samuel Milanovich, for work with ARID5B in this research.
Her research has the potential to help countless kids – pediatric leukemia is the number one cancer in children, van Oosbree said. But she has a closer connection, too: her grandmother died of leukemia years ago.
"That's one of the reasons I applied for this lab was that personal connection," she said. "And I know she'd be really proud of me."
Credits Advisor for Opportunity
Van Oosbree credits her advisor, NSU Associate Professor of Biology Dr. Alyssa Kiesow, for this opportunity. Kiesow has contacts at Sanford and wrote her a letter of recommendation.
"She's pushed me as a student and a researcher so much," van Oosbree said.
Kiesow is the one who got her to start research as a sophomore – this was crucial to make her more competitive for summer programs.
Van Oosbree's honors thesis, titled "The Effects of Probiotics on Xenopus Laevis," studied how probiotics affect development in African clawed frogs, using the frogs as a model organism for maternal probiotic consumption during human pregnancy. She and Kiesow have done more studies on that topic since finishing that project in 2015. Van Oosbree has also participated in NSU's West Nile research project, part of a statewide mosquito study.
She did a poster presentation at the end of the summer at Sanford, titled "ARID5B Expression and Knockdown is Investigated in Pediatric Leukemia," and will continue to present that at conferences throughout her last year at Northern. She and Kiesow also have an article in review for a journal (an extended version of van Oosbree's honors thesis).
The class difficulty at NSU also prepared her intellectually for the program, van Oosbree said, giving her the background knowledge required to succeed.
Kiesow said from van Oosbree's research experiences, she has seen her student evolve into a skilled researcher with an inquisitive mind. 
"Her ambitions to become a successful medical practitioner and researcher drive her pursuits. Annika advocates for her own education and experiences, which has led to her successes as an undergraduate student," Kiesow said. "I am proud to serve as her research advisor and mentor, and am excited to learn of her successes in the future. I envision Annika being world-renowned for her contributions in medicine whether via practice or research."
Confirmed Future Plans
A native of Maple Grove, Minn., van Oosbree serves as the vice president of the NSU Student Association and the pre-med society, writes for the Exponent, works as a supplemental instructor and instructional assistant, and also played for the NSU Wolves volleyball team for three years.
She will graduate in May and said the internship has confirmed her career plans. Van Oosbree plans to enroll in an MD-Ph.D. program. She said Dr. Milanovich has her dream job – spending three days a week in the clinic with patients and the other two in the lab conducting research. She wants to work on both sides, helping patients but also helping to discover more behind the scenes.
"That's what ideally I'd like to do," she said.
She'd like to specialize in OB/GYN, then research developmental biology or cancer biology. And after such a great summer experience, she'd love to attend medical school at the University of South Dakota because of its connection to Sanford.
"They invested so much in me as a future health care provider," she said.
Besides her lab work, van Oosbree was also able to attend many presentations and even a Type I diabetes symposium.
Advice for Students
For other students seeking internships, van Oosbree's advice is to take opportunities on campus to prepare as early as possible, be proactive and use your connections. Don't be afraid to take a risk or try an internship in a new location.
She was nervous before she left for Sioux Falls this summer because she didn't know anyone, but she ended up making life-long friends.
"This was the best summer of my life."