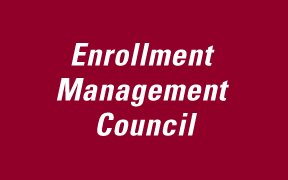 Campus community,
With the spring semester underway, I'm happy to provide a progress update on the development of our Strategic Enrollment Management (SEM) plan. As you recall, working groups convened this past summer to develop recommendations that would lay the foundation for the SEM plan. The Enrollment Management Council (EMC), in partnership with EAB, utilized those recommendations to begin forming our draft plan.
In the coming weeks, the Executive Leadership Team (ELT) and our new Chief Enrollment Management Officer, Marcus Garstecki, will provide guidance, and EMC will then seek your feedback on the SEM plan. I encourage you to be involved in this process.
Looking at our current enrollment figures, applications for fall 2023 are up over this time last year. However, the percentage of students who enroll at Northern after being accepted, referred to as yield, was down last year based on the five-year average. It's more important than ever to continue our recruitment efforts, and I wanted to share ways in which members of our campus community can help impact our enrollment.
There are no better ambassadors of Northern than our own faculty and staff, and I encourage you all to tell Northern's story to prospective students and families. There are many ways to do this, from posting on social media to encouraging high school students you know to visit NSU.
Also, part of being ambassadors for the university means providing a welcoming campus visit experience for potential students and their families. I encourage you to ask visitors about themselves and their high school or previous college experience. Help prospective students imagine themselves as a student at Northern.
We have two opportunities to provide an outstanding campus visit experience coming up soon:
• This Saturday, Jan. 21, there will be an on-campus recruitment event for our NSU Wolves Football Team.
• On Friday, Feb. 17, there will be a spring Northern Bound Day, where potential students and their families will tour campus.
These recruitment events occur on a regular basis, and our admissions team is always looking for faculty and staff members to get involved. If you have questions or ideas to support these events, want more information, or would like to sign up to assist with a future visit day, please contact Layton Cooper, Director of Admissions, at Layton.Cooper@northern.edu.
I wish you all a great spring semester, and thank you for making Northern a wonderful place for our students to live and learn. Go Wolves!
Sincerely,
President Schnoor