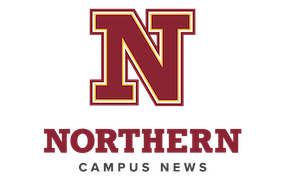 Welcome to the NSU News Update - providing information on events happening on campus or involving NSU students, staff and faculty.
To submit a news item, send it via email to NSUNews@northern.edu by 5 p.m. Thursday of the week before the announcement should run.
Spring 2023 Parking Permits
Parking permits for the spring semester will be available for purchase starting Jan. 3 online, or on myNSU Student and myNSU Faculty/Staff. For spring 2023, parking permits will be sold online only—no payments will be accepted at the Parking Office.
• Purple Permit: This permit costs $67.50 for the spring semester and allows you to park in any lot except the visitor lot at the northwest corner of the Johnson Fine Arts Center and the visitor spots in the Washington Street lot. Purchase a purple permit here.
• Gold Permit: This permit costs $40.50 for the spring semester and allows you to park in any parking lot except the Washington Street lots, Steele Hall/Great Plains West lot and the visitor lot by the Johnson Fine Arts Center. Purchase a gold permit here.
After purchasing your permit of choice online, pick it up at the Parking Office on the second floor of the Physical Plant the day after your submitting payment online. For more information, call 605-626-2560 or email becky.gilbert@northern.edu.
Playwrighting Workshop with Local Playwright on Jan. 19
Northern Theatre is hosting playwright Deena Roynane for a playwrighting workshop on Thursday, Jan. 19, from 6 to 9 p.m. in the Black Box Theater in JFAC. She will talk about her process in creating the play for Northern's first production at the Edinburgh Fringe Festival and lead attendees in exercises in writing their own plays. This workshop is open to everyone in the Northern community. Please email Dr. Kane Anderson to RSVP or with questions at kane.anderson@northern.edu.
'Be Northern' Nominations
Do you know someone in the NSU campus community who should be featured on Northern social media? Nominate a student, faculty, staff or alum to be featured as a Be Northern on NSU Instagram and Facebook! Nominated are accepted through this online form.