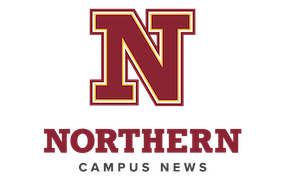 Welcome to the NSU News Update - providing information on events happening on campus or involving NSU students, staff and faculty.
To submit a news item, send it via email to NSUNews@northern.edu by 5 p.m. Thursday of the week before the announcement should run.
Welcome Back Sale at the NSU Wolf Shoppe
The NSU Wolf Shoppe will have a Welcome Back Sale today, Jan. 9, through Friday, Jan. 13. Take 20 percent off clothing and giftware all week!
Spring 2023 Parking Permits
Parking permits for the spring semester will be available for purchase starting Jan. 3 online, or on myNSU Student and myNSU Faculty/Staff.
Please note: If you purchased a parking permit in the fall, it is good for the whole school year.
For spring 2023, parking permits will be sold online only—no payments will be accepted at the Parking Office.
• Purple Permit: This permit costs $67.50 for the spring semester and allows you to park in any lot except the visitor lot at the northwest corner of the Johnson Fine Arts Center and the visitor spots in the Washington Street lot. Purchase a purple permit here.
• Gold Permit: This permit costs $40.50 for the spring semester and allows you to park in any parking lot except the Washington Street lots, Steele Hall/Great Plains West lot and the visitor lot by the Johnson Fine Arts Center. Purchase a gold permit here.
After purchasing your permit of choice online, pick it up at the Parking Office on the second floor of the Physical Plant the day after your submitting payment online.
For more information, call 605-626-2560 or email becky.gilbert@northern.edu.
Student-athletes GPA
NSU student-athletes closed out the fall 2022 semester with a 3.34 term GPA. The over 400 student-athletes recorded a GPA above a 3.0 for the 29th consecutive semester in the department. In addition, the Wolves recorded a cumulative grade point averaging of 3.37 and six teams recorded a mark above a 3.5. Read more here.
Playwrighting Workshop with Local Playwright on Jan. 19
Northern Theatre is hosting playwright Deena Roynane for a playwrighting workshop on Thursday, Jan. 19, from 6 to 9 p.m. in the Black Box Theater in JFAC. She will talk about her process in creating the play for Northern's first production at the Edinburgh Fringe Festival and lead attendees in exercises in writing their own plays. This workshop is open to everyone in the Northern community. Please email Dr. Kane Anderson to RSVP or with questions at kane.anderson@northern.edu.
GiveNDay is Coming! April 5-6, 2023
The Northern State Foundation is excited to host our third annual day of giving, GiveNDay, on April 5, 2023! This 24-hour challenge is designed to inspire all supporters of Northern to come together as we work to provide funding across the university.
Last year was a huge success as our community raised $330,000 from over 1,800 donors. Also known as #OneDayOnePack, this year's goal is to receive support from 2,500 donors in 24 hours.
If you would like your campus-sponsored organization represented, please contact Aimee at the Foundation by Feb. 10, 2023. You can email Aimee at aimee.roy@northern.edu.
We need your help! We are looking for students, faculty or alumni to represent their school, department, organization or team as Ambassadors. As Ambassadors, you have the opportunity to share your love of NSU with your family and friends via social media, and potentially earn rewards while doing it! Interested? Reach out to the Foundation at nsualumni@northern.edu.
'Be Northern' Nominations
Do you know someone in the NSU campus community who should be featured on Northern social media? Nominate a student, faculty, staff or alum to be featured as a Be Northern on NSU Instagram and Facebook! Nominated are accepted through this online form.