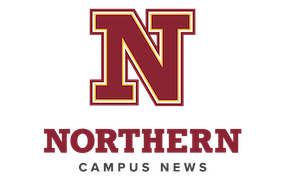 Welcome to the NSU News Update - providing information on events happening on campus or involving NSU students, staff and faculty.
To submit a news item, send it via email to NSUNews@northern.edu by 5 p.m. Thursday of the week before the announcement should run.
Noon Ball During Spring Break
Unless conflicts develop, Noon Ball will continue at Dacotah Hall on the Monday, Tuesday and Thursday of Spring Break. Noon Ball is open to all faculty, staff and students. For more information (or to be added to the Noon Ball email list), please contact art.marmorstein@northern.edu.
Assoxination
Use this link to sign up to participate in Assoxination! This is a campus-wide event where (with a clean pair of socks) you hunt down your target in hopes to be the last one standing! Prizes will be rewarded to the last one standing and person with the most outs!
ALICE Active Shooter Training
ALICE Active Shooter Training will be Tuesday, March 21, 2-3 p.m., and Wednesday, March 22, 9-10 a.m., in the JFAC Berggren Recital Hall (181). The training provides tangible skills and techniques to help protect yourself, your students and colleagues in an active shooter situation. While violence on campus is rare, preparation improves response time, limits loss and improves overall campus safety. ALICE stands for Alert, Lockdown, Inform, Counter and Evacuate. Hosted by the Aberdeen Police Department and Campus Safety, this informative and interactive training will improve your confidence responding in an active shooter situation.
AUCS Concert
The Aberdeen University/Civic Symphony concert featuring special guests, The Texas Tenors, is now set for Tuesday, March 21, at 7:30 p.m. in the Johnson Fine Arts Center Jewett Theater. The event will also feature the winners of the NSU Concerto/Aria Competition: Megan Dockter, a clarinetist from Watertown, and Eli Houdyshell, a tenor from Pierre. Previous ticket sales will be honored. Tickets are also available for purchase at the JFAC Box Office on Mondays, Wednesdays and Fridays from noon-2 p.m. Cost is $25 for adult general admission, $15 for seniors and NSU faculty/staff, and $10 for all students. Cash or check only will be accepted. For more information, contact the School of Fine Arts at 605-626-2497 or visit the AUCS webpage.
Survey for Honors Thesis
NSU student Mckenzie Hassebroek is completing her honors thesis and is seeking participants for a brief survey that aims to gather information about potential food insecurity among students. Results of this study may help in implementing policies that could improve food programs on campus and establishing a food pantry at Northern. Complete the survey at this link. Participation is voluntary, and the information gathered is completely anonymous. If you have questions or concerns, please contact Hassebroek at Mckenzie.Hassebroek@wolves.northern.edu or Dr. Shalini Mathew at shalini.mathew@northern.edu.
Student-Faculty Quiz Bowl
The Honors Program is back with another Student-Faculty Quiz Bowl this semester—this time, Jeopardy style! It will start on March 22 at 6 p.m. with an end time of 8 or 8:30 p.m. if you make it all the way to the finals. The location will be in the Centennial Rooms. We need some awesome faculty and staff teams to do their best to outsmart the students yet again! If you are interested in being placed on a team or creating your own team of four, please sign up at this link before 5 p.m. March 20! Rules of the game will be communicated before the game begins at the event.
Bach's Lunch
The NSU Department of Music will present the 12th Annual Bach's Lunch Concert at noon Wednesday, March 22. The concert, titled "Psalms and Transformations," will take place at Bethlehem Lutheran Church, 1620 Milwaukee Ave. N.E., Aberdeen. The event will feature performances by the NSU Chamber Singers, under the direction of Marla Fogderud and assisted by Christopher Stanichar, Fritz Hemke and Stuart Davidson. Also performing will be Allan Jacobson, pianist; Kenneth Boulton and JoAnne Barry, piano duet; and the NSU Clarinet Choir. A luncheon will follow the performance. The concert is free and open to the public.
Senior Art Show
"Form and Function," the senior art show for NSU student Kai Brisk, will take place March 20-31. The opening reception will be 6:30-8 p.m. March 24 in the JFAC Gallery.
Northern Academy to host College Planning Event
The Northern Academy will host a College Planning Event on March 27 from 6:30-7:30 p.m. The event, which will take place in the Johnson Fine Arts Center's Berggren Recital Hall, is open to high school students and families, educators, and community members. Attendees will learn about U.S. Department of Education financial aid changes and about the Northern Academy, an on-campus early college experience for area high-school students taking dual credit courses. To learn more, contact Director Eric Kline at eric.kline@northern.edu or call 605-626-2719.
NSU Summer Job and Post-Graduate Fair, Tuesday, March 28, 11 a.m.-3 p.m., Centennial Rooms
Do you need a job for the summer? Still haven't found a position for after you graduate? Or, maybe you want to attend graduate school or seek opportunities abroad? Check out the Summer Job and Post-Graduate Fair to explore all the potential career options that are there for you now and in the future!
Northern Lights Launch Party
The annual Northern Lights launch party is set for March 29, 2023, at 5 p.m. in the Lincoln Art Gallery (LH 115). Print issues will be available for purchase and preorder (cash or check accepted) at the launch party and afterward by contacting current President Madi Filber via email at madi.filber@wolves.northern.edu, who can also answer any questions via email. All students, faculty, staff and community members are welcome!
Noon Forums
The Spring 2023 Noon Forum series continues Wednesday, March 29, at noon in the Beulah Williams Library Round Room, featuring "Northern Innovation and Startup Center," with Josh Latterell. Noon Forums, which are free and open to the public, are sponsored by Faculty Senate, the Center for Excellence in Teaching and Learning, and the Center for Public History and Civic Engagement. Remaining topics for the semester are:
• April 5: Five Essential Things to Know about Ukraine (Steven Usitalo)
• April 12: Chat GPT: You Ain't ready for AI, but AI is Ready for You (Grant Manhart)
• April 19: Bullying in the Ivory Tower: What Happens in Higher Education (Bixi Qiao)
• April 26: The Good Country: A History of the Midwest (Jon Lauck)
Spring 2023 Graduation Apparel
Attention Spring 2023 Graduates: Graduation apparel will be available for purchase on the website listed below until April 2, 2023, at 11:59 p.m. Click on these links to purchase:
• Purchase graduation apparel here.
• Purchase graduation announcements here.
GiveNDay is Coming! April 5-6, 2023
The Northern State Foundation is excited to host our third annual day of giving, GiveNDay, on April 5, 2023! This 24-hour challenge is designed to inspire all supporters of Northern to come together as we work to provide funding across the university.
Last year was a huge success as our community raised $330,000 from over 1,800 donors. Also known as #OneDayOnePack, this year's goal is to receive support from 2,500 donors in 24 hours.
We need your help! We are looking for students, faculty or alumni to represent their school, department, organization or team as Ambassadors. As Ambassadors, you have the opportunity to share your love of NSU with your family and friends via social media, and potentially earn rewards while doing it! Interested? Reach out to the Foundation at nsualumni@northern.edu.
Northern Fort Playhouse
The Northern Fort Playhouse is a collaboration between the Northern State University School of Fine Arts and Fort Sisseton Commission, giving Northern theatre students, alumni and guest professionals additional acting and theatre production experiences. The Playhouse is looking for someone to construct the sets for the 2023 season. If you or someone you know would be interested in set construction, please contact Stacy Bauer at stacy.bauer@northern.edu or 605-626-2521. Auditions for the 2023 productions will be announced soon.
'Be Northern' Nominations
Do you know someone in the NSU campus community who should be featured on Northern social media? Nominate a student, faculty, staff or alum to be featured as a Be Northern on NSU Instagram and Facebook! Nominated are accepted through this online form.