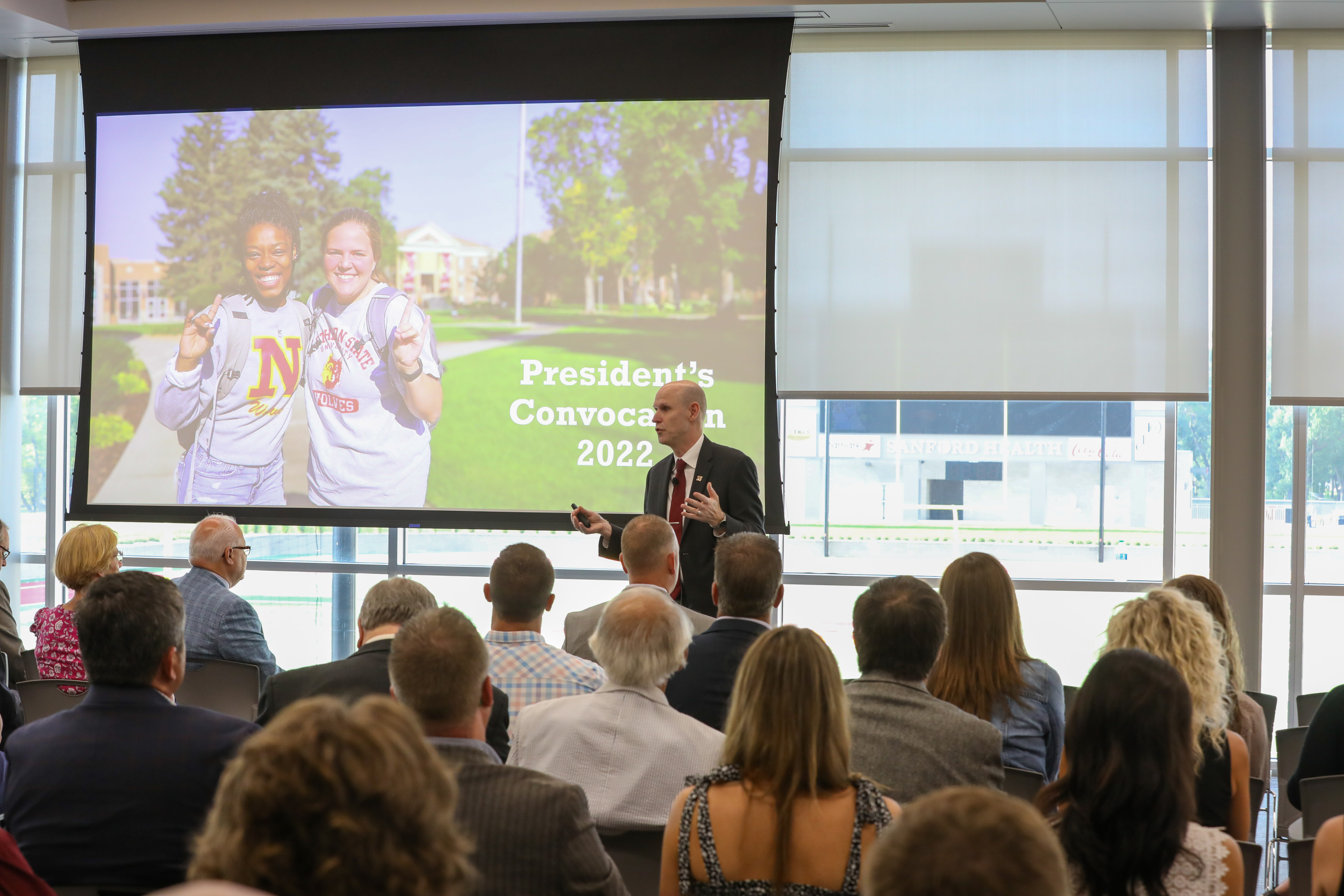 The President's Convocation kicked off the 2022-23 academic year at Northern State University.
Dr. Neal Schnoor welcomed faculty, staff, and local and state officials, discussing Northern's mission as a regional comprehensive university.
As a regional comprehensive, Northern:
Serves the educational, programming and service needs of the region and state.
Offers undergraduate and master's programs.
Emphasizes scholarly teaching, research and creative activity, and service.
Offers affordable access to quality personalized education.
Northern is recognized for its humanities and liberal arts and sciences curriculum that centers on teaching 21st century skills, in demand across all professions, emphasizing creative thinking, clear expression of ideas, free and open inquiry, innovation, entrepreneurship, civic engagement and experiential learning, Schnoor said.
Northern also provides comprehensive personalized student success services through its new EMC webpage."
Enrollment Trends
Schnoor said about 9,790 students graduate high school annually in South Dakota, with 30 percent unlikely to enroll in any post-secondary institution.
Northern is poised to compete for those students because it offers something special, including quality academics, scholars who love to teach, and personalized student services.
Across the nation, undergraduate enrollment peaked in 2010-11 after a decade of unprecedented growth and then began a declaration of declining numbers marked by a sharp drop in the first full academic year of the pandemic. These same trends are noted across the state and campuses.
Moving forward, Northern needs to invest in marketing and scholarships to increase applicants and yield rates. Schnoor indicated, "Northern offers unparalleled quality and value due to its low average cost of attendance."
Admissions and Aid
Admissions will be redeploying counselors strategically, guided by varied metrics. Northern also plans to invigorate international recruiting. Financial Aid has awarded $340,000 in the need-based South Dakota Freedom Scholarship.
Going forward, Financial Aid is planning to provide award letters/estimates for incoming students earlier in the recruitment cycle. Also, Northern will implement a new WolfPACT scholarship model in fall 2023.
Campus Culture
Northern is building an increasingly diverse, engaged, inclusive, welcoming and supportive culture. The university implemented the BOR's Opportunity for All initiative with the opening of the Opportunity Center.
Northern is also implementing the President's Campus Culture and Climate Taskforce recommendations, including establishing the Campus Culture and Climate Committee, Opportunity for All Council, and Staff Council.
Mental Health
Mental health is a priority for Northern and the Student Government Association. Efforts include faculty and staff training, such as Mental Health First Aid, QPR and Northern CARES.
Student mental health support will now include telehealth as well as in-person counseling services, which are free and confidential.
Center for Statewide E-Learning
Schnoor highlighted Northern's mission-driven expertise in E-Learning. In addition to Hy-Flex delivery, Northern is home to the Center for Statewide E-Learning. "The Center served, 2,818 high school students last year, nearly doubling the last five years, and demand still far outpaces capacity," he said. "We are grateful the legislature increased funding by $491,000 this spring to support a new assistant principal position and five new master teachers in English, Science, and Spanish."