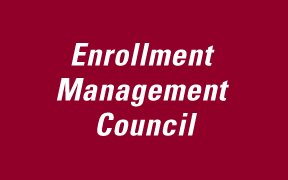 Vice President of Enrollment, Communications and Marketing Justin Fraase shared updates at a Strategic Enrollment Management Forum on campus last week.
Northern is developing goals around five SEM themes:
Recruiting: Promote Enrollment Growth

Redefining the Northern Experience

Retention

Student Engagement

Student-Centered Processes
These themes were created by the Enrollment Management Council based on recommendations from campus working groups, assisted by consulting firm EAB, and have been approved by the Executive Leadership Team.
Now, goals and strategies are being created around each theme, such as identifying resources needed and who will be accountable.
For the second theme, the Northern Experience refers to the unique way in which the campus community supports students and helps them achieve success. The proposed goal for this theme is to define the Northern Experience in an accessible and transparent way for potential and current students, families, alumni and the campus community.
For recruiting, a proposed goal is to brand and market Northern as the destination for personalized attention. For retention, a proposed goal is to expand tutoring, supplemental instruction, instructional assistants and other academic support funding.
A proposed goal for student engagement is to conduct a thorough review of the first-year experience program and first-year seminar with recommendations to ensure maximum impact on student persistence and consistency with the Northern Experience. For student-centered processes, a proposed goal is to streamline student registration processes.
Target Market Analysis
Along with Search Engine Optimization, campus visit and communications audits, EAB has provided Northern with a target market analysis. This analysis includes recommendations for diversifying name buys.
Northern will reinforce efforts to increase yield in its region—South Dakota, North Dakota and Minnesota. Northern's 10-year average shows that 78 percent of students coming from outside those states are student-athletes.
EAB recommends a primary market of South Dakota and a secondary market of North Dakota and western Minnesota. Fraase said Northern now has an admissions counselor who is based in Aberdeen but primarily covers western Minnesota.
Also, two exploratory markets are recommended, as resources allow: northwest Iowa and northern Nebraska; and Iowa, Nebraska, Wyoming, Colorado, Montana and Minnesota.
Campus Visit Increase
Fraase shared positive news: Campus visits increased 12 percent year over year, with November and December visits yet to come.
Questions from the audience covered a range of topics, including Minnesota's open admission policy. Fraase said SDSU and USD are driving a change in messaging through the Department of Education that would let students know, based on certain criteria, that they can be accepted at any BOR institution.
Other topics included:
Brand Awareness: Regarding a Regents study that found some people don't know Northern is in South Dakota, Fraase said changing brand awareness takes time and money. Funding ideas were discussed at the working group level.
Marketing strategies: Asked if there will be new strategies, Fraase said Northern is trying new methods, including video ads on sports streaming services, while also using digital ads, social media and Google search. The message to students is also important and will be different going forward, including adding WolfPACT amounts in acceptance letters.
Leveraging current students as ambassadors/possible referral scholarships: Fraase said students can be asked or offered incentives to do this, but ultimately Northern needs to create the best experience possible so students will organically share that.
Timeline: The proposed plan will roll out early next spring, with feedback sought from multiple entities across campus.
To learn more about Northern's SEM planning, visit NSU Enrollment Management Council.