Image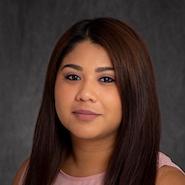 Pursue your dreams! Success is the sum of small efforts, its price is hard work, dedication, perseverance, determination, and the love for what you do. Along the way you will meet new people: great faculty, staff members and make lots of friends. College is a unique and amazing experience that you will enjoy. Also, do not give up because at the end it will all be worth it.
There are so many things that I like from Northern. I like that it gives you the feeling of a small university that allow students to be more connected and closer with their faculty members. Everyone is very friendly and willing to provide any kind of help when needed. The way that Northern cares about its students is amazing.
As an international student I felt lost and scared at first, but when I arrived on campus, I felt included. My professors and classmates were very nice to me. I had a lot of fun! As an international student I did not only meet other international students but also students from all over the U.S. Every student was welcome to participate in the university's events. I really enjoyed Northern's CultureFest, which is a celebration of cultures from around the nation and the world.
I am from Coatzacoalcos, Veracruz Mexico. It is an important port and transportation center. The Coatzcoalcos malecon has been famous as a place to enjoy the beach. It's beautiful and worth going during the day or early evening. Try a sunrise! The statuary along the malecon is also wonderful, as you drive by check out all the statues and the rows of artfully painted houses along the street.
I enjoy traveling with my family or friends. I enjoy long hours of driving and love the beautiful views. I love nature; that is why I also like hiking and exploring the place I am visiting. Nature provides me serenity. I also like reading especially romance books. Lastly, I like to participate in clubs and meet new people. Spending time with the people I love is very valuable to me.