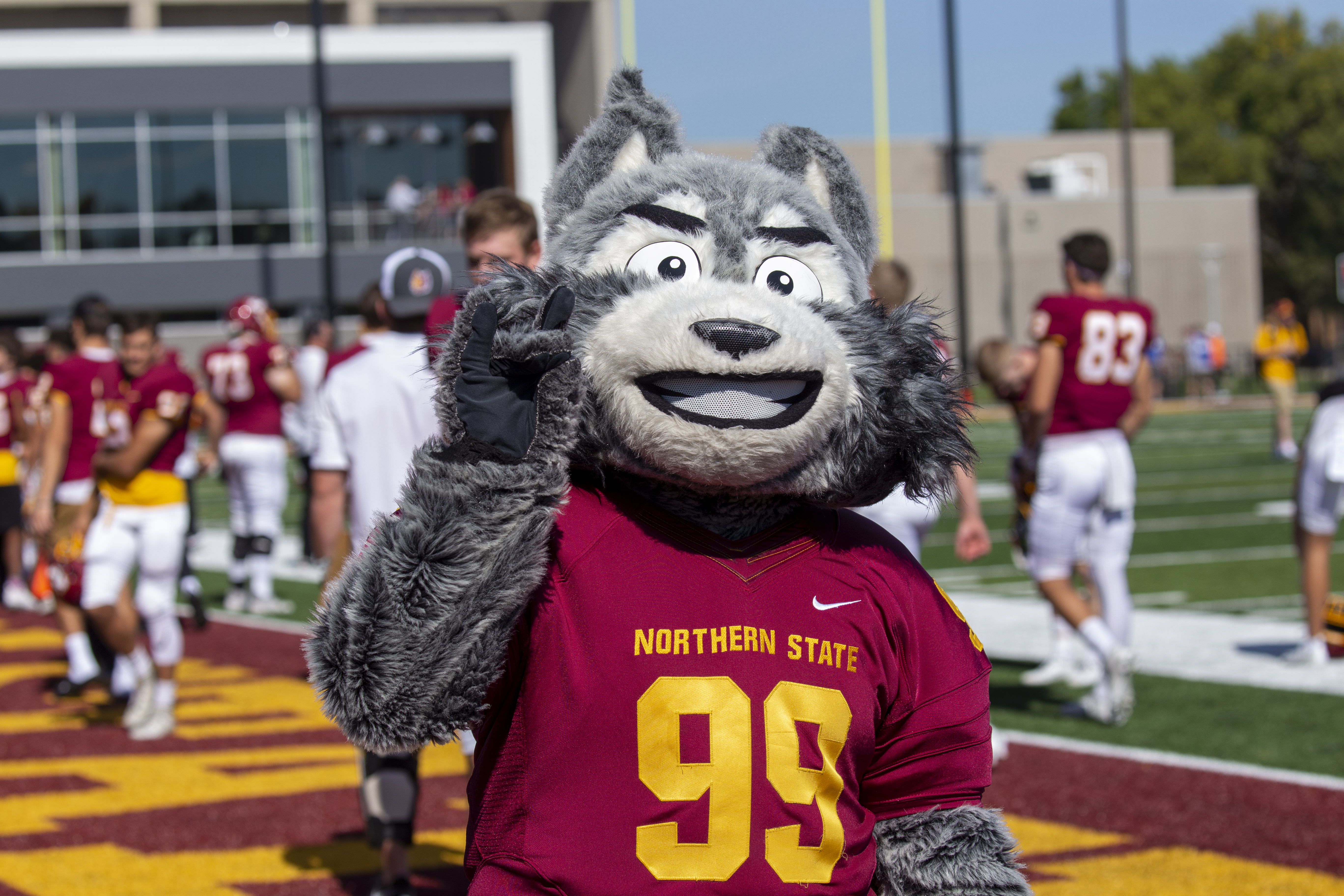 Northern State University had numerous points of pride in 2021, including national student honors, the opening of a brand new sports complex and the announcement of a new academic building project.
Below, we're proud to share a timeline of Northern's top 10 news highlights from 2021:
1. Regional Sports Complex Opens
Saturday, Sept. 11, was a historic night for NSU Wolves Athletics, as the football team played its inaugural game at Dacotah Bank Stadium. Thank you to everyone who packed the stadium to cheer on the Wolves! Read more about the victory here.
2. NSU Project gets Governor's Support
Gov. Noem included support for a new Business and Innovation Center at Northern in her recent budget address. The proposed facility would provide a home for the School of Business, along with other spaces. Read more here.
3. Northern Keeps Grads in South Dakota
Two-thirds of Northern graduates, or 66 percent, stay in the state to work or further their education, according to the S.D. Board of Regents' Graduate Placement Dashboard. That's 13 percent more than the average among all regental institutions! Read more here.
4. Students Earn National Honors
Congratulations to NSU Honors Program students Allison Anderson and Tawnie Williams, who each earned second place in the nation at the recent National Collegiate Honors Conference! Read more here.
5. Welcome, President Schnoor!
Dr. Neal H. Schnoor was named the 18th president of Northern State University by the South Dakota Board of Regents. Congratulations and welcome to Dr. Schnoor, who began as NSU President on July 1! Read more here.
6. Alum Competes on Olympic Team
Wolves Nation cheered on NSU Wolves alumna Hanneke Oosterwegel, who competed in the Olympics for the Netherlands! Congratulations, Hanneke! Read her Olympic profile here.
7. Outstanding Faculty Announced
Congratulations to Drs. Kristi Bockorny and Anna Schwan, this year's NSU Outstanding Faculty Award winners! Bockorny is the 2021 Foundation Faculty Excellence Award winner, and Schwan is the 2021 Outstanding Early Career Faculty Award winner. Read more here.
8. Go Wolves!
The NSU men's basketball team headed into the NCAA tournament with a No. 2 ranking! More information on the tournament can be found here.
9. Community celebrates Gypsy Days
After two years without a true homecoming celebration for Northern—due to weather and the pandemic—the campus community and all of northeast South Dakota painted the town maroon and gold for Gypsy Days 2021. Festivities included the 105th annual parade and the first homecoming football game ever held in the new Dacotah Bank Stadium. Read more here!
10. Alumna wins Grandma's Marathon
Northern alumna Dakotah (Bullen) Lindwurm is living her dream as a professional runner—and this summer, she won first place in Grandma's Marathon. More recently, Lindwurm followed up that win with an outstanding run at the Boston Marathon this month, coming in 13th with a time of 2:31:04. Congratulations! Read more here.
Date
Monday, December 27, 2021