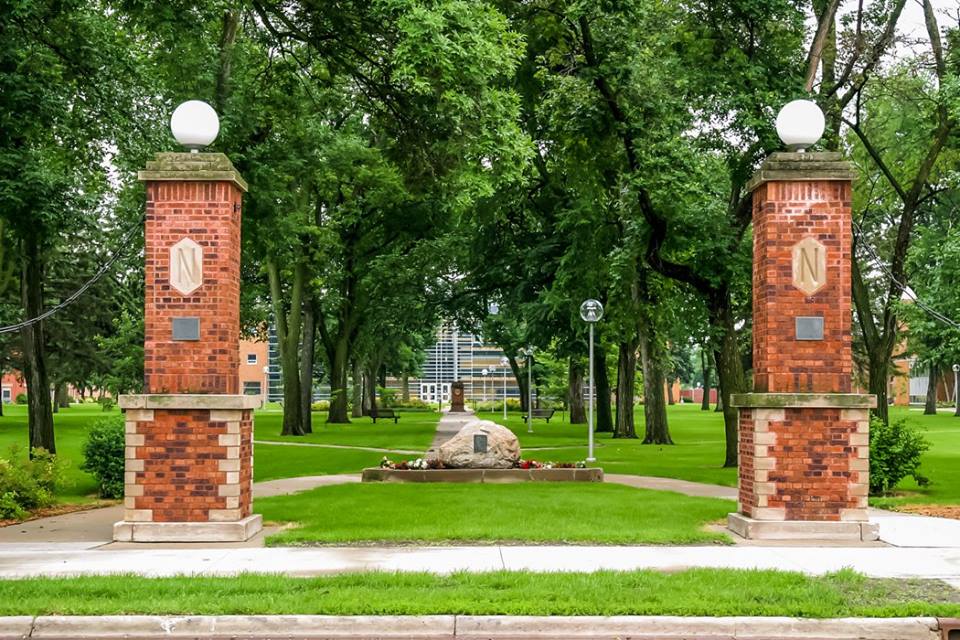 Northern is celebrating Constitution Day today, Monday, Sept. 19! Offices around campus will be decorated with a patriotic theme. Beulah Williams Library will also have a display, and Uncle Sam and Lady Liberty will be walking around campus. The Wolves Den will have red, white and blue cupcakes available. From 11 a.m. to 1 p.m. in the Avera Student Center, there will be voter registration by the League of Women Voters; military recruiting; displays by Dacotah Prairie Museum and the Exchange Club; and a Multicultural Student Affairs Office table. Pocket versions of the Constitution will also be distributed. A flag retirement ceremony will take place at 4 p.m. in the Barnett Center parking lot. Visit the Constitution Day webpage for Constitution Fun Facts, games and more!
Student Success Center Events
Here are upcoming Student Success Center events and opportunities:
Student Success GOLD Series - The One About the Career Fair – Monday, Sept. 19, 3-4 p.m. in MJ 101 or Zoom:

Want to attend the Fall 2022 Internship and Career Fair, but not sure how to network? Prepare for the Job Fair with Northern Career Services and learn how to polish your resume, make a great first impression, and land your dream job or internship. Note: The Fall 2022 Internship and Career Fair is scheduled for Thursday, Sept. 22, 11 a.m.-2 p.m. and 4-7 p.m. in the Avera Student Center. If you are interested in attending this event online, please contact

careerservices@northern.edu

for a Zoom link.

Student Success GOLD Series - The One About Test Taking – Tuesday, Sept. 20, 3-4 p.m. in MJ 101 and Wednesday, Sept. 21, 3-4 p.m. MJ 101 or

Zoom

:

If your method of preparing for tests is cramming, this workshop is for you! The NSU Student Success Center invites students to this interactive workshop to learn about strategies to better prepare for tests, manage test anxiety, and perform to the best of your ability. Give yourself a break and make prepping for tests easier and less stressful.
Health Screenings, Flu Shots:
Be sure to attend the on campus health screening and flu shot clinics.
Sept. 19-20, the health screenings will be in the Student Center Centennial rooms. Register on the benefits website at

www.bhr.sd.gov

Oct. 12, the flu shot clinic for employees will be held in the Student Center Centennial rooms from 2 to 6 p.m.
New Hire!
Aislinn Walks has joined the Enrollment, Communications and Marketing team as an Admissions Counselor. In her role, based out of Aberdeen, Aislinn will cover Minnesota and Wisconsin, with a focus on western Minnesota school districts. Please help us welcome Aislinn (aislinn.walks@northern.edu) to Northern!
Sept. 20: SnackChat—Kristi Brownfield and Brenda Mammenga—Assessment Goals 3 and 4
Join the Center for Excellence in Teaching and Learning for a two-part series with Director of Assessment, Kristi Brownfield, over Assessment on Tuesday, Sept. 20, in the CETL Pedagogy Lab (Library 141A).
Part one, General Education Assessment Kickoff, will begin at 2 p.m., explaining the general education assessment rationale and processes faculty will use this year for goal 4 (Arts and Humanities).
Part two, General Education Assessment Debrief, will begin at 3 p.m., exploring the results of last year's goal 3 (Social Sciences) general education assessment and participants will be able to offer their own insight and analysis to be used in the final assessment report.
If you would like to join either event asynchronously, you can attend via this zoom link.
NSU All-State Orchestra Workshop
Northern will host the fifth annual All-State Orchestra Workshop with the Aberdeen University-Civic Symphony. The free workshop, open to all South Dakota high school students, will take place 7-9 p.m. Tuesday, Sept. 20, in the NSU Johnson Fine Arts Center. During the first hour, students will work with AUCS faculty and principal musicians. Then, they will sit with AUCS members and read through the repertoire for All-State Orchestra under the direction of Dr. Christopher Stanichar. Registration will take place at the door the night of the workshop. For more information, please contact Stanichar at c.stanichar@northern.edu.
Campus Enrollment Forums
Please join President Schnoor and the Executive Leadership Team for two upcoming Campus Enrollment Forums.
Noon, Sept. 21 in JFAC 117

3:30 p.m., Sept. 21 in JFAC 117
As per custom, fall enrollment figures are announced by the South Dakota Board of Regents and this year's announcement is scheduled for Tuesday, Sept. 20.
Please join us the following day as we review fall enrollments and outline actions pertaining to Strategic Priority 1: Building a growth strategy for campus.
Noon Forums
Fall 2022 Noon Forums will continue on Sept. 21, with Dr. Ken Blanchard presenting "Darwin and the Declaration." This forum is being held in conjunction with Northern's observation of Constitution Day on Sept. 19. Noon Forums, which are free and open to the public, are sponsored by NSU Faculty Senate, the Center for Excellence in Teaching and Learning, and the Center for Public History and Civic Engagement. Remaining topics for the fall semester are:
Sept. 28: Five Essential Social Changes (Kristi Brownfield)

Oct. 5: The Candidates on Education (Carl Perry, Brian Bengs, and others)

Oct. 12: Native American Day Presentation (Pam Monaghan-Geernaert and Lara Nelson)

Oct. 19: Four Feet Better: Animals and Mental Health (Chris Puglisi)

Oct. 26: Town and Gown: Northern and the Aberdeen Community (Travis Schaunaman, Mike Bockorny, Zach Flakus)

Nov. 2: Apocalypse Now! What's at Stake in the 2022 Elections (Steven Usitalo, Ken Blanchard, Jon Schaff)

Nov. 9: Over There and Over Here (Brooke Louise Thielbar and Sgt. Brock Thielbar)

Nov. 16: Effective Engagement Strategies in HyFlex Modality Based on Intrinsic Motivation in Students (Kristi Bockorny, Theresa Giannavola, Shalini Mathew, and Hannah Walters)

Nov. 30: How Local Botany Has Altered Our History (Jeff Bartel)
September Wolf Talk
The first fall 2022 NSU Wolf Talk is set for 6:30 p.m. Sept. 21 in the JFAC Berggren Recital Hall. The event features the hosts of the popular podcast, "Shrink Rap," discussing the topic of bullying and their goal to be a resource for individuals who have experienced bullying or would like to help someone who is being bullied. The Wolf Talk, sponsored by Northern's TRIO Student Support Services and the NSU Honors Program, is free and open to the public.
Internship and Career Fair
The Aberdeen Area and NSU Internship and Career Fair will be held Thursday, Sept. 22, at the Avera Student Center. There will be two career fair sessions: 11 a.m.-2 p.m. and 4-7 p.m. Between the afternoon and evening fairs, registered employers are invited to attend a professional development session to learn about employer services and student perspectives in the recruitment process. More information about the mini-sessions can be found here. Questions about the Internship and Career Fair can be directed to Maggie Pence at careerservices@northern.edu.
Service Learning Spring Break in Guatemala
Service Learning Spring Break in Guatemala is now accepting applications! The program, which takes place March 10-18, 2023, will involve building a bottle school in Tecpan. Interested students can fill out the application here, and email StudyAbroad@Northern.edu with any questions.
Summer Course to Scotland with Northern Theatre
Come join Northern Theatre on our first-ever study abroad course to the famous Edinburgh Fringe Festival in Scotland in August 2023! Our interest meeting is on Sept. 28 at 6 p.m. in the Black Box Theater. We'll talk about the trip's fun activities, the costs and some support opportunities. If you have any questions, please email kane.anderson@northern.edu and noah.files@northern.edu.
Honors Student-Faculty Quiz Bowl
The Honors Student-Faculty Quiz Bowl will take place on Wednesday, Sept. 28, in the Centennial Rooms. It will start at 6 p.m. with an end time of 8 or 8:30 p.m. if you make it all the way to the finals. If you are interested in being placed on a team or creating your own team of four, please let Konnie Anderson know at Konnie.anderson@northern.edu.
Benefits Eligible Staff:
September's EAP Well-Being Webinar will take place on Wednesday, Sept. 28, at noon CDT. This webinar, titled Stress: A Way of Life or a Fact of Life, will focus on how all aspects of work and life require stress. Experiencing stress is not all bad, but how we perceive it is what matters. Stress is our body's normal response to any extra physical, mental or emotional demand placed on it. This webinar will help you identify your stressors and learn ways to cope with and manage high stress levels. Click here to register.
Oct. 4: Art Marmorstein and Josh VanLaecken—Community
Join the Center for Excellence in Teaching and Learning with hosts Art Marmorstein and Josh VanLaecken on Tuesday, Oct. 4, at 2:30 in the CETL Pedagogy Lab (Library 141A). This pair will discuss the importance of building community among faculty. If you are unable to attend in person, please join via this zoom link.
International Programs Gypsy Day Parade
Do you have a connection to your heritage and its culture? Do you want to represent it in the homecoming parade on Oct. 8? Join the Office of International Programs as we march through Aberdeen representing the great diversity of our international students and community. You may carry a flag or represent your culture in some other way. If you are interested, please complete this survey. Contact Lisa Kanizar with any questions.
Seeking Parade Volunteers
The Gypsy Days Committee is looking for parade volunteers. Individuals interested in assisting with parade operations should contact kennedy.lorenz@northern.edu. This year's Gypsy Day Parade is Saturday, Oct. 8. Volunteers are needed from 6 a.m. through noon, with the parade starting at 9 a.m. Volunteers will receive a complimentary general admission ticket to that afternoon's football game.
NSU Hall of Fame and Distinguished Alumni Banquet
The NSU Foundation will honor six Northern alumni and friends of the university at the 2022 NSU Hall of Fame and Distinguished Alumni Banquet. The event will take place at 5 p.m. Friday, Oct. 7, in the Kessler's Champions Club Room in the Barnett Center. This year, the NSU Foundation honors the following individuals:
Lifetime Achievement Award: Lester Clarke

Kretchman Coaching Award: Charles (Chuck) B. Welke

Distinguished Alumnus: Roger Youngman

Hall of Fame inductees: Doyle Everson, Adam Kampsen and Rachel (Krogman) Rieger
For more information, click here.
Thunder Workers Wanted
The NSU Athletic Department is looking for high energy, outstanding students to be "Thunder" for this year's campus sporting events. This is a paid position with an hourly rate of $20. If you are interested, please email Jacob.Wiedrich@northern.edu
Silent Book Club
This isn't your regular book club. No set books to read. No pressure to share or discuss. Never worry if you haven't finished the book. No judgment.
The Silent Book Club model means we are not all reading the same book at the same pace. There is no homework and no pressure to lead or contribute to a discussion. We introduce our books and ourselves at the start of the meeting and then we dive into reading for an hour. Simply bring yourself and whatever you're currently reading (we don't care about genres or formats, anything goes!) All readers are welcome—even e-readers.
The Silent Book Club meets the first Tuesday of every month from 4 to 5 p.m. on the Campus Green (by flagpole), weather permitting. Fall semester meetings:
In case of inclement weather, meet in the library Round Room. Everyone is welcome, and anyone can join! Consider joining if you are unable to find time and space to just enjoy a book. That's it! No pressure whatsoever. For additional information, contact Nicole.Christiansen@northern.edu. Hosted by Williams Library.
Common Read is Nov. 7
Northern's fall 2022 Common Read book will be "Send," by Patty Blount. Blount will deliver the 2022 NSU Larry and Julie Poeppel Family Common Read Lecture at 7:30 p.m. Monday, Nov. 7, in the NSU Johnson Fine Arts Center's Harvey and Cynthia Jewett Theater. The event is free and open to the public. Copies of "Send" are available for purchase at the NSU Wolf Shoppe. For more information about Northern's Common Read, contact NSU Honors Program Director Dr. Kristi Bockorny, Kristi.Bockorny@northern.edu.
Pre-Health Club Blood Drive
The Pre-Health club will be hosting a blood drive on Wednesday, Nov. 16, from 9 a.m. to 2 p.m. in the Centennial rooms of the Student Center. Sign up to donate at this link, or contact George Nora by email at George.nora@northern.edu.
'Be Northern' Nominations
Do you know someone in the NSU campus community who should be featured on Northern social media? Nominate a student, faculty, staff or alum to be featured as a Be Northern on NSU Instagram and Facebook! Nominated are accepted through this online form.