Start Your NSU Journey Here
Become a Wolf and join a pack that will support you for life! With Northern State University's close-knit community, experiential programs and wide array of student support resources and services, you'll have everything you need to achieve your goals and better your future. Applying to NSU is easy! Follow the steps below to get started and if you need help, the Admissions Office is here to assist.
Join a Tight-Knit Wolf Pack
Make Northern your home away from home with all that campus life has to offer you.
Friendly, close-knit student community
Interest-based student organizations and intramural sports
Safe, comfortable and modern residence halls
Healthy and delicious dining options
Empowering Academics
Historically renowned as a teaching school, Northern State University offers hands-on experiential learning designed to get you from learning to doing. With the first-year seminar you'll take as an incoming student and the wide array of supportive services offered, you'll have the tools and support to thrive at Northern.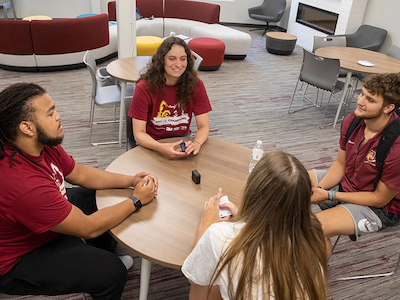 Student Success Center
The Student Success Center is your source of support for all things Northern. Student Success encompasses services like tutoring, advising, career services, the American Indian Circle Program and other student support services.
Questions about your application? Get in touch.
Our friendly and dedicated admissions team is here to answer any questions you may have regarding the application process.
Applying as a Graduate Student
Go to our graduate studies page for information on how to apply. We're excited for you to join the Wolf Pack as you continue your education!
Explore Financial Aid Resources
Northern State University is committed to providing a first-class education that's affordable and accessible. With more than 81% of students receiving some type of aid, Northern offers an average of $15 million annually. Aid options include scholarships, grants, loans and student employment.
| | | | |
| --- | --- | --- | --- |
| Enjoy all the comforts of both home and community with Northern's residence life. NSU's modern residence halls are fully furnished, have high-speed Internet and feature shared areas like laundry rooms, kitchen spaces, lounge spaces and study rooms. | Meet other students who are passionate about the same things you are with Northern's diverse assortment of 40+ organizations. From academics to special interest, there's something for everyone. | Get involved on campus and meet new people with Northern's variety of weekly, monthly and annual campus events. Learn something new with the Student Success Gold Series workshops or de-stress with wellness events.  | As a student at Northern, you'll be part of NSU's tight-knit community, and that includes the surrounding city of Aberdeen. This charming college town supports NSU and its students and is part of what makes Northern so unique. |
Admitted Students
Get ready to HOWL!
Open the door into your new life in college with Northern's new-student orientation, also called HOWL (Helping Our Wolves Learn). This new-student orientation is a great way for students, parents and families to become familiar with Northern. During HOWL, you will hav ethe change to meet your classmates, sign up for classes for your first semester, get your Pack Pass student ID, meet your academic advisor, tour residence halls and more. Whether you attend in person or virtually, this is a perfect way to meet your pack and get ready for your life at NSU.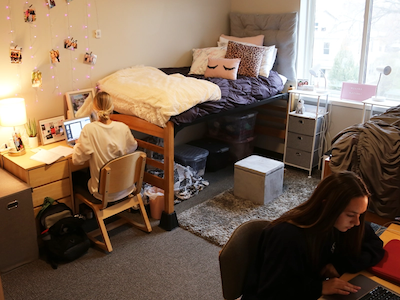 Apply for Housing
Complete your housing application for Northern's fully furnished, upgraded residential halls and find out where you'll be living and who you'll be living with. NSU works to pair you with the best hall and roommate based on your needs and interests.