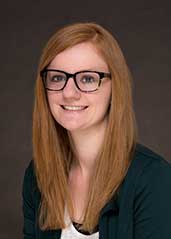 When people think of major financial careers, they usually think of Wall Street – but one Northern State University graduate landed this type of job opportunity a lot closer to home.
Makenzie (Zomers) Smook works for the South Dakota Investment Council in Sioux Falls – a job that first started through an internship while she was a Northern student.
"It's very challenging," said Smook, an Aberdeen native who graduated from NSU in December 2015 with degrees in finance and marketing. "Every day you learn something new."
Smook's job is to take the state's assets – cash, trust funds, retirement system funds – and invest it. The returns gained every year fund the pension for retired police officers and other state employees. Her daily duties include researching companies, reading analyst reports and portfolio management.
Many people assume investment banking is a field that makes the rich richer, she said. But that's not true of her job.
"Here, we're actually changing lives, giving people income," she said. "It gives you more motivation."
Smook said she didn't realize this kind of job was possible in South Dakota.
"I always thought I was going to work for a bank," Smook said. "I was unware the opportunities existed in this area."
NSU, and particularly the School of Business, helped her achieve her goals – and also helped her determine what those goals were.
"My professors were a big influence on motivating me, finding the drive, what makes me tick and what I like to do," she said. "They're very supportive – always helping me out in classes, giving any attention that I needed."
She said she liked the small class sizes at NSU and the opportunities the School of Business provided.
Her advice for current students: It's never too early to start thinking about the future.
"Internships are a great way to figure out what you like and what you don't like," Smook said. "If you're interested in finance, start with reading the Wall Street Journal, reading industry background. That's really helpful when going to look for jobs. And stay motivated."