ABERDEEN UNIVERSITY-CIVIC SYMPHONY (AUCS)
Contact: Christopher Stanichar
The 50-member Aberdeen University/Civic Symphony (AUCS) performs 3 full orchestra concerts per season plus the fall musical and other concerts.
The AUCS provides an exciting and rewarding experience to NSU students and community musicians who are interested in performing great orchestral music. The history of the orchestra reveals the importance of featuring the rich talent of the area together with superb guest artists.
The AUCS has been a focal point of musical life in Aberdeen for more than a century. It was founded as the Normal Orchestra prior to 1910 under J.J. Cason, and became a college-community orchestra in 1920 under Howard Elson Goodsell. Dr. Christopher Stanichar became the orchestra's 17th conductor when he joined the NSU faculty in the fall of 2018. For more information about the AUCS or tickets for orchestra concerts, contact the NSU Fine Arts Office at 605-626-2497.
Chamber Singers
Contact: Dr. Timothy Woods
Twenty-four exceptional singers enjoy a diverse repertoire and an annual tour as members of the NSU Chamber Singers. Performing a capella and accompanied works, chamber singers rehearse two hours per week and perform in wonderful acoustic spaces on and off campus. Chamber singers tour with the NSU choir each fall. Potential performers audition with Dr. Woods at the beginning of the semester. Sight reading is a skill necessary to succeed in Chamber Singers.
CONCERT BAND
Contact: Dr.Travis Netzer
Performing a varied repertoire representing many styles and time periods, the NSU Concert Band is open to all students and community members. The band rehearses Monday evenings, culminating with a performance at the end of each semester. Students may register for 0 or 1 credit hour.
Concert Choir
Contact: Dr. Timothy Woods
Image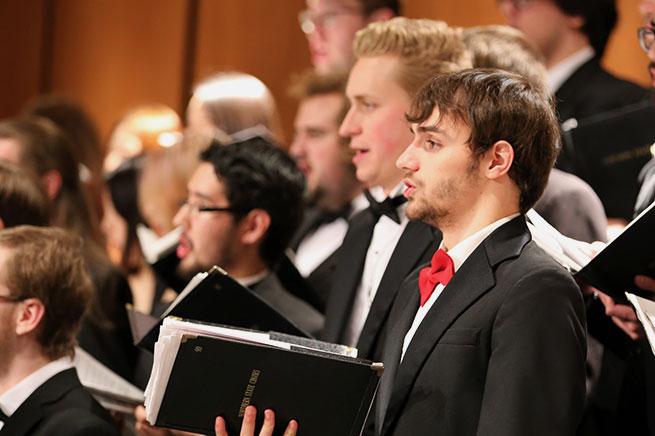 Join the 130 members of the NSU Concert Choir and perform repertoire from the renaissance to today. The choir rehearses 3 hours per week, performs on and off campus, and tours each fall. Formal attire is required for concert and tour performances. Tuxedos are available from the music department. Men are required to purchase a formal tuxedo shirt and tie. Women are required to purchase a formal black dress from the Fine Arts office. Potential performers audition with Dr. Woods at the beginning of the semester. Your enthusiasm and willingness to work will lead to success in Concert Choir.
Marching Wolves
Contact: Dr. Travis Netzer
Image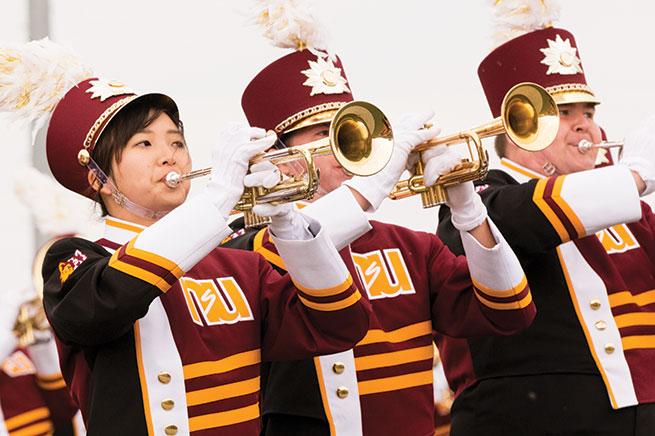 Interested in being a member of the award-winning NSU Marching Wolves? Email Dr. Terry Beckler (above) for more information. For current updates and announcements, check us out on Facebook.
NSU/Aberdeen Women's Choir
Contact: Dr. Wendy van Gent
The NSU/Aberdeen Women's Choir is directed by Dr. Wendy van Gent. The choir is open to treble voices from the NSU student body, faculty, and staff, and the greater Aberdeen community of South Dakota. The requirements for membership are a love for women's choral music, personal enjoyment of singing, and the director's approval. 
The Dominant 7
Contact: Dr. Grant Manhart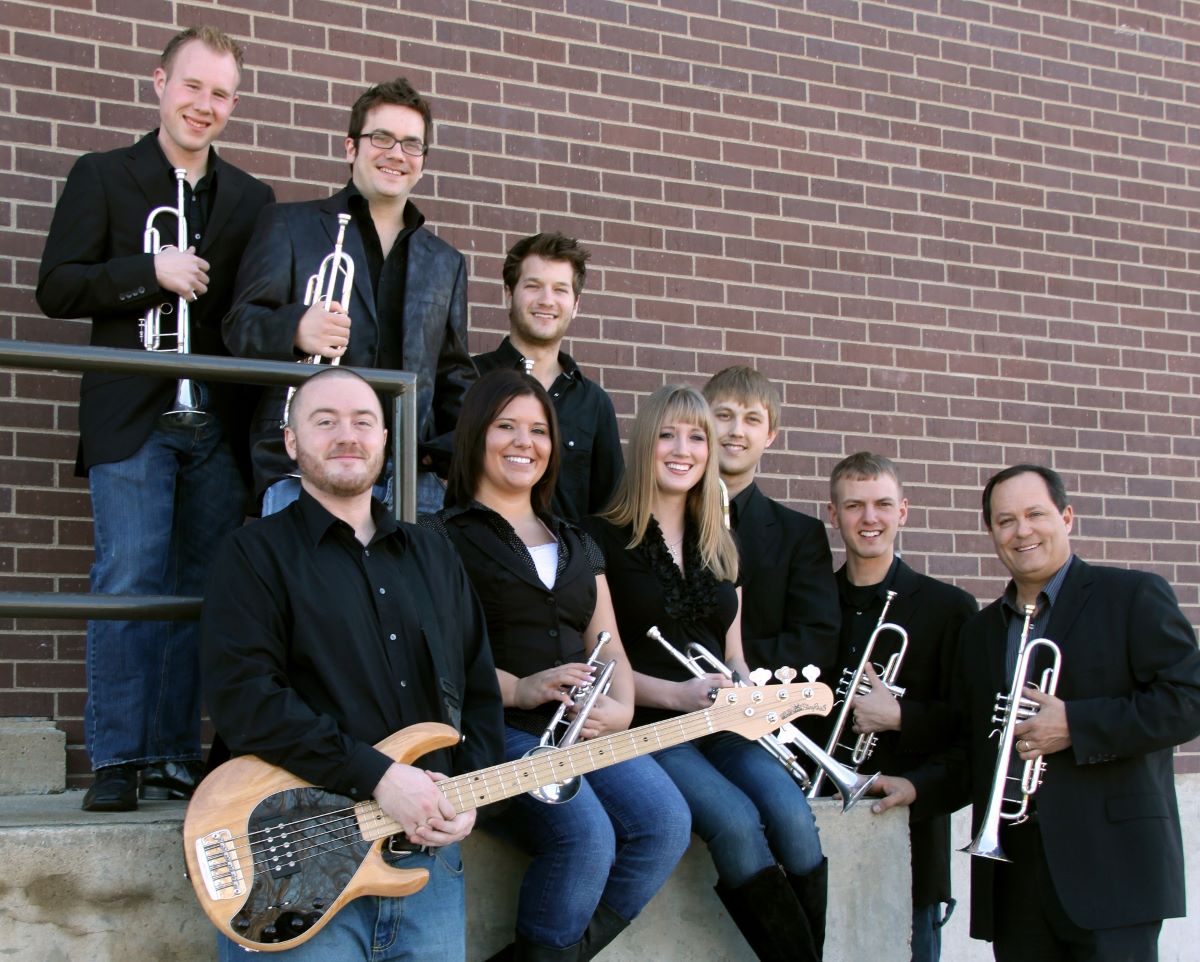 The Dominant 7 features the finest trumpet studio in the Midwest. Six trumpets, a trombone, and a hot rhythm section are sure to impress. They play big band swing, straight-ahead bebop jazz, blues, funk, dance standards, Latin jazz, some favorites from the Dirty Dozen Brass Band, and even an all-trumpet rendition of polkas! The Dominant 7 has entertained thousands from Indiana to Montana since they created themselves in 2004. They have been featured on stages in Wisconsin, the South Dakota State Fair, The Sioux Falls Jazz and Blues Fest, and many others in Aberdeen and surrounding area. They opened for Arturo Sandoval at the International Trumpet Guild conference in Glassboro, N.J., in 2006, and performed with the rhythm section of the €œArmy Blues€ at the International Trumpet Guild conference in Harrisburg, Pennsylvania. Their sound is original and unique, featuring fine young trumpet artists from Dr. Grant Manhart€™'s trumpet studio at Northern State University and backed by a rhythm section. You won't be able to sit still when the group lays down the groove!
Two O'Clock Jazz Ensemble
Contact: Dr. Grant Manhart
Image

The Two O'Clock Jazz Ensemble is the premier jazz ensemble at Northern State University. With approximately 18 members, the band performs a wide variety of jazz repertoire and tours each winter throughout the region. The band performs two hugely popular swing dance events, one in the fall and one in the spring; performs a spring concert; and hosts nationally known artists each year in January at the South Dakota Jazz Festival.
WIND ENSEMBLE
Contact: Dr. Audrey Miller
Image

The NSU Wind Ensemble is the premier auditioned band at Northern State University. With approximately 45-50 members, it performs a varied repertoire of literature from transcriptions to the most current works, including commissions. The ensemble is comprised of students representing different majors. It rehearses from 3-4 p.m .on Mondays, Tuesdays, and Thursdays, and performs a minimum of four on-campus performances each year. The ensemble tours each spring, and has been featured at the South Dakota Music In-Service and North Dakota Music Educators conferences. The NSU Wind Ensemble has completed a four-city tour of China and was selected to represent South Dakota in a performance at the Kennedy Center for the Arts in Washington, D.C.
Wolfpack
Contact: Dr. Grant Manhart
The Wolfpack is a 15-25 piece elite pep/jazz/cheer ensemble designed to learn and perform current and past pop/jazz music, inspire the crowd, and spur Northern teams to victory! Wolfpack members are paid for each game at which they perform. The band receives a lump sum from the Student Budget Committee, which is divided equally among the band members. The band rehearses two hours before the first home basketball game in JFAC. One hour before the tipoff, usually near the end of the women's game, the band reports in uniform: a Wolfpack shirt supplied by the band and khaki pants. The games generally begin at 7:30 pm.
Interested performers should arrange for an audition with Dr. Manhart before the season starts. Musicians in this band must have a fine sound and an eager and enthusiastic approach to band and athletics. The ability to improvise is a definite plus. The only woodwind instruments on the paid Wolfpack list are alto, tenor and baritone saxophones. All the brass instruments are included as well as one drum set player, one keyboard player, one electric bassist (all with jazz skills) and one or two auxiliary percussionists.
Woodwind, Brass, Percussion, and String Chamber Ensembles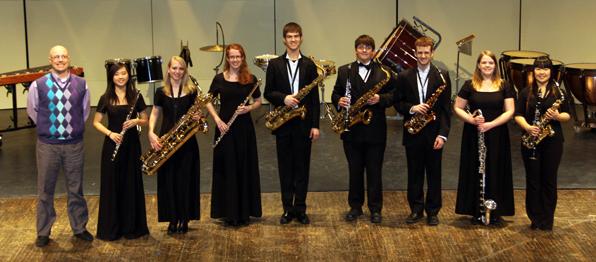 NSU offers a variety of educational opportunities for percussionists desiring a degree in music. Applied studio lessons are tailored to each student's needs and/or desires. The goal is for students to have exposure to all areas of the percussion family, and ultimately gain proficiency on each instrument. Northern offers a variety of ensembles that employ percussionists. Membership is determined by audition, but each ensemble is open to students of any major. Percussion Methods is offered for music education majors.