Great Plains East, located on the eastern edge of our residential quad, is one of NSU's two newest residence halls.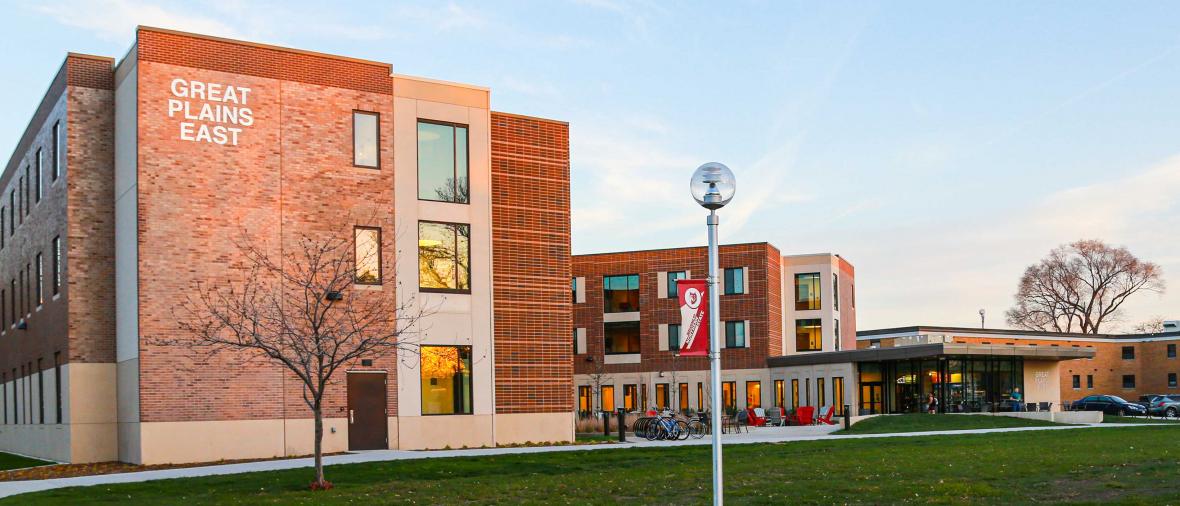 Great Plains East is home to the honors and TRIO living/learning communities. Get a look inside: take our virtual tour of Great Plains East.
Residence hall specifics:
This three-story, co-ed hall has accommodations for approximately 151 students
Interior design consists of 10 residential pods, with each single-sex pod housing 16 students in eight double rooms
Each pod provides a living space, community bathroom and private bathroom for its residents
Each room includes two built-in closets, movable dressers, desks, chairs and bunkable beds
A large laundry room, kitchen space, meeting room and lounge space are available on the first floor
Great Plains East is the location of Northern's The Grid Market
Wireless internet access is located throughout the hall, and individual rooms are wired for high-speed internet
Northern installed plasma ionization units from Global Plasma Solutions (GPS) in Great Plains East. By using needlepoint bipolar ionization technology, these units will target contaminants in the air field, killing various pathogens, including the COVID-19 virus.