Great Plains West, located on the western edge of our residential quad, provides suite and semi-suite-style housing for NSU students.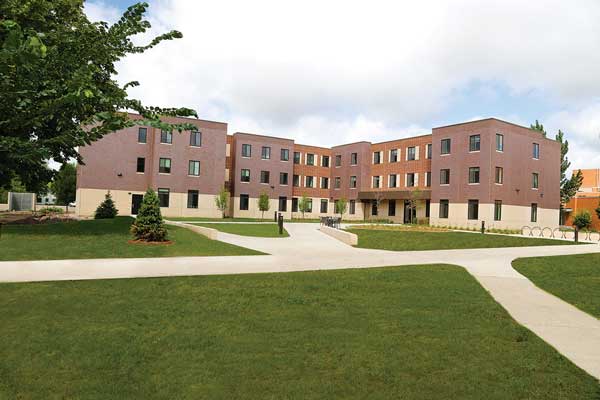 Residence hall specifics:
This three-story co-ed hall offers accommodations for approximately 148 students
Each bedroom includes a wardrobe with drawer space, desk, and chair for each roommate, as well as bunkable beds
Suites are furnished with seating in the living areas
Each semi-suite bedroom has direct access to the hallway with a bathroom pass-through between rooms
Laundry rooms, kitchen space, lounge space and study rooms are offered on each floor
The first floor offers a large meeting room, lounge area, and a first in the region: a game cleaning room for our students who like to hunt
Wireless internet access is located throughout the hall, and individual rooms are wired for high-speed internet
COVID-19 Safety Update
Northern has installed plasma ionization units from Global Plasma Solutions (GPS) in Great Plains West. By using needlepoint bipolar ionization technology, these units will target contaminants in the air, killing various pathogens, including the COVID-19 virus.