Image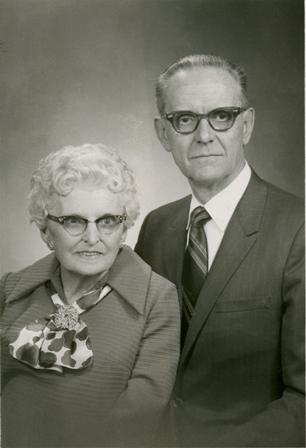 Johnson Fine Arts Center was named by NSU faculty for Lloyd and Marie Johnson, in honor of their combined 76 years' service to Northern. Lloyd served Northern in a number of administrative posts from 1942 to 1971, retiring as dean of administrative services. His wife, Marie, held various positions from 1926 to 1970, including associate director of admissions and records.
Opened in June 1972 and officially dedicated on April 12, 1973, JFAC largely replaced NSU's Administration Auditorium (Krikac Auditorium) as a focal point of college, city and regional cultural activity.
Music and drama students and faculty utilized the new recital, choir and band rooms, as well as the stage, drama workshop, makeup, dressing and practice rooms. The air-conditioned building also served as a multipurpose teaching facility to ameliorate the classroom shortage of the time. Liberal arts students attended lectures in six 45-seat classrooms and two large lecture halls, each seating 248 people. In the summer of 1973, a $28,000 sound system was installed. Also in 1973, students and faculty presented Lerner and Loewe's Camelot. In 1998, the show was revived in celebration of JFAC's 25th anniversary.
Through the years, groups offering star-quality performances to the community and region at JFAC have included:
Buddy Rich Big Band
Guthrie Theatre
Glenn Miller Big Band
U.S. Navy Band
President's Own U.S. Marine Band
U.S. Army Field Band
U.S. Air Force Band
KANSAS
The National Symphony
Three Dog Night
JFAC reopened in fall 2016 upon completion of a two-year, $15 million remodeling project that included an expanded lobby area; renovated main theater with improved acoustics; new seating, orchestra pit, shell system, and lighting; and new heating, cooling and fire suppression systems. New space include a black box theater, four classrooms, art gallery, student practice rooms, faculty offices and studios, box office, coat check, entrance, expanded parking, and additional restrooms.
Lloyd and Marie Johnson photo courtesy of Williams Library and Archives