Image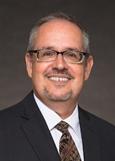 Dean, NSU School of Fine Arts
D.M. University of Maryland at College Park
M.M. University of Maryland at College Park
B.A. Washington State University
Dr. Kenneth Boulton is a Grammy® nominated pianist whose performances and recordings have garnered international acclaim. His discography features nine recordings of solo and chamber repertoire, much of which is devoted to contemporary American music. The highlight of Dr. Boulton's output is his recording, Louisiana - A Pianist's Journey, which was released in 2007 on Cambria Master Recordings and received a Grammy® nomination for best classical instrumental soloist.
A seasoned performer, Dr. Boulton has presented solo and chamber music recitals in many major U.S. cities, including New York, Philadelphia, Washington, D.C., Dallas/Fort Worth, Atlanta, Los Angeles, New Orleans, and Seattle. His international appearances have included performances at Moscow Conservatory, Rachmaninoff Hall and Oxford University, as well as concerts in Germany and Romania. He also routinely appears with his wife, JoAnne Barry, in recitals and lectures of piano duo and duet music.
Dr. Boulton was recently appointed Dean of the School of Fine Arts at Northern State University, Aberdeen, S.D. Previously, he was professor of piano at Southeastern Louisiana University, where he also served as head of the Department of Fine and Performing Arts from 2011 to 2015 and director of the Southeastern Community Music School from 2003 to 2010. Dr. Boulton has served on the faculties of the Wilmington Music School (Delaware), Shippensburg University (Pennsylvania), Wilson College (Pennsylvania), and the National Cathedral School (Washington, D.C.).
Born in Seattle, Dr. Boulton earned his bachelor's degree in piano from Washington State University, where he was a student of David Yeomans. In addition, he has master's and doctorate degrees in piano performance from the University of Maryland at College Park, where his teachers included Nelita True and Thomas Schumacher.