Image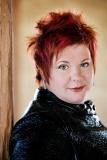 Professor of Music, Voice/Opera
B.S. North Dakota State University
M.M., G.P.D. Peabody Conservatory of Music
D.M.A. North Dakota State University
A captivating and compelling performer, soprano Dr. Darci Bultema has performed on the operatic stage in a variety of roles, such as La Contessa in Le nozze di Figaro, Donna Elvira in Don Giovanni, Cleopatra in Handel's Giulio Cesare, Clorinda in La Cenerentola, The Female Chorus in Britten's The Rape of Lucretia, and Lavinia in Bononcini's Camilla. Originally from North Dakota, she has brought talent and versatility to opera companies across the United States via Florida Grand Opera, Tulsa Opera, Washington Opera, Baltimore Opera, Natchez Opera, Peabody Opera, and the Fargo Moorhead Opera.
In addition to her operatic repertoire, Dr. Bultema has appeared as a soloist in an assortment of orchestral works with The Florida Philharmonic, New World Symphony, Miami Chamber Symphony, Peabody Symphony Orchestra, Washington DC Youth Orchestra, and the Fargo Moorhead Symphony. In these venues her voice has been showcased in Beethoven's Ninth Symphony, the Chants d'Auvergne of Canteloube, Griffes' Three Poems of Fiona Macleod, and oratorios of Bach, Handel, Haydn, and Rossini.
Dr. Bultema's talent and promise were recognized and nurtured through her participation as a Young Artist with Florida Grand Opera, Tulsa Opera, and Natchez Opera. Adding to her acclaim, a concert review by Classical New Jersey of her interpretation of Cilea's Il son l'umile ancella, Son pochi fiori from Mascagni's L'amico Fritz, and Bachelet's exquisite art song Chére Nuit, was quick to note "Miss Bultema's ability to float those stratospheric notes with ease and grace," as well as her "luscious legato line, completely even production throughout the compass and sumptuous crescendos." 
A frequent recitalist, Dr. Bultema has long been a supporter of lesser-known song composers, including Amilcare Ponchielli, on whom her doctoral document was written. Under the auspices of the International Grieg Society, she was recently selected to present art songs composed by Edvard Grieg in Norway. Her recent introduction to Norwegian and the songs of Grieg has provided her with exposure on the international scene.
Voice students of Dr. Bultema's are frequent winners and finalists with the National Association of Teachers of Singing (NATS) auditions in South and North Dakota. Many of her students continue their vocal training and education at prestigious institutions such as Peabody Conservatory of Music, Boston Conservatory, University of Maryland Opera Studio, and the University of Colorado in Boulder. A champion of music education, Dr. Bultema consistently has graduates from her voice studio experience success as music educators throughout the region and country, winning many accolades for their choirs and classroom teaching.
Dr. Bultema has earned a bachelor of science degree from North Dakota State University and a master of music degree from Peabody Conservatory of Music, where she earned a prestigious graduate performance diploma in voice and opera.  She also has a doctor of musical arts degree from North Dakota State University.