Image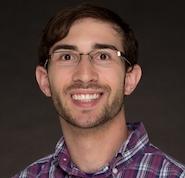 Assistant Director of Admissions Operations and Transfer Coordinator
Don't be afraid to try new things. Step outside your comfort zone and join a club, take a class that interests you (even if it doesn't immediately align with your major), meet new people, and go to campus events. Your college experience is what you make of it, so make it a good one.
For me, there's a lot to love about Northern – but the highlights are the size, faculty, and interconnectedness between the campus and the community. All these factors build upon each other: the smaller size allows faculty to be more engaged on an individual level with students; and the connection between Aberdeen, campus and NSU Career Services provides students support for internships, service projects and other career development opportunities.
My best memory from my own college years at the University of Connecticut was receiving a summer undergraduate research grant that funded a road trip through the Southern United States and solidified my research interests in the Civil War and history. The aftermath of that project, and the honors thesis that accompanied it, led to my acceptance in graduate school at Louisiana State University, where I received a master's in history.
My hometown is Waterbury, the fifth-largest city in Connecticut and known as "The Brass City" for its industrial manufacturing of brassware. The city is also featured as one of four quintessentially American towns in Ken Burns' World War II documentary "The War."
I take pride in my ability to adapt to new situations – like when my wife and I moved from Louisiana to South Dakota. Though it was a bit of a culture shock, we quickly adapted, and it didn't take long to love the community and campus we've found here in Aberdeen.
Outside of work, I've gotten involved with the Aberdeen Curling Club and am part of a great team of Northern faculty called Curling with Wolves. I enjoy being able to go out each week to play a sport most people only think about every four years during the Winter Olympics.
I also enjoy driving, so when my wife and I visit family, we often take a long road trip to do so, stopping in small towns along the way. Visiting family-owned grocery stores and thrift stores gives us a good feel for local culture, and we enjoy kitschy tourist trap stops. We also visit different national parks each year, which gets me closer to my goal of becoming a Junior Ranger at all of them.