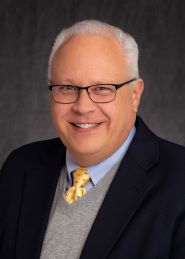 Dean of the School of Business/Associate Professor of Management
Ph.D., Business Administration/Management, University of Kentucky, 1997
MBA, Northern Kentucky University
B.A., Business Administration and Banking, Thomas More College, Kentucky, 1985
Foundations of Banking diploma, American Bankers' Association
Doug Ohmer joined Northern's faculty in 1994, and again in 2003 after a two-year appointment at the University of Wisconsin-River Falls. 
Before his appointment as Dean of the School of Business, Ohmer was Dean of the NSU College of Professional Studies; twice interim dean of the School of Business; and department coordinator, department chair, and founding director of Northern's Center of Excellence in International Business.
Before joining Northern, Ohmer held an industry position with the electronic banking division of The Central Trust Company (Cincinnati) and was marketing manager for Tente Casters USA (Hebron, Kentucky), a subsidiary of Tente Rollen GmbH of Wermelskirchen, Germany.
Ohmer is treasurer and a board member of the Aberdeen University Civic Symphony, and a board member for the Aberdeen Community Concert Association.