Image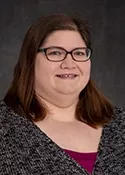 Office
TC 360 (Tuesday, Thursday afternoon); JSC 117 (Monday, Wednesday, Thursday mornings, and Fridays)
I am academic advisor for science, math, global languages, English, and communication studies. With degrees in business management and English literature and creative writing from Northern, I have been on campus intermittently since 2002.
I grew up in the Aberdeen area and worked for the South Dakota Board of Regents for 10 years. As a lifelong learner, I have always been a great supporter of education from childhood to adulthood. My goal in advising is to help students plan their path to graduation and help them look outside their major to become well-rounded applicants for future opportunities. I hope students will be able to look to me for guidance and reassurance in reaching their goals. Whether it is a smile and an encouraging word, or a referral to a resource, I want my advisees to know I am here for them.
In my spare time, I can usually be found reading a book, writing, baking, or spending time with my nieces, nephews, and dog.