Image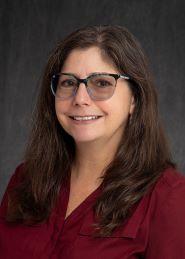 Assistant Professor of Art Education
(ABD) Ph.D. Art Education, specialty in Design (UI/UX), University of North Texas
M.A.T. Art Education, University of Central Florida
B.S. in Business Administration, specialty MIS, University of Central Florida
Cindy T. Davis is an assistant professor of art education. She is completing her research and dissertation for a doctorate in art education at the University of North Texas, focusing on art education curriculum and user interface design. She has a management information systems degree and a Master of Arts in Education from the University of Central Florida.
Cindy has taught at the University of North Texas and SUNY New Paltz. Cindy holds a PK-12 art education certification from Florida and has experience teaching art through public schools, private schools, and summer camps. Her curriculum experience includes International Baccalaureate and Montessori.
Cindy is an active member of state, national and international art education organizations, presenting at TAEA (Texas), FAEA (Florida), NAEA (United States), CSEA (Canada), and InSEA (Latin America) conferences.
Cindy provides in-person and remote course instruction and supervises art teachers at the graduate and undergraduate levels. She instructs, coaches, and mentors art teachers, preparing them for art education jobs. She applies a contemporary art approach to her teaching, allowing students to solve problems collaboratively and develop lessons using multicultural artists from history and contemporary art exemplars.
Cindy provides learning experiences that enable students to actively engage and practice highly demanded teaching skills: collaboration, communication, critical thinking, and creativity. To accommodate the building of these skills, she combines her experience with the design process and design-based research in her instructional practice.
Cindy's art practice includes acrylic painting, mixed media art, ceramics, pencil and charcoal drawings, and photography addressing contemporary art topics including depression, anxiety, hidden medical disabilities, and feminism.
Courses Taught (select)
Contemporary Approaches in Art Education
Theory and Practice in Art Education
Curriculum and Instruction
Special Topics: Art Lab
Computer Art Education
Inquiry in Art Education
Art Integration for Non-Art Education Majors