Image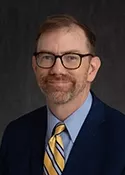 Professor of Government/Director of the Center for Public History and Civic Engagement
B.A. St. John's University
M.A. University of Wyoming
Ph.D Loyola University Chicago
Professor Schaff specializes in the study of American political thought and institutions. He has published on the presidency and political thought of Abraham Lincoln, politics and literature, and politics and popular culture. He has been a department Chair, faculty athletic representitive, and Chair of the NSU Promotion and Tenure committee. In 2005 he received the Outstanding Faculty Award from NSU.
Courses Taught
POLS 100 American Government
POLS 250 Introduction to International Relations
POLS 432 The Presidency
POLS 361 American Political Thought I
POLS 362 American Political Thought II
PHIL 270 Philosophy of Religion
Schaff, Jon D. "Lincoln's Domestic Policy." In Lincoln Lore. No. 1925, Spring, 2020.
Schaff, Jon D. 2020. "The American Constitution and Statesmanship: An Argument From Lincoln" In From Reflection and Choice: Political Philosophy of the Federalist Papers and the Ratification Debate, Will R. Jordan editor. Mercer University Press.
Abraham Lincoln's Statesmanship and the Limits of Liberal Democracy. Southern Illinois University Press. 2019.
Age of Anxiety: Meaning, Identity, and Politics in 21st Century Film and Literature. With Anthony M. Wachs. Lexington Books. 2019.