Image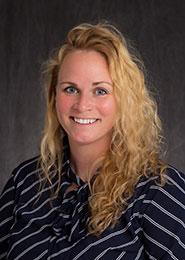 Assistant Professor of Exercise Science and Physical Education/Human Performance and Fitness Chair
Ph.D., Physical Education, University of South Carolina
At the University of South Carolina, Dr. Shortt studied physical literacy, K-12 sport and physical activity (PA) policy, and child/adolescent PA behaviors in and out of educational settings. The publication of Dr. Shortt's dissertation, "Conceptualizing Physical Literacy for Assessment of High School Students in the United States," can be found at University of South Carolina Scholar Commons.

Dr. Shortt is Northern's SPL graduate coordinator, chair of the Sports Sciences Department, and faculty athletic representative. She is a member of the International Physical Literacy Association and serves as a country lead. 
Dr. Shortt is dedicated to enhancing undergraduate and graduate research and providing advanced hands-on learning opportunities at Northern. 
Research Interests
Physical literacy
Epidemiology of PA behavior through policy or promotion
Psychological aspects of physical activity/exercise behavior