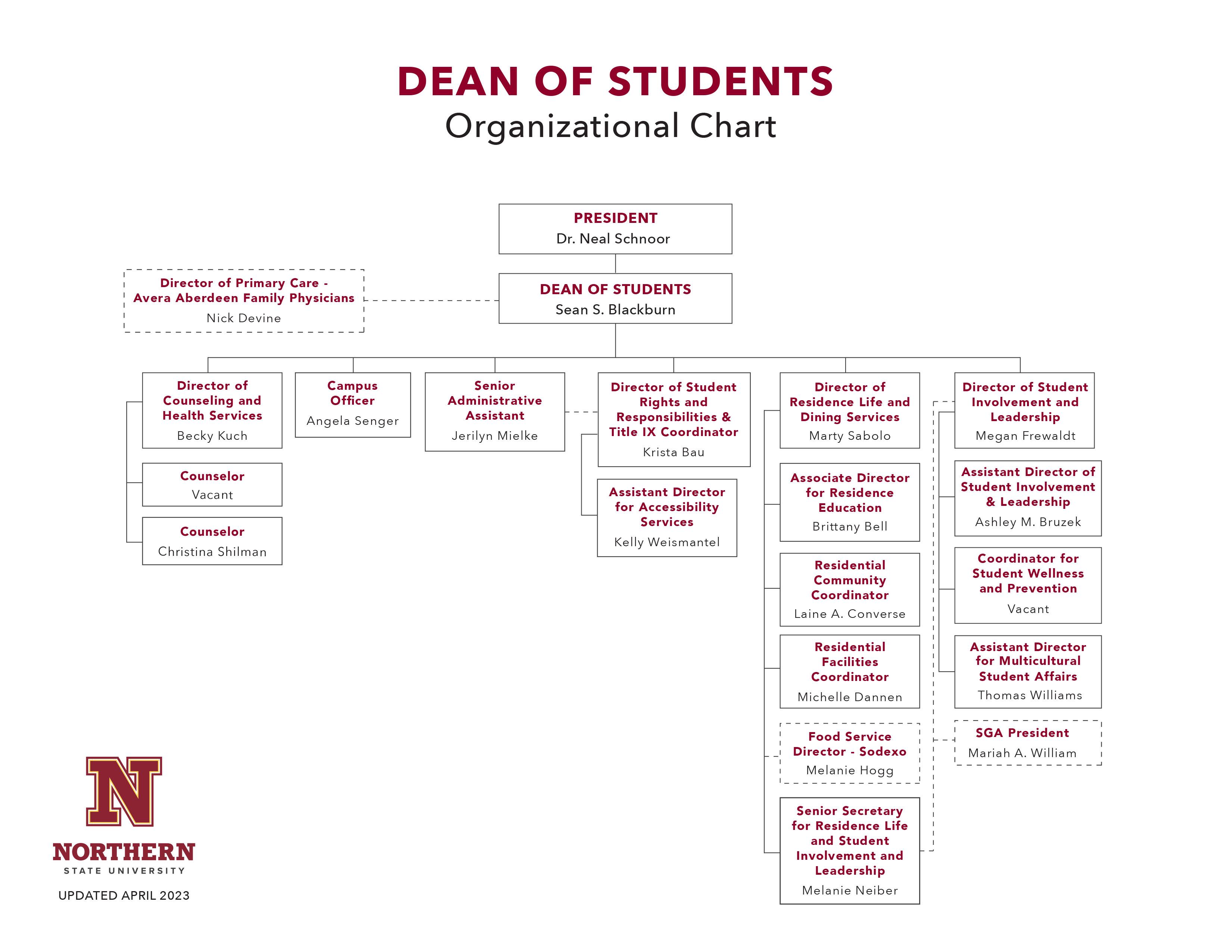 Northern alum Ms. Bau joined the staff of Northern State University in 2014 and served as the TRIO SSS programming coordinator and academic advisor before becoming the director of Student Rights and Responsibilities and Title IX coordinator. She is an active member on campus committees and serves on various boards in the state and community, focusing on youth and adolescents. Bau earned a bachelor of science degree in business marketing from Northern and a master of arts in interdisciplinary studies: special education and educational psychology from the University of South Dakota.
Ms. Brittany Bell was named associate director for residence education in June of 2022. She was most recently the West Complex director and residential education coordinator at Black Hills State University. She has also served as a community engagement coordinator at the University of Central Oklahoma in Edmond, OK., and been accepted into the Interpersonal Leadership Ed.D. program at Kent State University.
Bell received her M.S. in psychology from the University of Phoenix and a B.A. in sociology from the University of Central Oklahoma. While at Black Hills State, Bell took a leadership role in developing a new resident assistant training program and developed a residential curriculum to augment programming efforts in the residence halls.
Ms. Berg joined Northern in July 2023 as the coordinator for student wellness and prevention within student involvement and leadership. She earned a bachelor of arts in economics with a minor in health promotion from Luther College in Decorah, Iowa, and her M.B.A. in healthcare leadership from Viterbo University in La Crosse, Wis. Ms. Berg was most recently the administrative assistant for the counselor education program at Viterbo University.
Mr. Blackburn comes to Northern with 18 years of experience in the field of student affairs, most recently at the University of Wyoming in Laramie. There, he served as vice president for student affairs, previously holding the position of associate vice president for student affairs and dean of students. Blackburn's past experience also includes working in various student affairs roles at Winthrop University in Rock Hill, S.C.; the University of Wisconsin-River Falls; and Virginia Polytechnic Institute and State University in Blacksburg, Va. Throughout his career, Mr. Blackburn has worked to create and support co-curricular programs and services that advance student engagement, safety and success while fostering a diverse and inclusive community. Mr. Blackburn earned a bachelor of arts degree in political science and a master of education degree in student affairs administration from Virginia Polytechnic Institute and State University.
Ms. Bruzek is completing a master of science degree in banking and financial services. At Northern, she has been a graduate assistant for residence life; TRIO peer mentor; Campus Activities Board secretary, treasurer, and president; treasurer of the Residence Hall Association; and 2021 homecoming queen. In May of 2022, Ms. Bruzek received an emergency appointment to serve as the full-time assistant director for Student Involvement and Leadership.
Mr. Converse was named residential community coordinator for residence education in October of 2022. Converse will earn his B.S.Ed. in history education in December of 2022 from Northern State University. Converse hails from Omaha, and has worked in residence life at Northern for the last year and a half as a resident assistant and senior resident assistant. Converse has held numerous other student leadership positions, most recently as vice president of Student Government Association (2021-2022).
Ms. Dannen was named residential facilities coordinator for residence education in October of 2022. Dannen joins the team after many years of experience with the Brown County Register of Deeds' Office and as a sales manager with Herberger's. She attended the Brown Institute of Minneapolis and Minnesota State Community and Technical College, Fergus Falls.
Jerrod Ham joined Northern as our new director of dining services in August 2023. Mr. Ham earned a Bachelor of Business Administration degree with a minor in marketing from the University of Mississippi in Oxford, Miss. He was most recently the food service manager for Sodexo at William and Mary in Williamsburg, Va. Mr. Ham leads a dynamic and talented dining services team responsible for the operations of the Wolves Den, Einstein Bros.® Bagels, and the Grid Market featuring the dining concept "Created with Love" as well as campus catering operations and athletics concessions.
Ms. Jungmann has been a nurse with Avera St. Luke's since 2013 and has practiced since 1980. She graduated with her first degree in 1979 in Medical Center of Lucena, Philippines. She migrated to the U.S. in 1987 and attended BSN refresher courses in Huron University from 2002 to 2004. She attended University of Phoenix from 2006 to 2008 and finished with a master's degree in health administration and masters of science degree in nursing. In 2010, Ms. Jungemann started postmaster's certification for family nurse practitioner at Graceland University, Independence Mo., and graduated in early 2012. Her field of practice is focused in family medicine, internal medicine and occupational health. She is also a preceptor for nurse practitioner students.
Northern alum Ms. Becky Kuch (NCC, LPC-MH, LPCC) was named director of counseling and health services in December 2022. She is a mental health therapist with 21 years of experience. Prior to Northern, Becky served in private practice with Northern Plains Psychological Associates here in Aberdeen, S.D. She has a M.S. Ed. in guidance and counseling and B.S. in psychology, both from Northern.
Ms. Mielke earned an associate of science degree in office administration with a secretarial emphasis from Northern in 1987. After graduation, she worked as a secretary at Hub City Inc., then as a typesetter for Quality Quick Print Inc. Since coming to Northern in fall of 1993, she has worked for the Division of Student Affairs. She has weathered a lot of changes throughout the years, but still enjoys working with faculty, staff, and especially students on campus.
Ms. Neiber is a native of Aberdeen, S.D., and graduate of Aberdeen Central High School. Ms. Neiber assists with administrative duties for residence life and student involvement and leadership. She has been with Northern since January 2016, having previously worked more than eight years in the hotel industry. Her attention to detail and customer service is an asset to the Northern community.
Mr. Sabolo has been director of residence life and dining services at Northern since July 1, 2015. While at Northern, Mr. Sabolo has overseen the opening of three new halls and a revamping of the social and educational programming within the residence life department. Mr. Sabolo has 32 years of student life experience, with 28 years in residence life at Blackburn College, Dickinson State University, Arkansas Tech University, and Northern. He served as dean of students at MacMurray College for three years. His commitment to residential living stems from the positive growth he experienced as an undergraduate at Blackburn College, his alma mater. With that experience in mind, Mr. Sabolo strives to provide a welcoming, inclusive and engaging community for all students at Northern. Mr. Sabolo earned his bachelor of arts in speech communications and theatre at Blackburn and his masters of science in college student personnel at Arkansas Tech University.
Ms. Shilman joined Northern in July 2021 as a staff counselor in the counseling center. She earned a masters of education degree for clinical mental health and school counseling and a bachelor of science degree in psychology from Northern. Ms. Shilman started her counseling journey in addiction and prevention services through a local agency, where she provided intensive outpatient treatment services and coordinated and implemented prevention efforts in the local school districts and community outreach efforts. Ms. Shilman also spent several years working in community mental health, working with clients of all ages with a variety of needs.
Ms. Weismantel was named assistant director for Student Accessibility Services in April of 2022. She was a staff counselor at Northern from 2010 until 2022. During her tenure, she has worked individually with students on a variety of issues impacting their daily lives. She has experience in grant writing, prevention programming, and Title IX coordination and investigations, as well as threat assessment. She trains staff and students on topics pertinent to the college population and is a Prime for Life instructor. Before her employment at Northern, Ms. Weismantel worked at area social service agencies, focusing on working with families and adolescents and providing case management to young adults as they aged out of foster care. During her career, she has worked to ensure all students acquire the skills and knowledge to be successful in all aspects of life.
Ms. Weisser attended and graduated from Northern with an associate degree in administrative systems. She has been employed with Avera for 27 years as a patient representative, helping patients navigate appointments, registration processes, nursing requests, and medical records. She enjoys working side-by-side with providers to ensure proper health care for all students. Ms. Weisser is a mother of six, bringing patience, kindness, respect and many years of knowledge to her position.
Thomas Williams was most recently director of education for the Flandreau Santee Sioux Tribe. He earned a master's of science degree in parks and recreation from South Dakota State University in Brookings, S.D. Mr. Williams has worked to promote belonging, inclusion, engagement, and student success throughout his career in higher education and public service.