Wolves Memorial Suites, located on the northwest corner of campus, is a co-ed hall offering a variety of living options.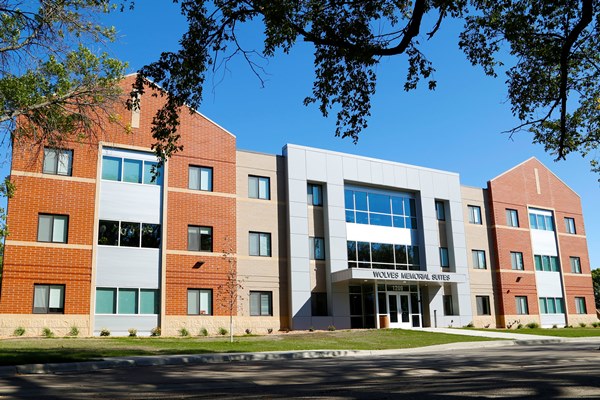 This three-story hall offers a mix of suites for either two people in one bedroom or four people in two bedrooms, and numerous four-person, two-bedroom semi-suites. Get a look inside, take our virtual tour of Wolves Memorial Suites.
NSU's first LEED-certified hall, Wolves Memorial was designed and built according to environmentally friendly principles, including recycling rooms to encourage our students to be environmentally friendly as well!
Spacious kitchen space for residents on all three floors
Coin- and card-operated laundry facilities on every floor
Study rooms, study coves and social gathering spaces available throughout the building
Each bedroom includes a wardrobe with drawer space, desk, and chair for each roommate, as well as bunkable beds
Suites are furnished with seating in the living room spaces
Wireless internet access is located throughout the hall, and each room is wired for high speed internet
COVID-19 Safety Update
Northern recently installed plasma ionization units from Global Plasma Solutions (GPS) in Wolves Memorial Suites. By using needlepoint bipolar ionization technology, these units will target contaminants in the air field, killing various pathogens, including the COVID-19 virus.