Northern State University's Office of Sponsored Projects provides research administration services for Northern.
About the Office
The Office of Sponsored Projects provides pre- and post-award services for faculty, staff and students. This includes assistance with:
Locating funding sources for ideas and proposed projects;
Securing application materials;
Preparing proposals and grant applications;
Coordinating on-campus approval phases;
Serving as the authorized organizational representative in submitting completed grant applications to funding agencies;
Interpreting agency award letters to determine grant administration responsibilities;
Establishing a fund for grants; and
Maintaining a deliverables calendar.
The office also prepares and maintains policies and procedures intended to ensure that the university can support proposed projects adequately and fulfill the requirements of the ensuing grants and contracts.
The office is a communication hub to help keep the university apprised of internal and external research opportunities, and helps ensure Northern complies with funding regulations.
Student Research
Northern is committed to student research:
Our Student Research page details Northern's student research opportunities
myNSU, our campus-only website, provides resources for student researchers
The campus-wide proposal process is available to help students find research project funding
Interested in Being a Research Participant?
Northern is committed to assisting researchers in their activities. Some areas of scholarship are only possible with research participants, or people who agree to be studies as a part of the research. Participation is voluntary, which means it is your choice to participate. If you are interested and would like more information, please contact the Office of Sponsored Projects or visit Northern's Sona research volunteer site.
Research Compliance
Research compliance is important for adherence to the high standards of ethics, integrity, and responsibility in scholarship to which Northern is committed. Northern's Institutional Review Board (IRB) provides oversight of human subject research, and our Institutional Animal Care and Use Committee (IACUC) provides oversight of animal use and care. Both protect the welfare of animals, human or non-human-related. Please visit Institutional Review Board for more information.
Resources
Northern's faculty and staff have access to resources that support the grant application process, including PIVOT, a tool that helps locate funding for scholarly work. Detailed grant-development documents and required grant submittal forms are available through the Office of Sponsored Projects in MyNSU under "Office of Sponsored Projects" (under Employee Resources).  
Grant Process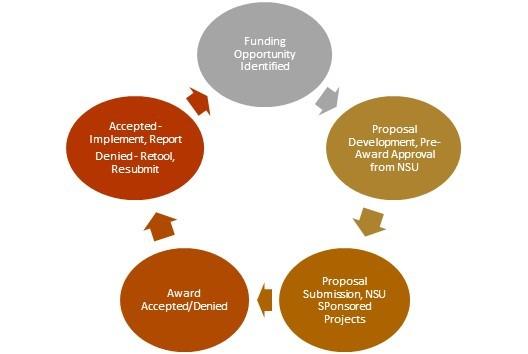 Please contact Dr. Alyssa Kiesow for more information.
Recent faculty and staff grants
Dr. Jon Schaff, professor of political science
Knight Foundation, $35,000
Northern State University's Center for Public History and Civic Engagement will use these funds to support three years of activities, including a speaker series and continuing education opportunities for K-12 teachers in history and civic engagement. The center, which opened this fall in the Williams Library on the Northern campus, also sponsors programming such as Constitution Day and National History Day.
Dr. Chelsee Shortt, assistant professor of exercise science and physical education
Dr. Jessica Talmage, assistant professor of human performance/exercise science
SDBOR R&D Innovation, $200,000
Northern State University's Human Performance lab will use these funds to upgrade the lab via physiological and biomechanical equipment to better prepare students for future careers in sports science or allied health graduate programs as well as enhance athlete health and performance, and assess injury risk through preventative measures.
Ms. Jennie Thompson, coordinator of TRIO
Ms. Britt Lorenz, director of Student Success Center 
U.S. Dept of Education, Upward Bound, $344,095 (Note: This is per year for five years.)
Northern State University's TRIO Upward Bound (UB) project will serve 70 students who meet federal TRIO eligibility guidelines. The NSU UB project will be designed to effectively serve students in their preparation for college entrance. The objectives of the program will be to increase the rate at which participants complete secondary education and enroll in and graduate from institutions of postsecondary education.
Dr. Chelsee Shortt, assistant professor of exercise science and physical education
Dr. Kelsie Roberts, assistant professor of sport marketing and administration
Dr. Lauren Pierce, assistant professor of educational psychology
Dr. Shalini Mathew, assistant professor of counseling education
NCAA Innovation Grant, $19,539.99
This research focuses on mental health literacy in campus culture by creating a program for student-athletes and coaches that targets the following areas: time constraints, criticism, relationships, pressure, fatigue, disconnection, and well-being.
Dr. Debbi Bumpous, vice president of technology, chief information officer
Dr. Alyssa Kiesow, dean, College of Arts and Sciences
Ms. Jodi Casanova, deputy chief information officer
Mr. Jeremy Iverson, technology integration specialist
NSF Campus Cyberinfrastructure, $998,750 (NSU's sub-award amount is $552,450.)
Funds requested by the South Dakota Board of Regents (SDBOR), the University of South Dakota, South Dakota State University, Northern State University, and Dakota State University will deploy and maintain the South Dakota Research and Education Data Interchange (SDREDI). This project will provide access to a secure cyberinfrastructure for all institutions governed by the SDBOR, supporting research innovation and advance education across their STEM portfolios.
Dr. Hannah Walters, associate professor of marketing
Dr. Erin Fouberg, associate vice president for academic affairs
EDA Venture Challenge, Build Project, Grant, $1,497,583
Northern State University will leverage our community's existing entrepreneurial success with broadband availability that exceeds the U.S. average to strengthen and diversify the entrepreneurial economy by building a thriving tech ecosystem in the Aberdeen area. The Northern Innovation and Startup Center will infuse technology startup expertise into existing entrepreneurship resources, build a culture of tech entrepreneurship and create cohesive pathways, and offer ideation and incubator programming.
Dr. Erin Fouberg, associate vice president for academic affairs
Northern Academy, SDEAF Grant, $1,168,090
Promote college readiness and improve the transition to post-secondary education through the Northern Academy, which provides a curated college environment, with full wraparound services of a college transition experience, for juniors and seniors in Aberdeen-area high schools, with special focus on and intentional recruitment of students who are low income, first generation, or from underrepresented backgrounds.
Dr. Erin Fouberg, associate vice president for academic affairs
Empowering Innovators, SDEAF Grant, $382,008
Empower innovators through a comprehensive program of camps, bootcamps, and career advising, designed to develop tech skills and knowledge and promote innovation and entrepreneurship among high school and college students, with special focus on and intentional recruitment of students who are low income, first generation, or from underrepresented backgrounds.
Dr. Susan Citrak, assistant professor of chemistry
Dr. John Long, associate professor of computational biology
Dr. Jon Mitchell, associate professor of biochemistry
AGP Partnership, $30,000
This project represents a partnership between NSU and a community business, AGP. AGP is funding a summer research project focused on Investigation of potential commercial uses for soybean hulls.