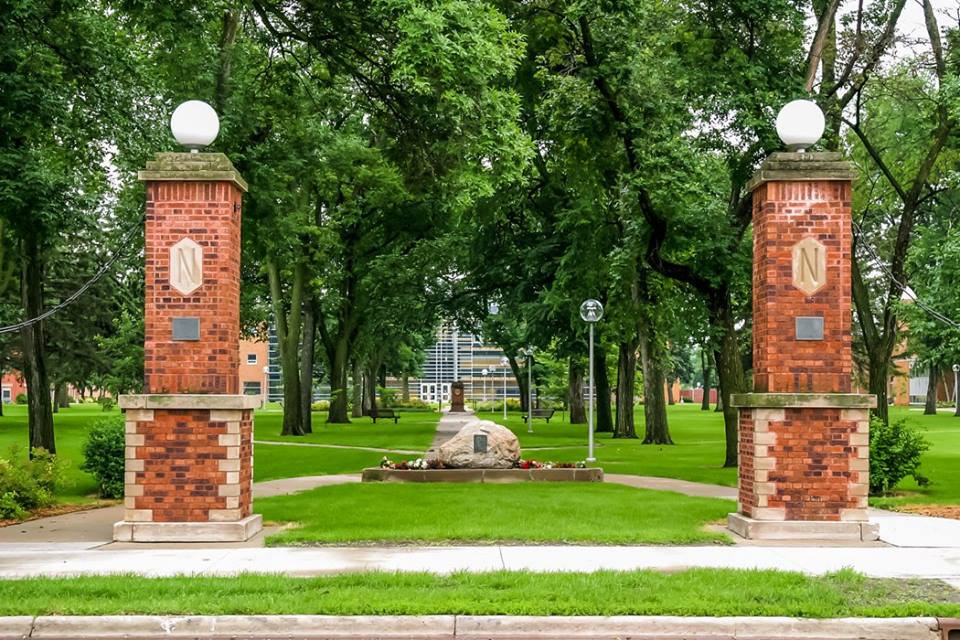 Welcome to the NSU News Update - providing information on events happening on campus or involving NSU students, staff and faculty.
To submit a news item, send it via email to NSUNews@northern.edu by 5 p.m. Thursday of the week before the announcement should run.
Governor Kristi Noem has ordered that flags be flown at half-staff statewide until sunset on the day of interment in honor of former Queen Elizabeth II.
Library Open House
The NSU Beulah Williams Library is having an open house on Tuesday, Sept. 13, from 6:30 to 8:30 p.m. Treats and lemonade will be provided. Enter to win an NSU T-shirt!
Student Success Center Events
Here are upcoming Student Success Center events and opportunities:
Student Success GOLD Series - The One About Studying Smarter, Not Harder – Tuesday, Sept. 13, 4-5 p.m. in MJ 101 and Wednesday, Sept. 14, 3-4 p.m., MJ 101 or

Zoom

.

Time is precious but there is a lot to learn to be successful in your classes. The NSU Student Success Center invites students to this interactive workshop to learn about studying more effectively and efficiently. Avoid those long boring study sessions and discover strategies to study at a deeper level while utilizing time better.

Student Success GOLD Series - The One About the Career Fair – Tuesday, Sept. 13, 3-4 p.m. in MJ 101 or Zoom, and Thursday, Sept. 15, 3-4 p.m. in MJ 101 or Zoom.

Want to attend the Fall 2022 Internship and Career Fair, but not sure how to network? Prepare for the Job Fair with Northern Career Services and learn how to polish your resume, make a great first impression, and land your dream job or internship. (Note: The Fall 2022 Internship and Career Fair is scheduled for Thursday, Sept. 22, 11 a.m.-2 p.m. and 4-7 p.m. in the Avera Student Center.) If you are interested in attending this event online, please contact

careerservices@northern.edu

for a Zoom link.

Wolves Emerging Scholars Program (WESP):

Are you a freshman or sophomore? Looking for self-care/wellness strategies, interested in learning successful habits or trying to cope with stress?

Be a part of the group counseling sessions hosted by the counselors in training! The Wolves Emerging Scholars Program (WESP) is a six-week group training experience for NSU freshmen and sophomores that will emphasize study skills, time management, self-advocacy and wellness. Each week will be led by the counselors in training who will develop curriculum for these topics. There will be a lot of fun and engagement. Come and take advantage of these

FREE

sessions. This will be held 5-6 p.m. Tuesdays beginning Sept. 13 in the Gerber Building rooms 210, 211 and 216. For further details and a link to sign up, please contact

shalini.mathew@northern.edu

.
Noon Forums
Fall 2022 Noon Forums will begin Wednesday, Sept. 14, at noon in the Beulah Williams Library Round Room. The featured speaker will be Dr. Jon Schaff, NSU professor of government, who will present the topic, "Liberal Education and Democracy." The Sept. 14 forum and the forum on Sept. 21, which will feature Dr. Ken Blanchard presenting "Darwin and the Declaration," are being held in conjunction with Northern's observation of Constitution Day on Sept. 19.
NSU Noon Forums, which are free and open to the public, are sponsored by NSU Faculty Senate, the Center for Excellence in Teaching and Learning, and the Center for Public History and Civic Engagement. Remaining topics for the fall semester are as follows:
Sept. 28: Five Essential Social Changes (Kristi Brownfield)

Oct. 5: The Candidates on Education (Carl Perry, Brian Bengs, and others)

Oct. 12: Native American Day Presentation (Pam Monaghan-Geernaert and Lara Nelson)

Oct. 19: Four Feet Better: Animals and Mental Health (Chris Puglisi)

Oct. 26: Town and Gown: Northern and the Aberdeen Community (Travis Schaunaman, Mike Bockorny, Zach Flakus)

Nov. 2: Apocalypse Now! What's at Stake in the 2022 Elections (Steven Usitalo, Ken Blanchard, Jon Schaff)

Nov. 9: Over There and Over Here (Brooke Louise Thielbar and Sgt. Brock Thielbar)

Nov. 16: Effective Engagement Strategies in HyFlex Modality Based on Intrinsic Motivation in Students (Kristi Bockorny, Theresa Giannavola, Shalini Mathew, and Hannah Walters)

Nov. 30: How Local Botany Has Altered Our History (Jeff Bartel)
Faculty Showcase Recital
The NSU Department of Music will hold its annual Faculty Showcase Recital on Thursday, Sept. 15. The showcase will be held in the Johnson Fine Arts Center Harvey and Cynthia Jewett Theater, beginning at 7:30 p.m. and featuring an array of solo and chamber performances by the talented NSU music faculty. The event is free of charge, though donations will be accepted for the music scholarship fund. The public is welcome.
Kristi Brownfield Presents on Assessment Goals 3 and 4 Tuesday, Sept. 20
Join the Center for Excellence in Teaching and Learning for a two-part series with Director of Assessment Kristi Brownfield over Assessment on Tuesday, Sept. 20, in the CETL Pedagogy Lab (Library 141A).
Part one, General Education Assessment Kickoff, will begin at 2 p.m.,

explaining the general education assessment rationale and processes faculty will use this year for goal 4 (Arts and Humanities).
Part two, General Education Assessment Debrief, will begin at 3 p.m.,

exploring the results of last year's goal 3 (Social Sciences) general education assessment, and participants will be able to offer their own insight and analysis to be used in the final assessment report.
If you would like to join either event asynchronously, you can attend via this zoom link.
NSU All-State Orchestra Workshop
Northern will host the fifth annual All-State Orchestra Workshop with the Aberdeen University-Civic Symphony. The free workshop, open to all South Dakota high school students, will take place 7-9 p.m. Tuesday, Sept. 20, in the NSU Johnson Fine Arts Center. During the first hour, students will work with AUCS faculty and principal musicians. Then, they will sit with AUCS members and read through the repertoire for All-State Orchestra under the direction of Dr. Christopher Stanichar. Registration will take place at the door the night of the workshop. For more information, please contact Stanichar at c.stanichar@northern.edu.
Student Government Association
Hey Wolves - Student Government Association is on Instagram! Follow @nsu.sga to be in the know about campus events, find meeting times, become a part of important change on campus, and learn about how to get involved as a member of the pack. SGA serves as the governing body/voice of the pack, representing all Northern students. Functions of SGA include overseeing the creation and recognition of all organizations, delegating General Activity Fee fund allocation on campus every spring, representing NSU at South Dakota Student Federation meetings, and serving as the bridge between the student body and the South Dakota regental system. SGA meets weekly during the academic year and welcomes all students, Northern employees and community members to attend. For more information, stop by their office in the Hub on the second level of the Avera Student Center, or visit their social media.
Health Screenings, Flu Shots:
Be sure to attend the on campus health screening and flu shot clinics.
Sept. 19-20, the health screenings will be in the Student Center Centennial rooms. Register on the benefits website at

www.bhr.sd.gov

Oct. 12, the flu shot clinic for employees will be held in the Student Center Centennial rooms from 2 to 6 p.m.
September Wolf Talk
The first fall 2022 NSU Wolf Talk is set for 6:30 p.m. Sept. 21 in the JFAC Berggren Recital Hall. The event features the hosts of the popular podcast, "Shrink Rap," discussing the topic of bullying and their goal to be a resource for individuals who have experienced bullying or would like to help someone who is being bullied. The Wolf Talk, sponsored by Northern's TRIO Student Support Services and the NSU Honors Program, is free and open to the public.
Benefits Eligible Staff:
September's EAP Well-Being Webinar will take place on Wednesday, Sept. 28, at noon CDT. This webinar, titled Stress: A Way of Life or a Fact of Life, will focus on how all aspects of work and life require stress. Experiencing stress is not all bad, but how we perceive it is what matters. Stress is our body's normal response to any extra physical, mental or emotional demand placed on it. This webinar will help you identify your stressors and learn ways to cope with and manage high stress levels. Click here to register.
Also, the Lunch and Learn Series continues Wednesday, Sep. 14, with a session on The Employee Assistance Program and Mental Health Resources. This is an opportunity to learn what resources are available for you and your family members. Registration is now open for this webinar. You can also download an Outlook calendar reminder on the Lunch and Learn page. Click here to register.
Student Job Postings
The following departments/programs have openings available:
Women's Basketball seeks

student managers and practice players: Student managers will attend all practices and games, helping with the day-to-day practice and gameday programming. Practice squad members will participate in day-to-day practice programming including scrimmages, practice drills and opponent scouting. They must have some form of basketball experience, preferably high school varsity. Both managers and practice squad members must be enrolled as a full-time student at Northern. Gain valuable working experience in college athletics, build your network, receive NSU gear and occasional meals. Reach out to Coach Smith at

dalton.smith@northern.edu

for mor information.

The Exponent is hiring!

Published in print and online, The Exponent provides reliable and relevant reporting of news, art and culture while providing real-world experience for students interested in pursuing a career in any area of English, digital media or mass communication.

We are currently looking for staff writers, copy editors and layout editors! Experience preferred but not required. These positions are student labor and average four hours per week. For more information, contact Danielle Notz via email:

danielle.notz@northern.edu

. Find previous issues at

The Exponent

.
For additional resources and opportunities, visit NSU Career Services.
Seeking Parade Volunteers
The Gypsy Days Committee is looking for parade volunteers. Individuals interested in assisting with parade operations should contact kennedy.lorenz@northern.edu. This year's Gypsy Day Parade is Saturday, Oct. 8. Volunteers are needed from 6 a.m. through noon, with the parade starting at 9 a.m. Volunteers will receive a complimentary general admission ticket to that afternoon's football game.
NSU Hall of Fame and Distinguished Alumni Banquet
The NSU Foundation will honor six Northern alumni and friends of the university at the 2022 NSU Hall of Fame and Distinguished Alumni Banquet. The event will take place at 5 p.m. Friday, Oct. 7, in the Kessler's Champions Club Room in the Barnett Center. This year, the NSU Foundation honors the following individuals:
Lifetime Achievement Award: Lester Clarke

Kretchman Coaching Award: Charles (Chuck) B. Welke

Distinguished Alumnus: Roger Youngman

Hall of Fame inductees: Doyle Everson, Adam Kampsen and Rachel (Krogman) Rieger
For more information, click here.
Thunder Workers Wanted
The NSU Athletic Department is looking for high energy, outstanding students to be "Thunder" for this year's campus sporting events. This is a paid position with an hourly rate of $20. If you are interested, please email Jacob.Wiedrich@northern.edu
Silent Book Club
This isn't your regular book club. No set books to read. No pressure to share or discuss. Never worry if you haven't finished the book. No judgment.
The Silent Book Club model means we are not all reading the same book at the same pace. There is no homework and no pressure to lead or contribute to a discussion. We introduce our books and ourselves at the start of the meeting and then we dive into reading for an hour. Simply bring yourself and whatever you're currently reading (we don't care about genres or formats, anything goes!) All readers are welcome—even e-readers.
The Silent Book Club meets the first Tuesday of every month from 4 to 5 p.m. on the Campus Green (by flagpole), weather permitting. Fall semester meetings:
In case of inclement weather, meet in the library Round Room. Everyone is welcome, and anyone can join! Consider joining if you are unable to find time and space to just enjoy a book. That's it! No pressure whatsoever. For additional information, contact Nicole.Christiansen@northern.edu. Hosted by Williams Library.
Common Read is Nov. 7
Northern's fall 2022 Common Read book will be "Send," by Patty Blount. Blount will deliver the 2022 NSU Larry and Julie Poeppel Family Common Read Lecture at 7:30 p.m. Monday, Nov. 7, in the NSU Johnson Fine Arts Center's Harvey and Cynthia Jewett Theater. The event is free and open to the public. Copies of "Send" are available for purchase at the NSU Wolf Shoppe. For more information about Northern's Common Read, contact NSU Honors Program Director Dr. Kristi Bockorny, Kristi.Bockorny@northern.edu.
Pre-Health Club Blood Drive
The Pre-Health club will be hosting a blood drive on Wednesday, Nov. 16, from 9 a.m. to 2 p.m. in the Centennial rooms of the Student Center. Sign up to donate at this link, or contact George Nora by email at George.nora@northern.edu.
NSU Water Wolves Swim Lessons
Here are the fall 2022 swim lesson dates. All fall sessions (except November/December) run on a Monday-Thursday for two weeks and then a Monday and Tuesday to get in 10 sessions. (No Friday lessons.)
September session: Sept. 12-27

October session: Oct. 10-25

November/December: Nov. 28 - Dec. 8 (Nov./Dec. Only runs Monday- Thursday for two weeks.)
Cost: September and October session, $100 (10 lessons); November/December session, $90 (nine lessons). For questions or more information, please contact Mikaela Waiflein at Mikaela.M.Waiflein@northern.edu.
'Be Northern' Nominations
Do you know someone in the NSU campus community who should be featured on Northern social media? Nominate a student, faculty, staff or alum to be featured as a Be Northern on NSU Instagram and Facebook! Nominated are accepted through this online form.