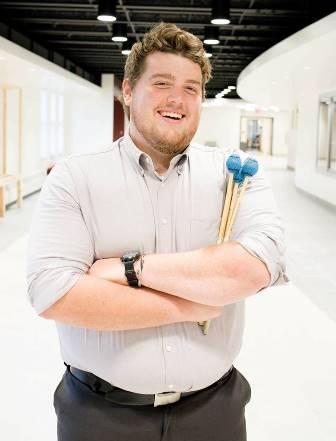 ABERDEEN, S.D.- Luke Bergjord and Nicholas Ries will have a senior recital at 3 p.m. Sunday, Oct. 30, in Northern State University's Johnson Fine Arts Center Main Theatre.
 
Bergjord, the son of Dave and Mary Bergjord, grew up in Aberdeen, graduating from Aberdeen Central High School in 2012.
 
Ries, the son of Mark and Ann Ries, grew up in Goodwin, graduating from Watertown High School in 2013.
 
Bergjord, an instrumental music major, plays percussion. He will be performing "Concerto for Vibraphone" by Ney Rosauro, "A Cricket Sang and Set the Sun" by Blake Tyson and "Legerdemain" by Ivan Trevino. He will be accompanied by Kay Fischer.
 
Ries, an instrumental music education major, plays the trumpet. He will perform "Concerto in D" by Giuseppe Tartini, "Concerto for Trumpet" by Aleksandra Pakhmutova and "Concerto for Trumpet" by Harry James. He will be accompanied by Dr. William Wieland.
 
Bergjord has studied under Dr. Terry Beckler during his time at Northern. He will graduate from Northern in May 2017. His future plans are not set in stone, but will include music in some capacity.
 Nicholas Ries
"I've always known Northern State's music program was the best around," said Bergjord about his choice to attend Northern.
 
Ries has studied under Dr. Grant Manhart. He will graduate from Northern in May 2017. He plans to student teach in the spring, with hopes of becoming a band director at a middle or high school level. He would eventually like to attend graduate school to earn a doctoral degree so that he can teach at a college level.
 
"Northern was the only school that met every one of my criteria. It's a smaller, more affordable school where you can really get to know everyone. The music education program is second-to-none, with the best faculty you'll find anywhere," said Ries.