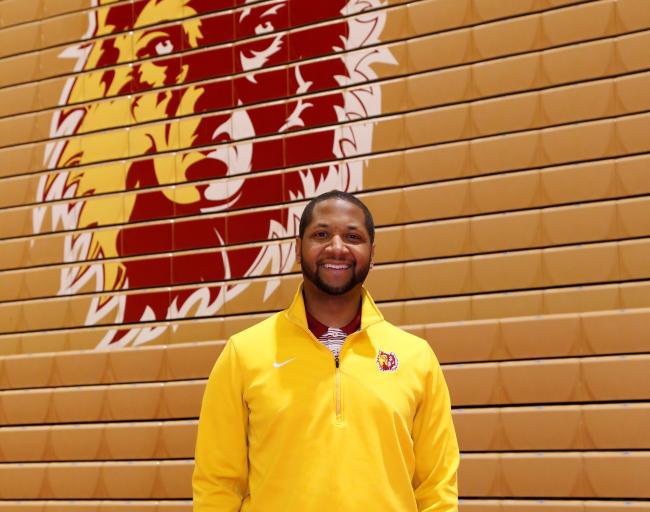 ABERDEEN, S.D. – Northern State University Interim Director of Admissions Layton Cooper seeks to bring the campus community together and prepare students to enter the workforce anywhere in the world.
Thanks to an event sponsorship from the Bush Foundation, Cooper was recently able to gain new strategies and resources and collaborate with other professionals on a national level. Cooper was one of 50 individuals selected to receive this competitive award, which covered all costs of attending Upswell Chicago 2019 in November.
About 1,500 people total attended the Upswell conference, an annual event that connects people across the country in public and private sectors who are seeking to bridge the gap in terms of diversity, equity and inclusion, Cooper said.
At the conference, Cooper and other attendees toured the University of Chicago, including a campus facility that uses fine arts to connect people from various backgrounds. They also listened to numerous speakers, who all spoke on common themes of creating close-knit communities, looking past differences and coming together as individuals.
One of the best parts of the experience for Cooper was making connections with the other Bush Foundation awardees, who came from Minnesota and the Dakotas, representing a host of disciplines.
Cooper said he's grateful to the Bush Foundation.
"I really just appreciate them giving me that opportunity to go on their behalf and to bring back what I've learned here to our university and our region," he said.
Northern's Wolf Wall Project
One idea he's bringing back: continued promotion of Northern's new Wolf Wall project. The virtual "wall" includes photos of members of the NSU community, along with six words each individual has chosen that best represents who they are. Eventually, this could become a physical wall to display on campus. Campus and community members are invited to submit an entry for the NSU Wolf Wall using this online form.
Cooper sees the Wolf Wall as a way to bring people from different backgrounds together, similar to the University of Chicago's fine arts facility, though on a smaller scale.
"I believe that's something that our campus community can use as far as really getting to know one another, grow together and learn from others' backgrounds," he said.
Preparing Students for all Environments
His goal is to help students and prepare them to be able to adapt to any environment.
"If they're going to be moving out of Aberdeen and going to larger metropolitan areas, there are skills that they're going to have to learn and be able to apply," Cooper explained. "Being able to connect with people and have respect, appreciation, and understanding, is something that our students, to be successful, are going to need."
Cooper, who is also a board member for the Aberdeen Area Diversity Coalition, has been at Northern for three years and said he loves working in higher education.
"I enjoy the energy. I enjoy the students," he said. "I enjoy working with people – building relationships with staff and faculty. I enjoy helping students succeed."
Cooper, who has worked at a larger institution in the past, said there are benefits to a smaller college like Northern.
"At a smaller institution, it's easier to get to know more people and really have more of an impact." 
About Northern State University
Northern State University is a regional university that offers outstanding academics and exceptional extracurricular activities at an affordable price on a safe, welcoming campus. Northern State recently announced its Educational Impact Campaign, with a goal of raising $55 million for a new South Dakota School for the Blind and Visually Impaired, new athletic and recreation fields, and an on-campus regional sports complex. Once the campaign is complete, NSU will be the recipient of more than $100 million in privately funded building projects and scholarships within a decade. To learn more, visit NSU Admissions.