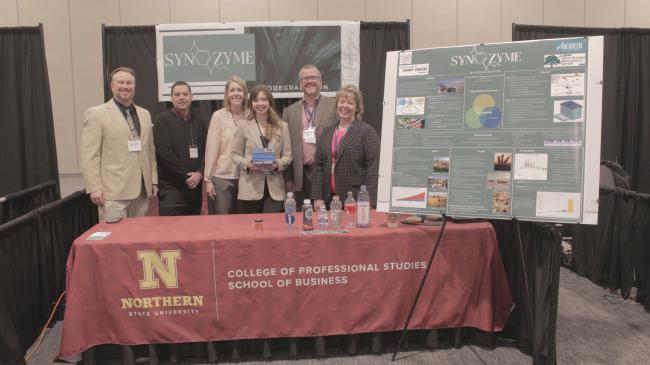 Caption: Pictured left to right are NSU faculty members Drs. Jason Knowles, Sal Villegas and Hannah Walters; Tawnie Williams; Mike Bockorny of Aberdeen Development Corporation; and Kelly Weaver of the Small Business Development Center.
ABERDEEN, S.D. – For recent Northern State University graduate Tawnie Williams, business entrepreneurship classes led to her finalizing her thesis—and winning third place in a statewide competition.
Williams, of Rapid City, won $3,000 in the South Dakota Governor's Giant Vision Student Competition for her idea, SYNOZYME: enzymatic biodegradation of un-recyclable consumer plastic products.
A biology major, Williams had never considered entrepreneurship until she needed credits for graduation and learned that adding two entrepreneurship courses would qualify her for a Biotechnology Entrepreneurship Certificate.
"I took the first class, and here we are," she said.
Williams' winning idea first came about after she read a news article about bacterium capable of depolymerizing plastic.
"It can eat plastic," Williams explained. "It really caught my eye."
At first, she intended her thesis work to involve research with this bacterium, but she and her thesis advisor, Dr. Andrew Russell, weren't able to culture any. Williams knew she was onto something when she presented her preliminary research at the National Collegiate Honors Conference in Orlando in fall 2021 and earned a second place finish in the student poster competition.
Then came the entrepreneurship courses, taught by Dr. Sal Villegas, assistant professor of management and instructor Mike Bockorny, CEO of the Aberdeen Development Corporation. Through her work in these courses, Williams developed an idea that became her new thesis.
"Ultimately I designed a business that has a dumpster that houses that bacteria to depolymerize plastic on site," she said.
The prototype can then be sold to different companies. With mentorship from Dr. Villegas, Williams wrote a business plan and applied for the Giant Vision Competition.
Highly Competitive Competition
Villegas said the competition is highly competitive, including undergraduate and graduate students from across the entire state. According to judges, the selection process was extremely difficult due to high quality of innovative ideas—out of the many teams and individuals who entered, only nine were selected as finalists.
"Tawnie is the third Northern Student to place in the state finals since the inception of this competition in 2007," Villegas said, adding, "This competition was a true team effort with assistance from various departments across campus and the Aberdeen business community."
In preparing for the competition, Williams received help from faculty and staff across Northern's campus. Librarian Lynn Klundt taught her to code the 3-D printer in the NSU library's Maker Space to create her prototype, which she used in the competition. Digital Arts professor Jason Knowles worked with Williams to produce a video for her elevator pitch. Marketing professor Hannah Walters and Mike Bockorny hosted a practice pitch for Williams with Northern faculty and area business leaders to give feedback.
Entrepreneurship professor Sal Villegas provided hours of support to help Williams write her business plan, apply, and prepare for the competition. At the competition, WIlliams presented her pitch to a panel of judges and explained her business idea in a poster session where she spoke with investors, fellow competitors and business owners.
Along with third place honors, Williams also went home with a couple of potential connections in her hometown of Rapid City, and she intends to see where those lead.
This spring, Williams graduated with a B.S. in Biology in In Honoribus, an A.S. in Biotechnology and a Biotechnology Entrepreneurship Certificate.
When she first came to Northern, she said, she was undecided on a major.
"I ended up choosing NSU because of their study abroad program," she explained. "I ended up going on the Guatemala trip to the bottle school, and that had a big component in this as well. I got to witness a country that doesn't have a waste management system through that and we helped build a school out of bottles."
Honors Program, Faculty Helped with Success
Now graduated with an award-winning business idea, Williams said Northern has helped her achieve success.
"The Honors Program really helped me discover my passion in this bacterium," she said, citing the support of Honors Director Dr. Kristi Bockorny.
She said science faculty members were also helpful, especially thesis advisor Russell, associate professor of biology and coordinator of undergraduate research.
Also, "Dr. Villegas really helped me hone in on that and create a business about something I enjoy and I love," she said. "He was there every step of the way."
For other budding entrepreneurs, Williams offers advice.
"If something catches your eye, if you find yourself thinking a little bit extra about something, ask more. Google it. See what you can do with that topic," she said. "If you can do it for a project or some class, keep looking into it, because you never know what you'll find."
Learn more about how Northern supports research efforts at Research and Scholarly Activities.
Watch the video interview:
About Northern State University
Northern State University is a student-centered institution that provides an outstanding educational experience, preparing students through the liberal arts and professional education for their future endeavors. A regional university, Northern offers rigorous academics; diverse civic, social and cultural opportunities; and a commitment to building an inclusive environment for all points of view. Northern also offers a broad-based athletics program, sponsoring 15 NCAA Division II intercollegiate varsity sports that compete in the Northern Sun Intercollegiate Athletic Conference (NSIC). The university strives to enrich the community through partnerships such as its Educational Impact Campaign, which opened a new South Dakota School for the Blind and Visually Impaired; new athletic and recreation fields; and an on-campus regional sports complex. With the $55 million campaign, NSU has been the recipient of more than $150 million in privately funded building projects and scholarships within a decade. To learn more, visit NSU Admissions.