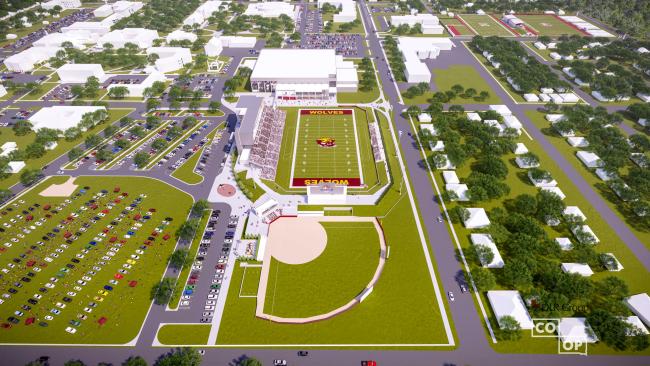 ABERDEEN, S.D. – Recent design approval by the South Dakota Board of Regents means the Northern State University regional sports complex project is almost ready to begin.
"It's the final hundred meters of the race for this transformational project," said NSU Director of Athletics Josh Moon. "Right now we need to finish the fundraising and make this facility something that everybody can be proud of. We're excited with how the design is coming."
Fundraising for the $55 million Educational Impact Campaign, which includes the sports complex, has reached $48 million.
Reaching that amount will allow work to begin on the Barnett Center addition, which is part of Dacotah Bank Stadium and the Regional Sports Complex. The stadium itself will tentatively start in spring 2020, and there is still a fundraising gap to close in order to begin.
"We want to build this right the first time," Moon said. "We need everybody on board right now to think about contributing because we want to make this a 100-year facility."
NSU President Dr. Tim Downs suggested it's now time for those supporters considering a gift to make a commitment to the Educational Impact Campaign.
"We're at the point where we need the last group of investors and stakeholders to show their support and affirmation of what we're doing for the region, Aberdeen and Northern," Downs said.
Enhance Student, Fan Experience
The sports complex will make campus one contiguous space, stretching from the new Jewett Regional Science Education Center to the current BC to the stadium and Koehler Hall of Fame Softball Field – essentially from 12th to 17th avenues. The new facility will greatly enhance the on-campus student experience, as students will be able to get up, grab something to eat, and walk over to attend a game rather than needing to drive.
The complex will also significantly enhance the fan experience, with features such as a designated tailgating lot; family-oriented activities such as bean bag tournaments and bounce castles; and seating closer to the action of the game.
Attached to the south side of the BC, there will be a multipurpose champion's club on the second floor. This space, designed to seat up to 360 people, can be used for events such as seated meals during game days, wedding receptions, and the annual NSU Honors Breakfast.
"It's actually not just going to be for game days, it's going to be a source for revenue generation," Downs said. "We're not just using it six days out of the year."
'A Buzz on Campus'
The Educational Impact Campaign also includes the completed Athletic and Recreation Fields and the new South Dakota School for the Blind and Visually Impaired, currently under construction. With those projects – along with new residence halls and the Jewett Regional Science Education Center opening this fall – Northern is experiencing a lot of forward momentum.
"Our students are excited," Downs said. "There's a buzz on campus."
Northern is also seeing a trend of more visits to campus and more applications, which it expects will result in larger freshman classes – and Downs said it's because people are seeing these projects come to fruition. Many times with this type of endeavor, a plan will be drafted but nothing will start for three to five years. In this case, Northern drafted a plan and will have all projects completed within that five-year timeframe.
"That's just the commitment and support that we have from people in the region and the community, our alumni, the governor's office, and the city," Downs said. "It is very much unprecedented."
As always, Downs said, that support is greatly appreciated.
"NSU, the Campaign Committee and the Foundation are thankful that people see our vision and are willing to share their resources and their commitments," Downs said. "We just can't thank people enough."
About Northern State University
Northern State University is a regional university that offers outstanding academics and exceptional extracurricular activities at an affordable price on a safe, welcoming campus. Northern State recently announced its Educational Impact Campaign, with a goal of raising $55 million for a new South Dakota School for the Blind and Visually Impaired, new athletic and recreation fields, and an on-campus regional sports complex. Once the campaign is complete, NSU will be the recipient of more than $100 million in privately funded building projects and scholarships within a decade. To learn more, visit NSU Admissions.