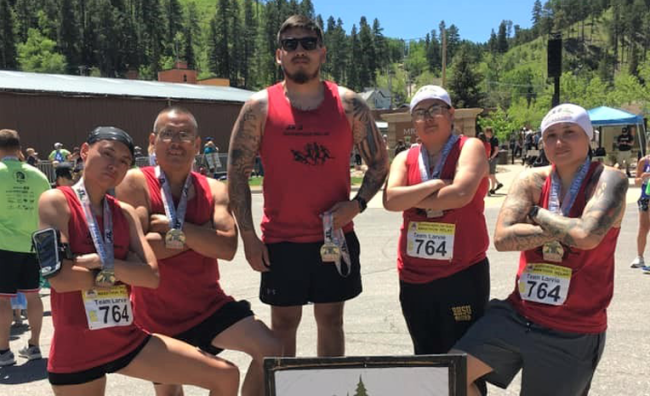 Pictured - top: Brynne Larvie's family, left to right: twin sister, Emma; dad, Joe; brother, Joseph; Brynne; and older sister, Britney. 
Pictured - below: Tyra Biever's family, left to right: dad, Bryan; mom, Jody; Tyra; and brother, Bo.
ABERDEEN, S.D. – Northern State University is proud to support the nearly 40 percent of its students who are the first in their families to attend college—from the first day of classes through graduation.
We spoke to NSU first-generation students who will be graduating on Saturday, May 7, about what their Northern experience has meant to them.
Brynne Larvie: 'It's a huge accomplishment'
Brynne Larvie will be graduating on May 7 with her bachelor's degree in Management Information Systems with a minor in Computer Science, as a first-generation graduate.
"It's a huge accomplishment knowing I am the first to graduate from college in my family," said Larvie, from Parmelee. "It's an awesome feeling I can't put into words."
NSU helped Larvie succeed and reach her goals by letting her utilize the Tutoring Center and Office of Accessibility Services (formerly known as Disability Services) to expand her testing time and get one-on-one help from professors.
Larvie works as the secretary of the Native American Student Association, also known as NASA, where she volunteered at the beginning of the 2021 fall semester and takes the minutes at every meeting.
"It has been an incredible journey being the secretary for NASA for a couple of years," she said. "I was involved with the organization itself. I created new friendships along the way. I am glad I took the position my sophomore and senior year; it was an awesome experience."
Larvie said the highlight of her five years at Northern was watching the men's basketball team play for the national title in Sioux Falls her freshman year.
"My advice for other first-generation college students would be get involved, don't overload yourself, and get help from your professors and create new relationships with friends," she said.
In August, Larvie will be on her way to South Dakota State University in Brookings, S.D., where she plans to get her master's in computer science.
Tyra Biever: 'Never be afraid to take that leap'
For Tyra Biever, an elementary education major from Big Stone City, being the first in her family to graduate from college is special for her and her family, including her mom, Jody; dad, Bryan; and brother, Bo.
"Having my mom go to a Tech College and my dad taking the path of graduating high school and then just going into the working field, both of my parents always pushed me to go to college and find a career that I loved," she said. "Being the first one in my family to attend a four-year university made me want to always push myself to my best abilities all the time to make them and myself proud. I always saw a little spark of them in myself which made me always want to reach my goal of graduating from Northern. My parents have always been my biggest supporters and without them I truly wouldn't be where I am today."
She said the highlight of her time at Northern has been being able to create relationships with friends and faculty that will last a lifetime.
"NSU has helped me succeed throughout my entire college career here. I was blessed to be a part of the TRIO SSS program that granted me plenty of opportunities and support whenever I need them to reach to my best academic abilities," Biever said. "Another thing that I love about Northern is how awesome the faculty is here. Throughout all my classes at Northern I was able to build relationships with my professors and knew they were always there to help me with anything that I ever needed. One of the best things about Northern that I will forever cherish is no student is ever just a number in the class to them. Each professor here cares about their students and strives to see them succeed to their full potential."
For other first-generation college students, Biever has this advice: "Never be afraid to take that leap and be the first one in your family to achieve big things like obtaining a four year degree. There's always support to help you make it through and I promise you won't regret it."
Image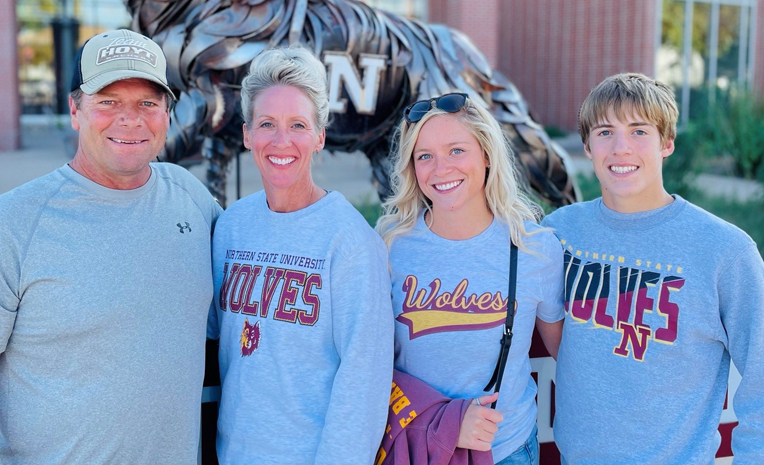 About Northern State University
Northern State University is a student-centered institution that provides an outstanding educational experience, preparing students through the liberal arts and professional education for their future endeavors. A regional university, Northern offers rigorous academics; diverse civic, social and cultural opportunities; and a commitment to building an inclusive environment for all points of view. Northern also offers a broad-based athletics program, sponsoring 15 NCAA Division II intercollegiate varsity sports that compete in the Northern Sun Intercollegiate Athletic Conference (NSIC). The university strives to enrich the community through partnerships such as its Educational Impact Campaign, which opened a new South Dakota School for the Blind and Visually Impaired; new athletic and recreation fields; and an on-campus regional sports complex. With the $55 million campaign, NSU has been the recipient of more than $150 million in privately funded building projects and scholarships within a decade. To learn more, visit NSU Admissions.