Image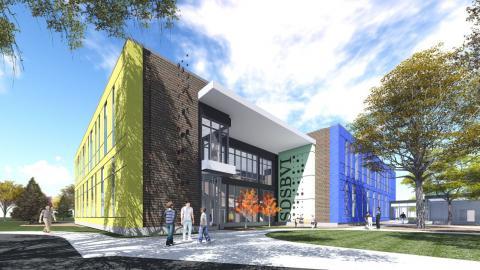 ABERDEEN, S.D. – A $2.5 million state grant will support construction of a new School for the Blind and Visually Impaired, part of the school's joint Educational Impact Campaign with Northern State University.
The grant, which was approved by Governor Dennis Daugaard, comes from the Governor's Office of Economic Development Future Fund and is a partial match to the city of Aberdeen's recent commitment of $5 million to the campaign. A further match of $2.5 million may be considered next year, but would be subject to the approval of Daugaard's successor.
"We are so grateful for the generous support from Governor Daugaard," said SDSBVI Superintendent Marje Kaiser. "Our new school will not only be extremely beneficial to our students, but it will also ensure we'll be able to remain in Aberdeen. We're thrilled that the governor recognizes this project's importance."
Campaign Update
Final architectural drawings were recently released for the new School for the Blind and Visually Impaired, which will be built at the former site of Northern's newly demolished Jerde Hall.
The Educational Impact Campaign also includes the Athletic and Recreation Fields east of the former Jerde Hall site. This project, opening this month for the fall 2018 athletic season, includes a soccer complex competition field, football practice field and pavilion.
The new SDSBVI has a projected completion date of fall 2019. Once students and staff are moved into the new building, the current school will be demolished. According to Northern's campus master plan, by spring 2020, construction will begin on the sports complex, which will include Dacotah Bank Stadium and Koehler Hall of Fame Softball Field. Completion is expected no later than 2022.
Regional Benefit
Northern President Dr. Tim Downs said he appreciates the support the Educational Impact Campaign has received from the governor and the city of Aberdeen, as well as several local business owners who have recently pledged generous gifts.
"We're excited for these projects to enhance the educational experience of current and future students at NSU and SDSBVI," Downs said. "But the impact is something that will truly benefit the entire region, so we're proud to have the backing from so many supporters around the area."
For more information on the Educational Impact Campaign and other campus improvement projects at Northern, visit NSU Campus Master Plan or Educational Impact Campaign.