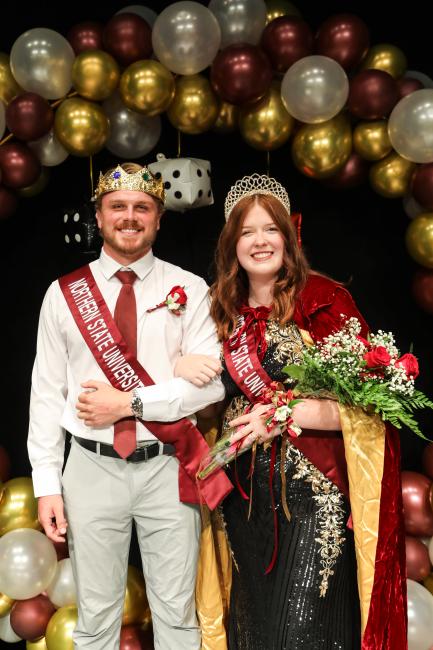 ABERDEEN, S.D. – Float and band winners from Northern State University's 2023 Gypsy Day Parade have been announced. There were 118 floats and 14 bands in the Oct. 7 march down Aberdeen's Main Street. Parade entrants decorated their floats based on this year's theme "Wolves Go to Vegas."
Congratulations to our 2023 Queen and King: Kayla Jensen and Clayton Randall! Jensen is a senior majoring in special education. Clayton is majoring in business management.
Jensen is originally from Claremont, S.D. On campus, she is involved as Northern's student government association Vice President, a head Honors mentor, and a senior orientation leader. She also plays in the symphonic band. Outside of her campus life, she volunteers with Special Olympics as a Unified Partner in bocce and cheerleading. Jensen was sponsored by SGA and Honors.
Clayton is originally from Herreid, S.D. On campus, he is involved by being on the football team, and part of the Newman Center and the Awaken Bible Study. Outside of school and football, he likes to go hunting, golfing, fishing, hot yoga, and spending time with his family. Clayton was sponsored by the Newman Club.
 
Parade Float Results
First place: Aberdeen Family YMCA
Second place: Kessler's Grocery
Third place: Aberdeen Gymnastics Association
Northern Spirit Award: NSU Honors Program
Thunder Award: Dirkson Organic Beef Farm
Band Results
Aberdeen Central: Gold
Aberdeen Roncalli: Gold
Bowdle School: Silver
Edmunds Central High School: Silver
Eureka High School: Silver
Groton High School: Gold
Holgate and Simmons Middle School: Silver
Hoven High School: Silver
Leola School: Gold
Miller High School: Silver
Mobridge Pollock: Bronze
Northwestern Area: Silver
Sully Buttes: Gold
Warner High School: Gold
Watertown: Gold 

Best Overall Band: Aberdeen Central High School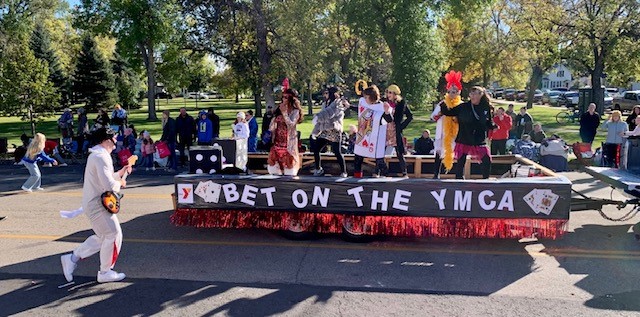 Caption: The YMCA float won first place.