Image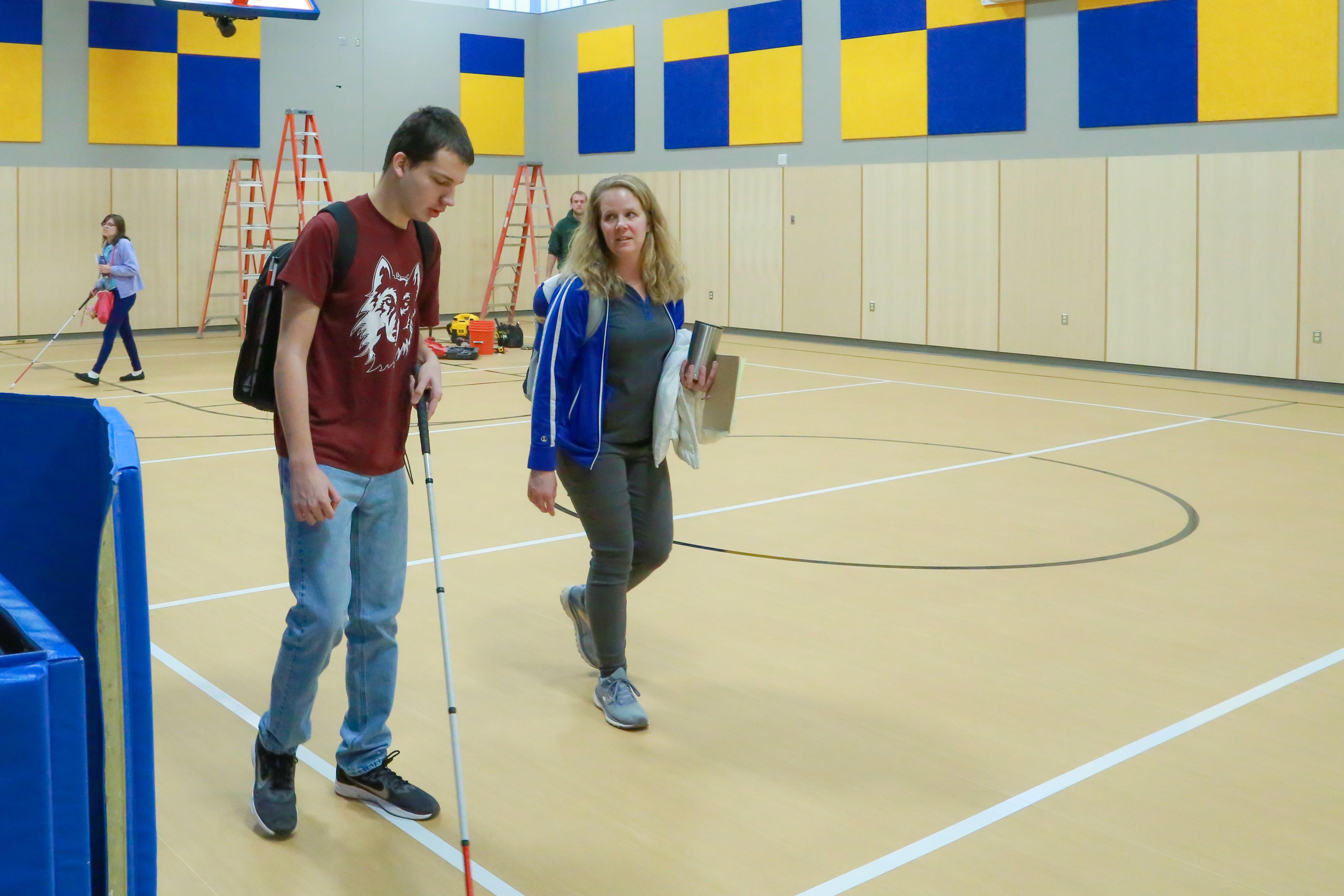 Students, staff excited about new SDSBVI
ABERDEEN, S.D. – On Monday morning, 16-year-old Ch'oshgai Roanhorse marveled at something he had never experienced in all of his nine years as a student of the South Dakota School for the Blind and Visually Impaired: a second-floor view.
"Oh my gosh," exclaimed Roanhorse, of Sisseton, who has low vision, as he looked out the window. "There was no view in our school like this before."
A second level isn't the only exciting feature of the brand new SDSBVI facility, which held its first day of classes on Monday. The building also has bigger classrooms and modern technology, said longtime SDSBVI teacher Tim Fleming.
"It' doesn't get any better than this," he said. 
Image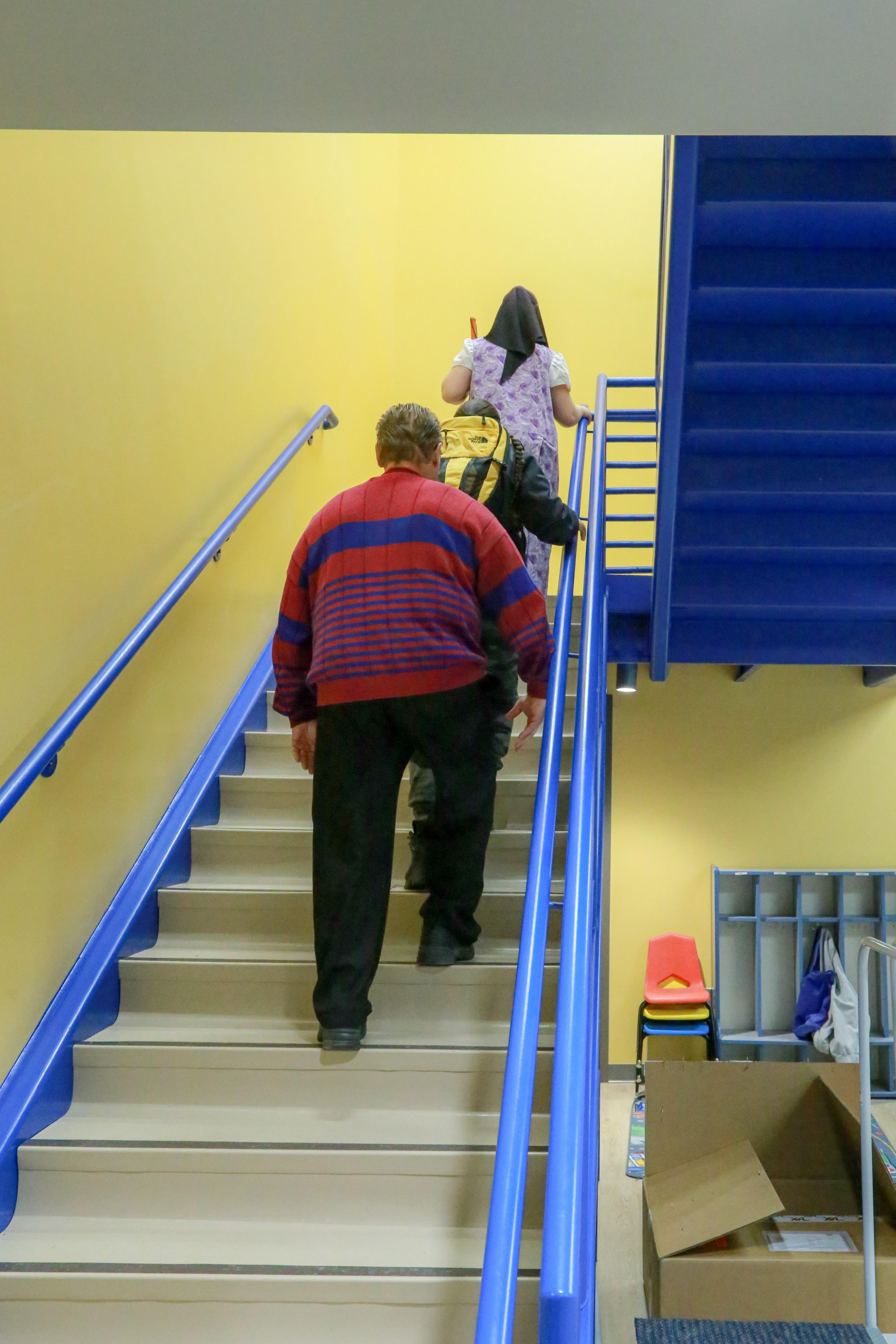 Superintendent Marje Kaiser would agree. For Kaiser, the opening of the school is a culmination of a two-year effort – and it just so happened to take place on her birthday.
"Talk about the best birthday present ever," Kaiser said.
The new school is a project of the Educational Impact Campaign, a collaborative effort with Northern State University. The campaign also includes the soon-to-be constructed Regional Sports Complex and the completed Athletic and Recreation Fields. SDSBVI students will now be able to use the fields, located directly east of the new school, for recreation.
Students Excited About New School
On the school's opening day, teachers showed students around the building, including classrooms, the gym and fitness center. Roanhorse and classmate Kelsey Wollman climbed the stairs to the second floor – another new feature that allows students to learn this necessary life skill – on their way to class with Fleming.
Like Roanhorse, Wollman, too, is excited about the new school.
"I think it's great," said Wollman, 16, from Grassland Colony, who also has low vision. "I like the dorm a lot. It's big."
Wollman really likes her new dorm room, which is carpeted and features more furniture than the old dorm rooms, including an armoire, desk and chair.
Fleming also praised the classroom's in-floor outlets (no more tripping hazards), as well as dimmer switches that can adjust light levels within different parts of the same room.
Kaiser, too, pointed out conveniences of the new building compared to the old – including that parents can drive right up to the dorm when moving students in, instead of having to park on State Street and walk a distance.
One of the goals when working with the architects on building design, she said, was to include efficiencies, using rooms for more than one purpose. That was achieved in spaces such as the dining room, which can be used for games and recreation in the evening; and a shared classroom used by SDSBVI as well as for vision courses for NSU education students.
More exciting features will be evident outside once the snow is gone. Landscaping will be done in the spring, Kaiser said, including the installation of a sensory garden.
Realization of Project is 'Overwhelming'
Kaiser can recall the initial phone call about the project, when NSU President Dr. Tim Downs and South Dakota Board of Regents Member Jim Thares told her to "dream big." At the time, she was faced with a nearly 60-year-old building with aging infrastructure that wasn't air-conditioned and wasn't equipped for modern electrical needs – so dreaming big was difficult.
But today, the result is beyond anything she could have dreamed.
"It's overwhelming to realize how many people worked so hard to make this happen," Kaiser said, including Downs, Thares, the NSU Foundation and all the generous donors.
Now as she nears retirement, Kaiser, who also leads the South Dakota School for the Deaf, is focusing on her remaining goals: working with Northern on a master's program in vision; trying to set up a pipeline for teachers of the deaf; and focusing on accessibility efforts.
She's happy to be leaving SDSBVI in such a good place and looks forward to seeing someone else step in and run with it, expanding the relationship with Northern and developing new programs that will benefit kids.
"I think it's a pretty exciting future."
About Northern State University
Northern State University is a regional university that offers outstanding academics and exceptional extracurricular activities at an affordable price on a safe, welcoming campus. Northern State recently announced its Educational Impact Campaign, with a goal of raising $55 million for a new South Dakota School for the Blind and Visually Impaired, new athletic and recreation fields, and an on-campus regional sports complex. Once the campaign is complete, NSU will be the recipient of more than $100 million in privately funded building projects and scholarships within a decade. To learn more, visit NSU Admissions. 
Pictured top left: Teacher Christie Hulscher (center) walks through the new SDSBVI gym with students Jordan Houseman (left) and Hailey Heintzman (in the background).
Pictured top right: Back to front, teacher Tim Fleming climbs the stairs with students Ch'oshgai Roanhorse and Kelsey Wollman.