Image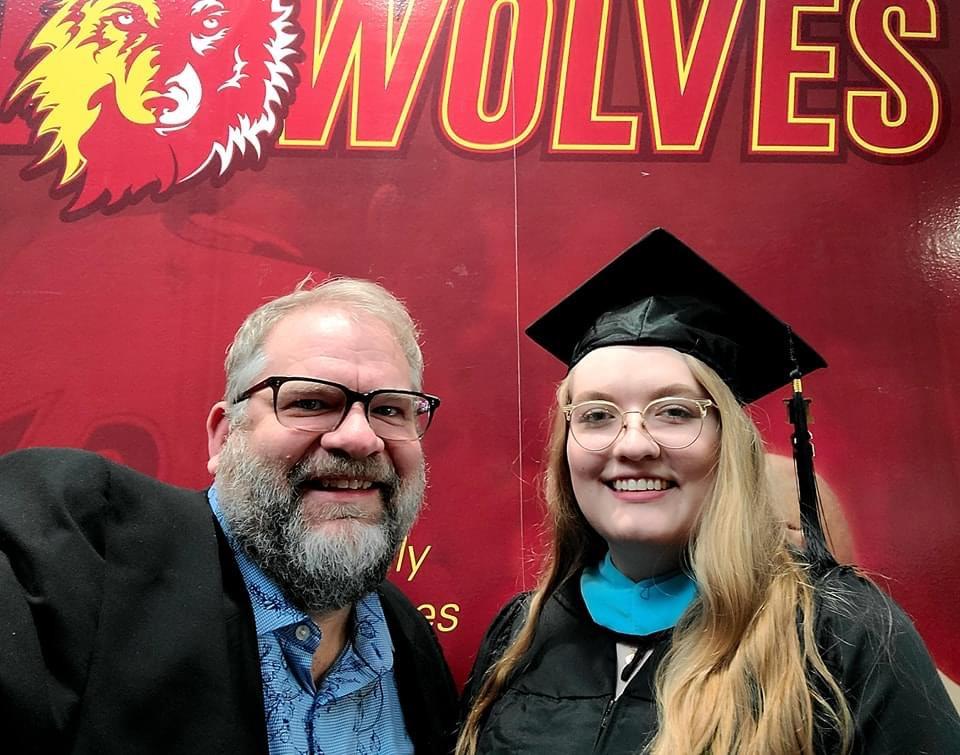 ABERDEEN, S.D. – Less than two years—that's how long it took Gabbie Brandt to complete her master's degree, earn her secondary education certification and snag her first teaching job.
Now, Brandt will begin teaching 10th and 11th grade English at Sioux Falls Washington High School this fall—and it's all thanks to Northern State University's M.S.Ed. Educational Studies: Secondary Education program.
"NSU's program not only helped me feel prepared to enter the profession as a first-year teacher, but also helped me reach that first year sooner!" said Brandt, who is originally from Aberdeen. "I decided to go into this career in January 2021, and going into the 2022-23 school year, I'm already certified in Secondary Education in South Dakota and Minnesota, and have a master's degree, which of course also helped me get into the initial higher salary schedule. There's just no other program other than NSU's that could have gotten me to this place in my career so quickly and smoothly."
Brandt earned her bachelor's degree in English with an emphasis in publishing from Minnesota State University Moorhead in 2020. While job hunting, she learned of Northern's M.S.Ed. program. Though she always thought teaching English might be a good fit, she wasn't sure if the NSU program was possible for her since she hadn't studied education during undergrad.
"But when I found out that I didn't need a bachelor's degree in education and that NSU's M.S.Ed. program would let me pursue my master's in education at the same time as my initial teaching license, I knew it would be a great opportunity to fast-track my career," Brandt said.
Rather than returning to undergrad for two years to get a bachelor's in education, followed by another two years to earn a master's degree, Brandt's alternate path through Northern took less than two years total.
"After graduating from undergrad, I was unsure about what I wanted to do," she said, "and I took this program as a sign that teaching was the right path for me to go on!"
For Brandt, the best part of the master's program was that it provided many opportunities to discuss teaching with people from all different backgrounds and experience levels.
"My classmates included people like me, who were new to the education field, but also veteran teachers pursuing their master's degrees, administrators, and current teachers hoping to get into administration," she said. "Because all my classes were online, many assignments included posting and responding to others on discussion boards, through which I got to see so many different viewpoints and get a glimpse into what my future career might be like. It was also really cool that I took classes with so many different types of teachers—special ed, phys ed, elementary, middle, and high school, with a plethora of class subjects—and got to discuss how we might all respond differently in different situations based on our own unique subjects."
Brandt said she would recommend this program to others, especially individuals with a bachelor's degree in a subject they might be interested in teaching.
"With the high need for teachers right now, it was really smart of NSU to offer an alternate path for those who didn't initially study education in college," she said. "I also thought NSU's program did a great job of supporting me through the entire process. My advisor, Dr. Anna Schwan, was so helpful every time I had a question about applying for licensure, class choices, or even student teaching! I really felt like all my professors understood my unique position coming in with no education experience, and they helped guide me through the whole process with ease."
To learn more about this program, visit NSU M.S.Ed. Educational Studies: Secondary Education.
About Northern State University
Northern State University is a student-centered institution that provides an outstanding educational experience, preparing students through the liberal arts and professional education for their future endeavors. A regional university, Northern offers rigorous academics; diverse civic, social and cultural opportunities; and a commitment to building an inclusive environment for all points of view. Northern also offers a broad-based athletics program, sponsoring 15 NCAA Division II intercollegiate varsity sports that compete in the Northern Sun Intercollegiate Athletic Conference (NSIC). The university strives to enrich the community through partnerships such as its Educational Impact Campaign, which opened a new South Dakota School for the Blind and Visually Impaired; new athletic and recreation fields; and an on-campus regional sports complex. With the $55 million campaign, NSU has been the recipient of more than $150 million in privately funded building projects and scholarships within a decade. To learn more, visit NSU Admissions.