Image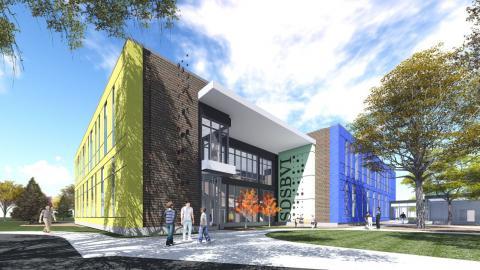 Images courtesy of TSP
ABERDEEN, S.D. – The final design of the new South Dakota School for the Blind and Visually Impaired reveals a building with increased efficiency and a homier feel for students.                             
The new school's concept was developed by the Sioux Falls architectural firm TSP with assistance from consultants Julie Walliesa, who has extensive experience designing schools for the visually impaired, and Christopher Downey, an architect who lost his sight in 2008.
The new SDSBVI is one of three projects of the Educational Impact Campaign, a collaborative effort between the school and Northern State University that also includes new Athletic and Recreation Fields to be utilized by both schools and an on-campus regional sports complex.
SDSBVI Superintendent Dr. Marje Kaiser said staff members and students have been involved in making recommendations, and students were also involved in early design discussions.
Image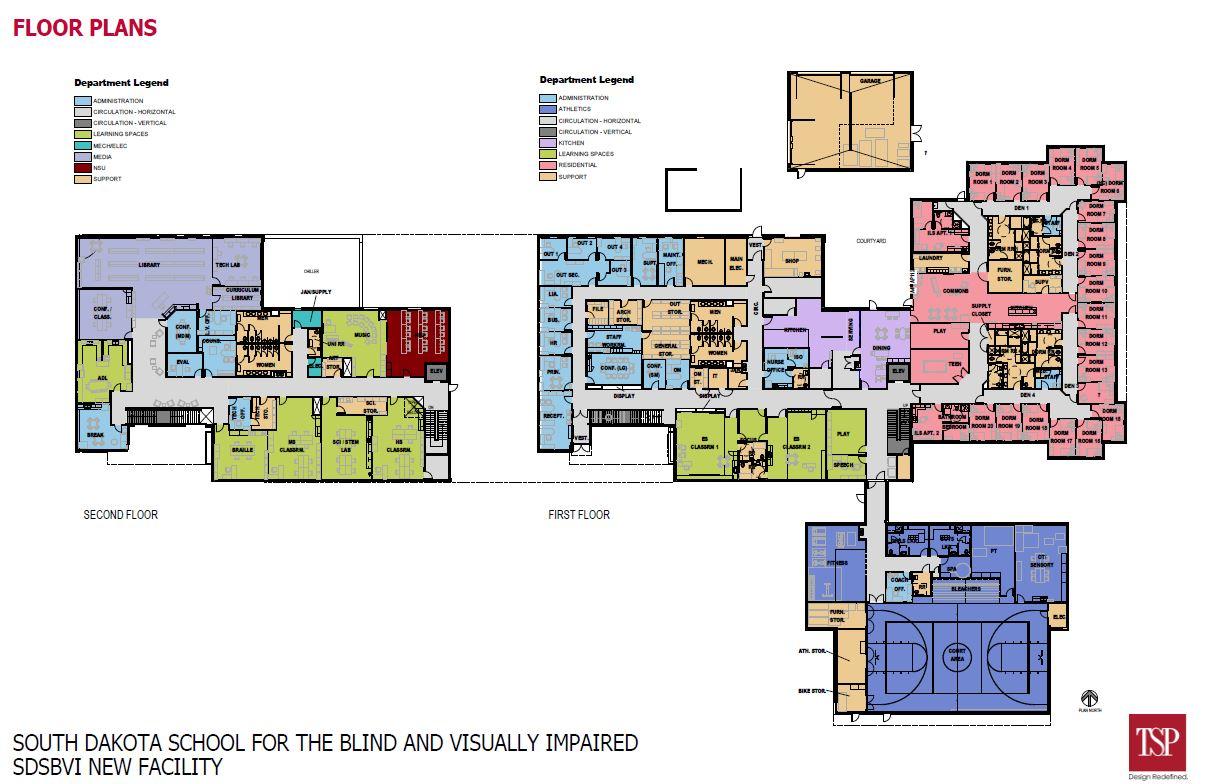 Building Highlights
Some highlights of the new building include:
It will be LEED certified. LEED, or Leadership in Energy and Environmental Design, is a program used to rate a new building's energy efficiency.
It will have better lighting control, and classrooms will have a cleaner look.
There will be a one-way, pull-in lane off of State Street for easy pick-up and drop-off.
Among the new features, Kaiser said the library and dorms will likely be her favorite parts of the new facility.
"Because they're just going to be homier," she said.
Making it more homelike was one of the goals, including offerings such as a game room for older kids, a playroom for younger kids, a kitchen area and a lounge. The building will also have better air conditioning, as the current noisy units that are disruptive to low-vision students who rely heavily on hearing as a means of processing.
"Things like that are going to feel like major changes," Kaiser said.
Looking to the future, even more amenities could be added, including a sensory garden and a climbing wall in the gym.
Image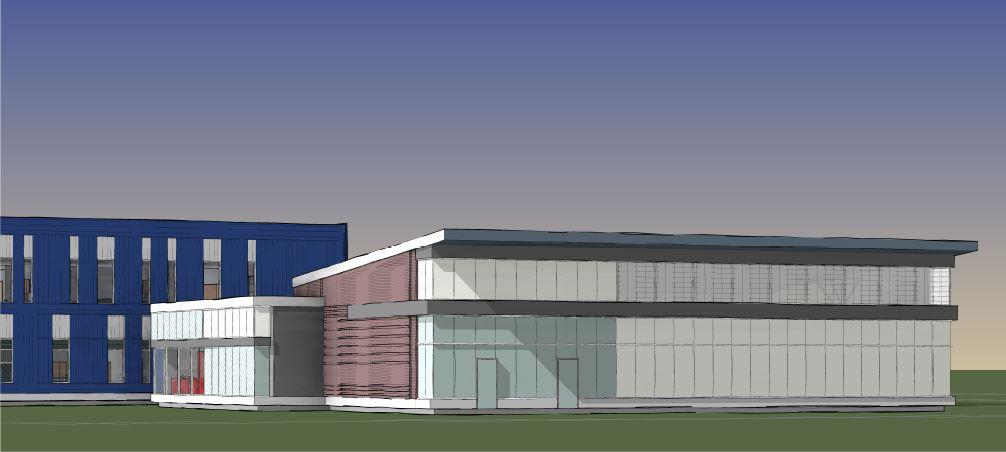 Project Timeline
The new SDSBVI facility will be constructed at the current site of NSU's Jerde Hall, which is currently being demolished. After that point, construction will start on the new school, which has a projected completion date of fall 2019.
Work has already begun on the Athletic and Recreation Fields east of Jerde. This project, which will be finished by fall, includes a soccer competition field, football practice field and pavilion.
Once SDSBVI moves to its new building, the current school will be demolished. According to Northern's campus master plan, by spring 2020, construction will begin on the sports complex, which will include Dacotah Bank Stadium and Koehler Hall of Fame Softball Field. Completion is expected no later than 2022.
While the $45 million Educational Impact Campaign has already received pledges totaling more than $25 million, fundraising is ongoing. For more information or to make a donation, visit NSU Campus Master Plan or Educational Impact Campaign.
About Northern State University
Northern State University is a regional university that offers outstanding academics and exceptional extracurricular activities at an affordable price on a safe, welcoming campus. Northern State recently announced its Educational Impact Campaign, with a goal of raising $45 million for a new South Dakota School for the Blind and Visually Impaired, new athletic and recreation fields, and an on-campus regional sports complex. Once the campaign is complete, NSU will be the recipient of more than $100 million in privately funded building projects and scholarships within a decade. To learn more, visit NSU Admissions.