Image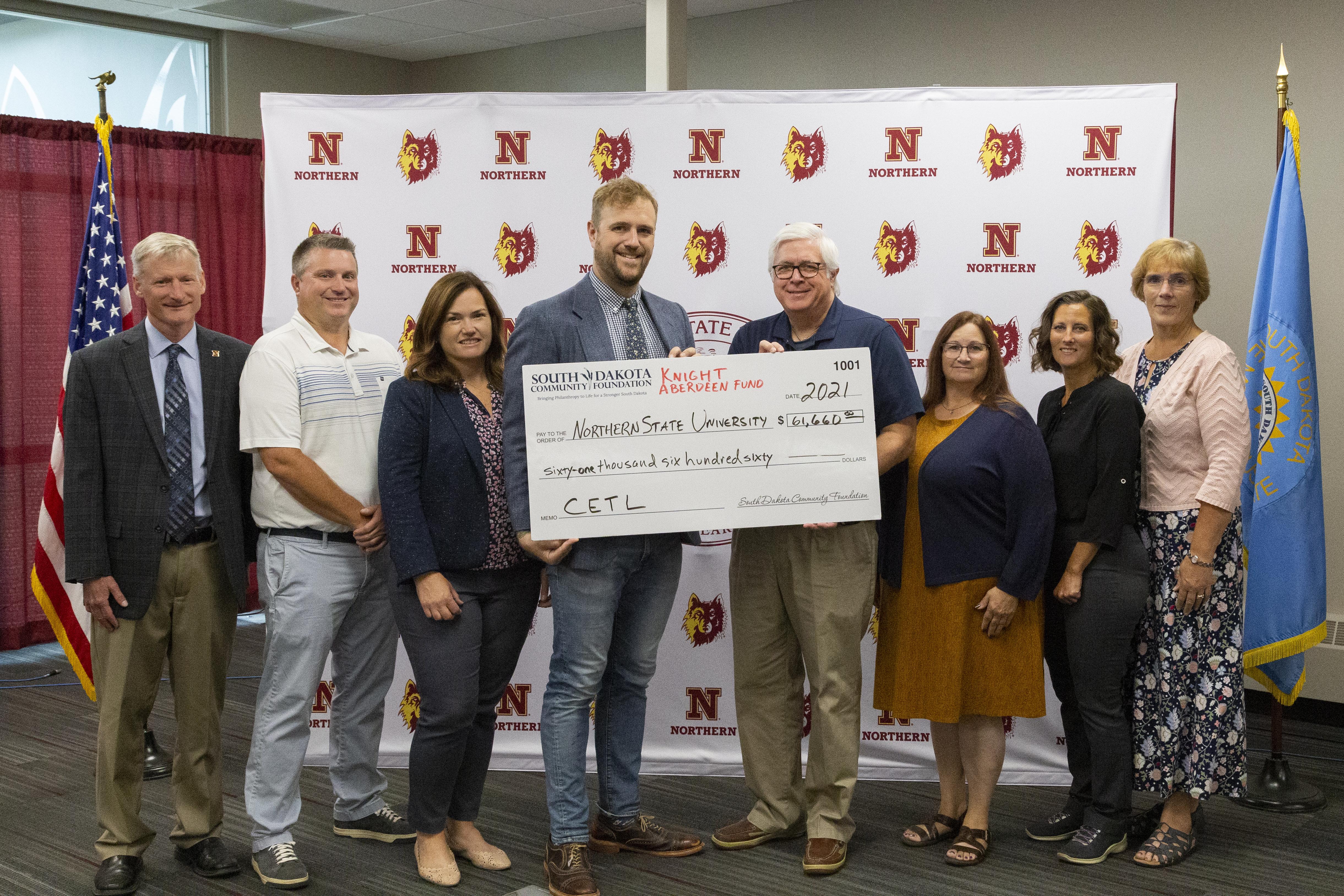 Pictured left to right: Dr. Michael Wanous; Heath Johnson; Dr. Erin Fouberg; Dr. Ben Harley; Pat Gallagher; Danette Long; and Veronica Paulson.
ABERDEEN, S.D. – Northern State University's Center for Excellence in Teaching and Learning was recently awarded a $61,660 grant from Knight Foundation's Aberdeen Fund in the South Dakota Community Foundation to build a Pedagogy Lab in the Beulah Williams Library.     
The lab will be NSU CETL's main center and will help instructors build skills in their HyFlex and active learning practices. Scheduled to open in spring 2022, the lab will hold events ranging from small working groups to large lectures. It will be equipped with technology and furniture to facilitate high-quality education in face-to-face, online and HyFlex learning environments.  
Dr. Ben Harley, CETL Director, is hoping the lab will serve more than just the Northern community; he said the plan is to collaborate with educators off campus as well.  
"In short, the lab will help us to optimize education at Northern and in the region while also making that education more accessible than ever before," Harley said. "The Pedagogy Lab is going to enable Northern's Center for Excellence in Teaching and Learning to fulfill its mission—to cultivate effective and respectful high-impact teaching practices—beyond what we ever imagined, and we are excited to get to work." 
Pat Gallagher, SDCF Community Development Coordinator in Aberdeen, said that "the Aberdeen Knight fund was created in the SDCF by John S. and James L. Knight Foundation with the goal of supporting activities in line with its strategic priorities for Aberdeen." 
Gallagher also said that supporting Northern State University and improving its connections to the community are priorities of the Knight Aberdeen Fund. 
"This particular project connects with the community in a few ways," Gallagher said. "It's improving teaching and learning at Northern. There's also a chance for some things that the university learns that can be shared with our K-12 schools in Aberdeen." 
Learn more about the Center for Excellence in Teaching and Learning at NSU CETL. To learn more about The Knight Foundation of the South Dakota Community Foundation, visit Aberdeen - Knight Foundation.
 About Northern State University    
Northern State University is a student-centered institution that provides an outstanding educational experience, preparing students through the liberal arts and professional education for their future endeavors. A regional university, Northern offers rigorous academics; diverse civic, social and cultural opportunities; and a commitment to building an inclusive environment for all points of view. Northern also offers a broad-based athletics program, sponsoring 15 NCAA Division II intercollegiate varsity sports that compete in the Northern Sun Intercollegiate Athletic Conference (NSIC). The university strives to enrich the community through partnerships such as its Educational Impact Campaign, which opened a new South Dakota School for the Blind and Visually Impaired; new athletic and recreation fields; and an on-campus regional sports complex. With the $55 million campaign, NSU has been the recipient of more than $150 million in privately funded building projects and scholarships within a decade. To learn more, visit NSU Admissions.