Image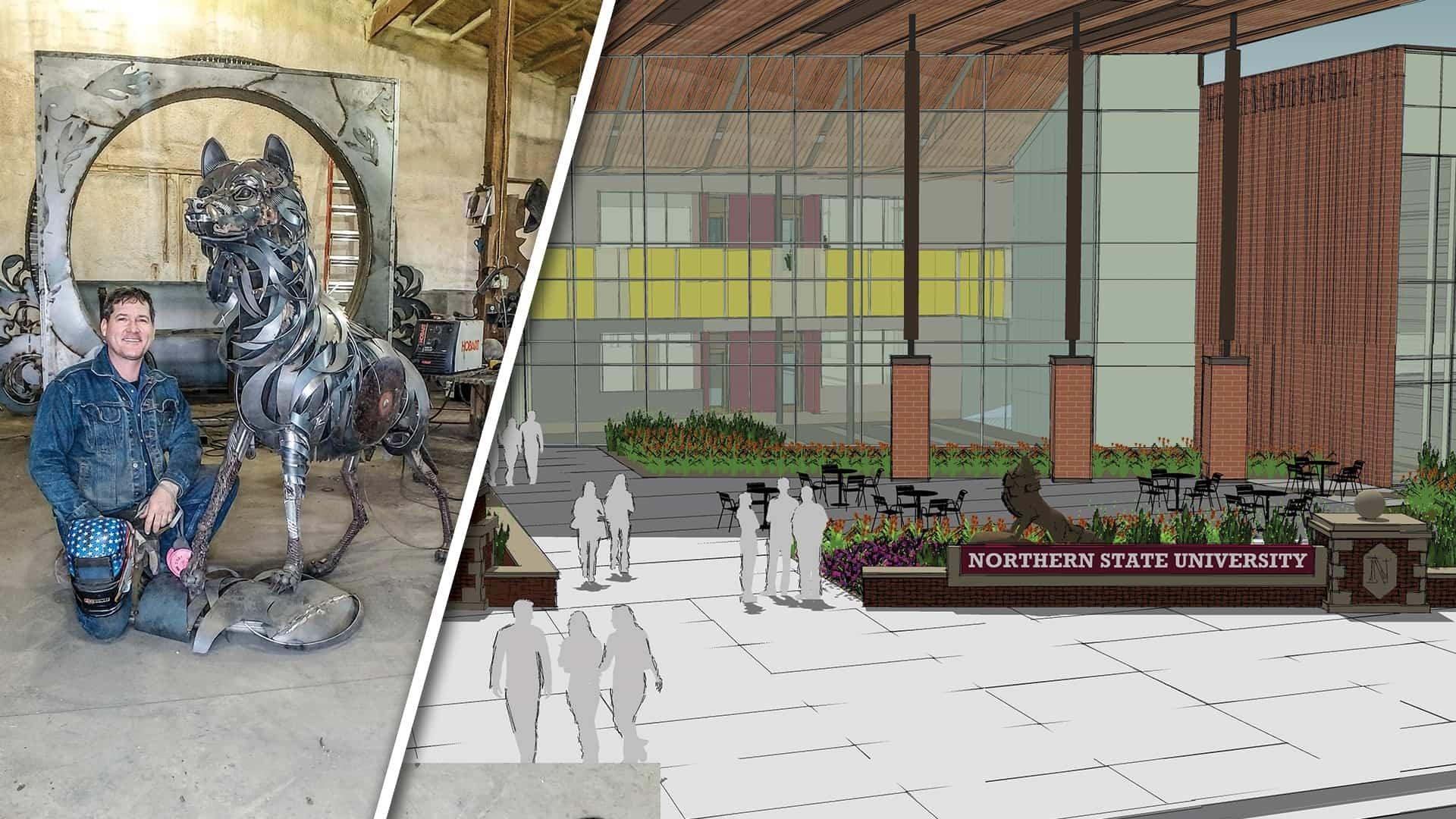 ABERDEEN, S.D. – A brand new wolf will soon be watching over the Jewett Regional Science Education Center when it opens this fall at Northern State University.
South Dakota sculptor John Lopez is creating the wolf sculpture, which will stand in front of the main entrance of the science center.
"My inspiration was the wolf itself – the strength and power they possess," Lopez said. "I like to find a motion or design within all the animals I do and a wolf has so much long hair that I could really go for it with a different kind of texture than I have attempted before."
The sculpture is the size of a life-sized wolf, Lopez said, and is fabricated out of found objects and shapes of steel that he cut with his plasma cutter.
"I use materials that I find on local farms and ranches near my studio in Lemmon," he said.
A Northern graduate, Lopez said he discovered his gift for sculpture at Northern. 
"I fell in love with the bronze casting process and cast three of my very first castings in the foundry on campus," he said. "I was hooked and pursued a career in sculpture from then on." 
Lopez said the sculpture – which was made possible by the generosity of a donor family – is complete and ready for installation. He plans to be present for the unveiling.
The science center is nearly complete at the corner of South State Street and Twelfth Avenue Southeast. The facility, which provides a new home for Northern's biology and chemistry departments, will open for classes this fall.
About Northern State University
Northern State University is a regional university that offers outstanding academics and exceptional extracurricular activities at an affordable price on a safe, welcoming campus. Northern State recently announced its Educational Impact Campaign, with a goal of raising $55 million for a new South Dakota School for the Blind and Visually Impaired, new athletic and recreation fields, and an on-campus regional sports complex. Once the campaign is complete, NSU will be the recipient of more than $100 million in privately funded building projects and scholarships within a decade. To learn more, visit NSU Admissions.