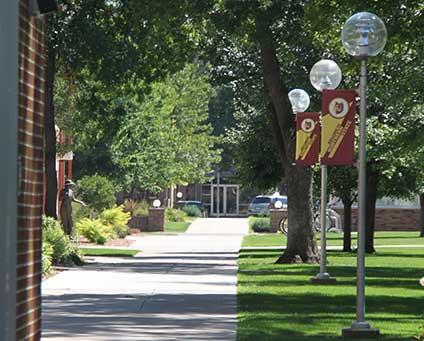 ABERDEEN, S.D. – Northern State University will host mental health awareness events aimed at reducing the stigma surrounding mental health challenges and improving campus mental wellness.
NSU student Emily Meier received a grant through the Bush Foundation's Change Network program, which led to the creation of Northern Mental Health Week, Nov. 14-20. Programming will take place throughout the week on campus, including:
Yoga: Lincoln Hall Gallery, 4-5 p.m. Nov. 15
Safe Zones Training: Understanding the unique mental health needs of the LGBTQI community; 12:30-1:30 p.m. Nov. 16; Avera Student Center Maroon Room
Mental Health Resource Fair: 11 a.m.-1 p.m. Nov. 17; Avera Student Center Mall
WOLFTalk: Archie Messersmith-Bunting presents "If Everyone is 'Fine' - What's Wrong with Me?'; 6:30 p.m. Nov. 17; Johnson Fine Arts Center
Mindfulness Workshop: 12:30-1:30 p.m. Nov. 18; Avera Student Center Centennial Rooms C and D
Counseling Center Open House: 1-3 p.m. Nov. 18; Avera Student Center Room 222
Unearthing Their Voices Panel: Reflecting on the impact of the American Indian Boarding School Policy on Indigenous Communities; Centennial Rooms; 3-4 p.m. Nov. 18
QPR - Question, Persuade, Refer Suicide Prevention Training: 5 p.m. Nov. 18; Avera Student Center Centennial Rooms C and D; 30 spaces available; RSVP by emailing Jerilyn.Mielke@northern.edu.
Meier, a history and political science major from Aberdeen, said plans also include improving the information available online about campus and community mental health care resources. A video series will also be created that interviews students about resiliency to improve campus attitudes around setbacks and show how students have overcome challenges while at NSU.
"The goal with this is to show that resiliency is a skill that can be improved like any other," she said.
About Northern State University
Northern State University is a student-centered institution that provides an outstanding educational experience, preparing students through the liberal arts and professional education for their future endeavors. A regional university, Northern offers rigorous academics; diverse civic, social and cultural opportunities; and a commitment to building an inclusive environment for all points of view. Northern also offers a broad-based athletics program, sponsoring 15 NCAA Division II intercollegiate varsity sports that compete in the Northern Sun Intercollegiate Athletic Conference (NSIC). The university strives to enrich the community through partnerships such as its Educational Impact Campaign, which opened a new South Dakota School for the Blind and Visually Impaired; new athletic and recreation fields; and an on-campus regional sports complex. With the $55 million campaign, NSU has been the recipient of more than $150 million in privately funded building projects and scholarships within a decade. To learn more, visit NSU Admissions.