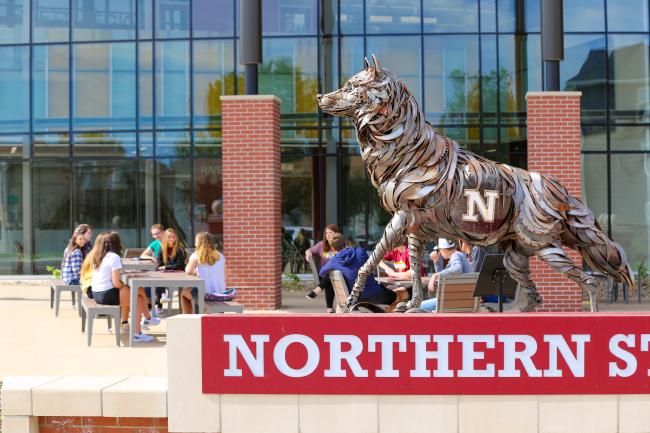 ABERDEEN, S.D. – This fall, Northern State University saw growth in overall student headcount, an increase in graduate student numbers and a higher student retention rate—and the university welcomed its most academically prepared freshman class in over 20 years.
Northern's fall 2022 headcount is 3,344 students, compared to 3,340 in fall 2021, according to enrollment figures released today by the South Dakota Board of Regents.
That includes an increase in graduate students, with a 19 percent jump from last fall in new, first-time graduate students. Since 2018, Northern has seen a 45 percent increase in new, first-time graduate students—a testament to the university's enhanced master's degree offerings, including online and accelerated programs.
Northern's new freshman class has an average high school GPA of 3.40, the highest since the university started tracking in 1998. Sixty-nine percent of the class are South Dakota residents. The freshman to sophomore retention rate climbed to 74 percent, a 6 percentage point jump from last year. Northern's retention rate has been above 73 percent six of the last seven years.
Northern also had a 32 percent increase in undergraduate credit hours at Huron Community Campus, which illustrates the university's aim to meet students where they are, be that on the main Aberdeen campus, in Huron or online.
"Northern has a strong partnership with HCC, led by Executive Director Doug Pietz, in a collaboration that benefits the university and the Huron community," said Dr. Neal Schnoor, NSU President.
NSU Vice President of Enrollment, Communications and Marketing Justin Fraase said, "While we're pleased to see these gains, our campus is focused on growing enrollment in alignment with our strategic priorities. Students, families and alumni value our modern campus and high-quality, affordable education that's personalized for the needs of individual students."
Statewide Numbers
Fall headcount enrollment at South Dakota's six public universities is nearly 1 percent higher system-wide than the previous academic year, totaling 33,690 students, the BOR reported today. See the full press release here.
About Northern State University
Northern State University is a student-centered institution that provides an outstanding educational experience, preparing students through the liberal arts and professional education for their future endeavors. A regional university, Northern offers rigorous academics; diverse civic, social and cultural opportunities; and a commitment to building an inclusive environment for all points of view. Northern also offers a broad-based athletics program, sponsoring 15 NCAA Division II intercollegiate varsity sports that compete in the Northern Sun Intercollegiate Athletic Conference (NSIC). The university strives to enrich the community through partnerships such as its Educational Impact Campaign, which opened a new South Dakota School for the Blind and Visually Impaired; new athletic and recreation fields; and an on-campus regional sports complex. With the $55 million campaign, NSU has been the recipient of more than $150 million in privately funded building projects and scholarships within a decade. To learn more, visit NSU Admissions.