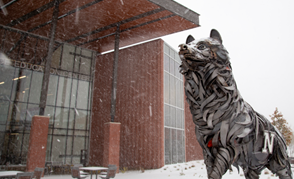 ABERDEEN, S.D. – Northern State University signed a teach-out agreement with Presentation College today to help students complete their degrees at Northern.
Northern has been working toward an academic agreement with PC for quite some time, prior to Presentation's recent announcement. Now, Northern has received approval from the Higher Learning Commission to move forward with the agreement.
"Northern has always valued the mission of the Presentation Sisters and College and their significant role in the community and region," said Northern President Neal Schnoor. "Northern is working with the college to support students in any way possible during this difficult time of transition."
Northern will accept coursework from Presentation College for current students and students who have stopped out since 2013. Northern will provide personalized academic advising to help students complete their major programs and identify a mix of minors, certificates, and experiential learning opportunities to meet their professional goals.
Current Presentation students and those who have stopped out are invited to visit with Northern at the teach-out fair in Lantern Hall on PC's campus from 1 to 4 p.m. Monday, Jan. 30, and Tuesday, Jan. 31. Representatives from Academics, Admissions, Financial Aid, Student Success Center, and Athletics will be in attendance at the teach-out fair to meet with Presentation College students.
Presentation President Paula Langteau said, "We're so pleased to be partnering with Northern State University with this agreement. We know that having the ability to continue to take courses right here in Aberdeen will be a huge benefit for many of our students, and we're grateful for the opportunity."
The teach-out agreement applies to students in all majors at Presentation College except nursing and radiologic technology.
Northern will also assist Presentation students with orientation, housing, and invitations to student clubs and activities while connecting students with support from the Student Success Center, Career Services, Native American Circle Program, Multicultural Student Affairs, Tutoring, Counseling, and Accessibility Services.
For more information, visit northern.edu/saints. For immediate support, please contact Northern Director of Admissions Mr. Layton Cooper Layton.cooper@northern.edu or Associate Provost Dr. Erin Fouberg erin.fouberg@northern.edu.
About Northern State University

Northern State University is a student-centered institution that provides an outstanding educational experience, preparing students through the liberal arts and professional education for their future endeavors. A regional university, Northern offers rigorous academics; diverse civic, social and cultural opportunities; and a commitment to building an inclusive environment for all points of view. Northern also offers a broad-based athletics program, sponsoring 15 NCAA Division II intercollegiate varsity sports that compete in the Northern Sun Intercollegiate Athletic Conference (NSIC). The university strives to enrich the community through partnerships such as its Educational Impact Campaign, which opened a new South Dakota School for the Blind and Visually Impaired; new athletic and recreation fields; and an on-campus regional sports complex. With the $55 million campaign, NSU has been the recipient of more than $150 million in privately funded building projects and scholarships within a decade. To learn more, visit NSU Admissions.