ABERDEEN, S.D. – Northern State University received a nearly $1.5 million grant to launch the only McNair Scholars Program in South Dakota.
The McNair Scholars Program is a federal TRIO program designed to prepare undergraduate students for doctoral studies through involvement in research and other scholarly activities. Britt Lorenz, executive director of the Student Success Center, and Dr. Erin Fouberg, associate provost and professor of geography, are the co-principal investigators on the grant.
The goal of the McNair Scholars Program is to increase PhD degrees earned by students with strong academic potential who are either first-generation college students with financial need or members of a group that is traditionally underrepresented in graduate education.
"Northern faculty are generous with their time, support, and mentorship of students who are conducting undergraduate research, interning, and planning to pursue advanced degrees through PhD programs, law, medical, or dental school, or other advanced health science programs," explains Fouberg. "The McNair Scholars Program formalizes faculty mentorship for students heading to PhD programs and compensates faculty for their pivotal work in students' lives."
Dr. Katie Grote (NSU '16) earned her PhD in geography from the University of Kansas in spring 2023. At Northern, Grote was active in the Honors Program and the student newspaper, The Exponent. Her experience at Northern laid the foundation for her path to earning a PhD.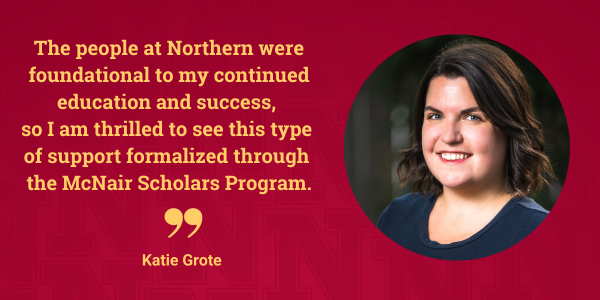 "As a young scholar at Northern, I was fortunate to have the mentorship of some phenomenal faculty and staff. They were compassionate and patient in their guidance as I was learning how to conduct research and pursue graduate school," said Grote.
Grote, a first-generation college student, now a Post-doctoral Research Fellow at the University of Denver, said, "The people at Northern were foundational to my continued education and success, so I am thrilled to see this type of support formalized through the McNair Scholars Program."
The McNair Scholars Program at Northern will include two dedicated staff, stipends for faculty mentors to guide each McNair scholar's graduate program search and undergraduate research plan, stipends to conduct undergraduate research, scholarships for internships, funds to support McNair Scholars to present research at national conferences, and stipends for McNair Scholars to live on campus in the summers to conduct research.
Kimberly Johnson Maier (NSU '11) will earn her PhD in geography from Oklahoma State University in December 2023 and is a faculty member at South Dakota State University.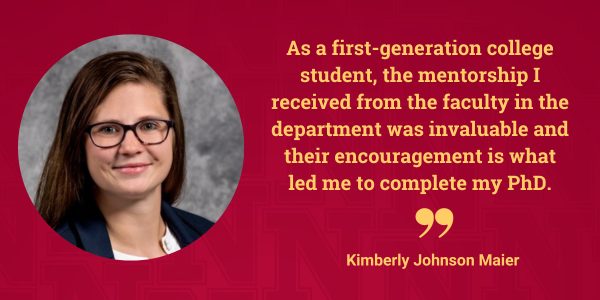 Johnson Maier said, "Northern's History and Social Sciences Department not only inspired my career path, but it also fostered a challenging and uplifting culture. As a first-generation college student, the mentorship I received from the faculty in the department was invaluable and their encouragement is what led me to complete my PhD."
Johnson Maier sees the value the McNair Scholars Program will bring to Northern students.
"These relationships and experiences, like attending conferences, helped me build connections with other institutions and leaders in the field of geography. This is a benefit unique to Northern's small, yet dedicated faculty. I am excited for current and future Wolves to have more opportunities to participate in undergraduate research and feel confident in pursuing doctoral studies through the McNair Scholars Program," Johnson Maier said.
The McNair Scholars Program will add to Northern's repertoire of opportunities for students to engage in high impact educational practices and will complement the university's nationally recognized Honors Program. The McNair Program will be housed in the Student Success Center.
"Northern's Student Success Center is a hub of support for all Northern students, and the McNair Scholars Program adds another opportunity for students to succeed," said Lorenz. Student Success offers services such as tutoring, advising, career services, American Indian Circle Program, TRIO Student Support Services, TRIO Upward Bound and Supplemental Instruction, providing tools and resources to help students achieve their goals.
Northern is hiring a McNair director and a McNair research coordinator. Until the director is in place, current and prospective students interested in McNair can contact Lorenz britt.lorenz@northern.edu or Fouberg erin.fouberg@northern.edu
Visit the McNair Scholar Program webpage for more information