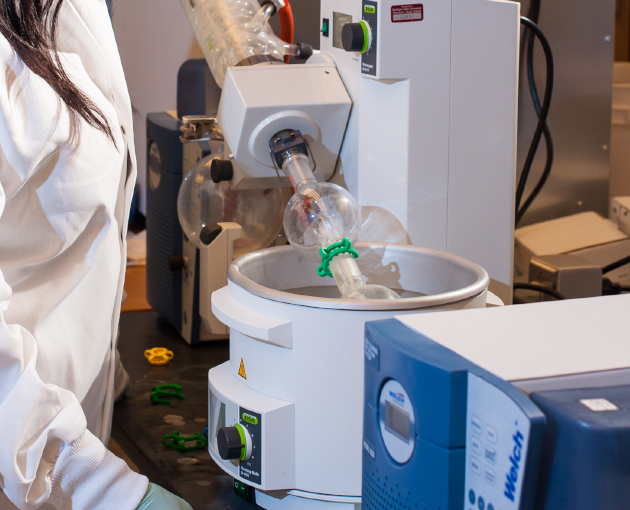 ABERDEEN, S.D. -  Northern State University has received the distinction of participating in the Howard Hughes Medical Institute's Science Education Alliance's Phage Hunters Advancing Genomics and Evolutionary Science (SEA-PHAGES) program beginning in the fall.
This amazing opportunity will allow NSU science students to get involved in real-world research during their early semesters and participate in the science field on a national scale.
After learning about this program at the 2017 South Dakota EPSCoR investigator's meeting, Dr. Jon C. Mitchell, associate professor of biology, spearheaded the effort to bring this unique opportunity to NSU's biology, chemistry, physics and mathematics departments, specifically the biotechnology program.
The Science Education Alliance (SEA) supports faculty in the implementation of course-based research experiences, advancing science education on a national scale, establishing cohorts of students, educators and institutions that will collaborate nationally. These experiences engage students in research-based curriculum early in their undergraduate academic career.
The SEA-PHAGES program is a national research-based lab course that NSU will implement. This course is aimed at undergraduate science students, specifically freshmen and sophomores.
"Participation in a program such as HHMI's SEA-PHAGES allows students to actively participate in inquiry-based labs, engage in the real-world application of the skills and techniques they are learning in the classroom and begin building their resume in their freshman or sophomore year," Mitchell said.
Students who participate in this program must enroll in both BIOL 240/240L, as well as BIOL 250/250L. Honors students participating in this program have the option of replacing BIOL 240/240L with Honors BIOL 151 lab. This program is currently limited to 16 freshman and sophomore science students.
Through the SEA-PHAGES program, NSU students will remain actively engaged in science by completing hands-on research, which begins by digging in the soil to discover and isolate bacteriophages (viruses that infect bacteria). The research then progresses through a variety of microbiology techniques and eventually to complex genome annotation and bioinformatics analyses. Students then submit their annotated sequences to the National Center for Biotechnology Information GenBank database. "This type of ownership of their research keeps students engaged, motivating them toward further pursuits in science and helping them decide if a career in this field is the right step for them," Mitchell said.
To help get this program started at NSU, the Howard Hughes Medical Institute will provide curriculum and lab materials for Mitchell and Dr. John Long, assistant professor of biology, who will oversee the implementation of this program. This will also allow them to attend week-long training workshops to further facilitate the implementation of the program at NSU.
At the end of the academic year, Mitchell and a selection of students participating in NSU's SEA-PHAGES program will attend the National SEA-PHAGES Symposium, held at the Howard Hughes Medical Institute's Janelia Research Campus in Ashburn, Va. At the symposium, NSU's SEA-PHAGES students will present their research and connect with students and faculty members from across the country to share their research through poster sessions and talks. At the 2016–17 symposium, over 4,100 students from 100 different colleges and universities took part. The SEA-PHAGES program has generated more than 20 peer-reviewed publications to date. This is an amazing opportunity for Northern State University science students to get involved in real-world research during their early semesters and participate in the science field on a national scale.
NSU students who will be freshmen or sophomores during the 2018-2019 academic year and are interested in participating in this program should contact Mitchell at Jon.Mitchell@northern.edu.
About Northern State University
Northern State University is a regional university that offers outstanding academics and exceptional extracurricular activities at an affordable price on a safe, welcoming campus. Northern State recently announced its Educational Impact Campaign, with a goal of raising $45 million for a new South Dakota School for the Blind and Visually Impaired, new athletic and recreation fields, and an on-campus regional sports complex. Once the campaign is complete, NSU will be the recipient of more than $100 million in privately funded building projects and scholarships within a decade. To learn more, visit NSU Admissions.